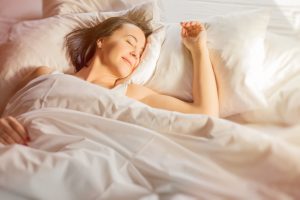 There are more than just a few reasons that adjustable bedframes are more popular than ever before. In addition to helping owners to rest comfortably and enjoy great features like smart sleep tracking, adjustable bedframes are also sleeker and more beautiful than ever before and have been shown to help people with a wide range of health symptoms, including circulation.
Adjustable Beds Can Improve Your Circulation
While traditional mattresses offer to cushion your body, they don't always evenly distribute pressure over the entire sleep surface, which can strain your heart. For example, if your body isn't supported evenly, the heart has to work harder to provide oxygen and nutrients to those areas, even when you are asleep.
Fortunately, adjustable mattresses allow people to sleep in various positions, giving their hearts the chance to relax slightly. Most adjustable mattresses allow owners to raise or lower the head, midsection, and leg portions of the bed, easing sleep and allowing the circulatory system to do its job more effectively. Many adjustable bedframes even offer massage, which can improve circulation and reduce inflammation. Some beds also allow the user to raise the leg portion of the bed above the heart, easing edema and relaxing the heart.
Other Health Benefits of Adjustable Bedframes
In addition to taking the strain off of the circulatory system, adjustable bedframes have also been shown to help with acid reflux, back pain, snoring, sciatica, fluid retention, and even digestive issues. For these reasons, adjustable bedframes have been used for years in hospital settings throughout the world. However, since adjustable bedframes can return to a flat position, your bed will look just like any other bed during the day, while offering health benefits at night.
Although Best Mattress professionals are not certified to diagnose or treat any health condition, their team can help to pair you with a mattress that will help you to get a great night's sleep. In addition to having large showrooms with an incredible array of products, Best Mattress also offers convenient services for their clients, including same-day delivery and complimentary haul-away of old mattress sets. For more information on Las Vegas adjustable bedframes, visit a Best Mattress in Las Vegas, Mesquite, or St. George.