Buying the right mattress for the best sleep is important, but it's only one part of ensuring you have a bed that works for you. The foundation under your mattress is also important, and when it comes to beds, you can't get much better than an adjustable bed.
An adjustable bed allows you to set it however you like, whether you're sitting up to read a book, relaxing in the morning, or getting ready to go to sleep. It can help you to get in and out of bed, as well as sleep comfortably all night. Here are five of the top adjustable beds that you can pair with your mattress from Best Mattress.
Tempur-Pedic EASE 3.0 Adjustable Base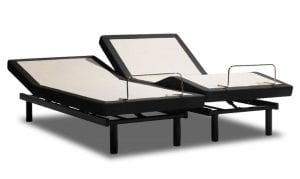 The EASE bed from Tempur-Pedic is a fantastic option to start with if you're considering an adjustable bed. Pair it with a Tempur-LUXEBreeze Soft Mattress, and you could get the perfect sleep setup. This bed uses a wireless remote to allow you to adjust the position, which you can do almost limitlessly. There are plenty of head and foot positions, and the bed is designed to give you Zero Gravity Comfort. If you choose a king or California king, you can get a split bed so that you and your bed partner can each control your side of the bed.
The EASE Adjustable Base is an affordable option for an adjustable base, especially considering it comes from a highly-regarded brand. By changing your sleep position, you can solve a range of problems, including back and neck pain, acid reflux, snoring, and sleep apnea. You can raise the head up to 57 degrees and the feet up to 50 degrees to get the perfect position for sleeping, sitting, and lounging.
Serta Motion Perfect 4 Adjustable Base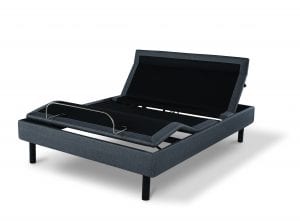 Serta is a leading name in adjustable beds, and their Motion Perfect 4 will give you control over your sleep. Some of its features include preset positions, a zero clearance design, and head tilt. This adjustable base even has handy USB ports built-in, which are perfect for charging your phone and plugging in other devices. It comes with wireless remote control, and you can easily get started thanks to the preset buttons. You can choose from existing positions or add up to two of your own preset positions.
Another excellent feature of this bed from Serta is the anti-snore feature. Using the controls, you can adjust the sleeping position of your partner if they're sleeping – no more shoving them during the night! The advanced motion options mean you can tilt your head and feet separately, plus tilt your head forward while sitting. Other features include under-bed lighting and massage features. 
Tempur-Ergo Adjustable Base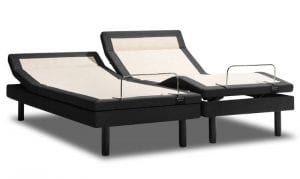 Another option from Tempur-Pedic is the Tempur-Ergo, which gives you more control over your sleeping position. The Tempur-Ergo allows you to raise the head by 57 degrees and the feet up to 46 degrees. Its wall-hugging design ensures you can stay close to the nightstand and easily reach for anything that you need. With four preset memory positions, one touch of a button can get you into a comfortable position. It also has three different height options for your comfort.
Two unique massage options for this adjustable bed make it even more comfortable and help you to relax and deal with stress. The wireless LCD remote makes it easy to control, and you can add an extra two preset positions to customize the controls. With its quiet and smooth operation, it offers both comfort and style for your bedroom.
Tempur-Ergo Smart Base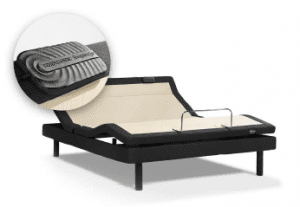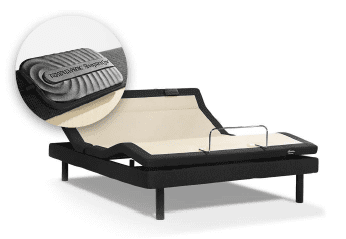 The Tempur-Ergo also has a smart model called the TEMPUR-Ergo Smart Base. It comes with extra smart features, powered by the Sleeptracker-AI, which make it even easier to get the comfortable night's sleep that you want. Start by fully customizing your base position using the mobile app for Android or iPhone. The app will give you insights into your sleep, including a daily sleep score and sleep insights, plus it has an AI-powered smart alarm. The base itself has a snore response function, automatically responding to snoring by raising your head into a position that may help.
You can even connect this bed to your smart home system. You can then use voice commands to tell your bed what to do, whether it's using the Zero Gravity feature, hearing your sleep score, or getting sleep coaching tips. The head and foot massage function will help you relax whenever you want, and the USB ports and under-bed lighting are useful too. 
Beautyrest Black Luxury Adjustable Base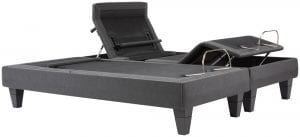 For anyone who experiences lower back pain, the Beautyrest Black Luxury Adjustable Base comes recommended. With its adjustable lumbar support bar, it's also excellent for anyone who has trouble getting in and out of bed. It comes with a wireless remote to make your adjustments and has adjustable head and foot angles. You can select any of its multiple preset positions or adjust the bed as you like, plus it has dual-timed massaging and extended reclining. It's smart home enabled too, so you can use voice commands to tell it what to do.
The Beautyrest Black K-Class Ultra Plush Pillow Top Mattress is the ideal mattress to pair with this adjustable base. The right mattress will complete your setup, along with the bed's adjustable height and compatible headboard, allowing you to make everything perfect. When you're sitting up in bed, you can adjust the lumbar support to your liking, and a split option is offered for the two larger sizes. You also get USB ports and lighting under the bed.
Choose an adjustable bed together with a comfortable mattress to create the perfect setup for your bedroom and start sleeping better every night. Shop online or visit one of our Best Mattress stores in Las Vegas, NV, or St. George, UT.