Many of our customers have started expressing interested in an adjustable bed frame, also known as an adjustable base, and we at Best Mattress wanted to share 3 great benefits these adjustable beds can give you to improve your life as well as your sleep each night! All of our Best Mattress stores, in Las Vegas & St. George, offer adjustable beds that can fit any budget and benefit every lifestyle. Below you will see that not only does an adjustable bed relieve back pain, but it can also eliminate snoring and make it a lot easier for you to read or use your computer while relaxing in bed.
Work, Read, & Use A Computer Comfortably in Bed
Adjustable beds are designed to adjust to your specific lifestyle. Whether that involves reading before you go to sleep or checking emails from your computer right when you wake up, adjustable beds make it a lot more comfortable, and easy to do. With an adjustable bed, you can watch TV, use your tablet, and work from the comfort and ease of your mattress. Without an adjustable bed, stacking pillows to prop you up or leaning against a headboard can put undue pressure and stress on your neck and upper body.
Eliminate Snoring
If you or your spouse has occasional or moderate snoring issues, an adjustable bed can make a huge difference. The typical cause of snoring can be the chin dipping toward the chest while you sleep, thus restricting air from passing into your lungs. Sleeping in this manner can create or lead to worse snoring. An adjustable bed frame helps position your body at an upright and proper angle to allow your head to be elevated while you sleep, thus freeing up the air passage and eliminating snoring. An adjustable bed frame is a very efficient solution to maintaining a clear airway and helping you and your spouse to have a more rested and comfortable sleep.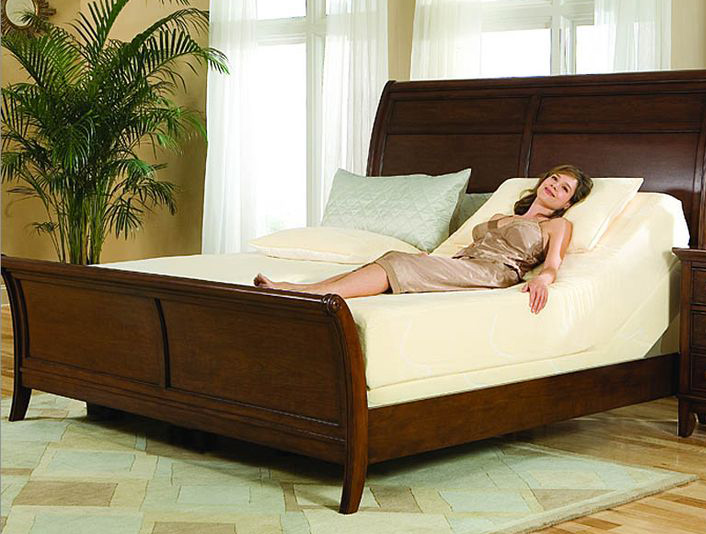 Relieve Back Pain
One of the prime benefits of owning an adjustable bed is the positive effect it will have on your back. A flat bed may not always provide sufficient support for your spinal cord. It can result in increased back pain, sleepless nights, or both. An adjustable bed will relieve back pain and pressure, allowing your body to become more relaxed and comfortable while you sleep. Sleeping on an adjustable bed frame allows the body to be at rest at a subtle incline, a fairly common angle is 30 degrees. This incline provides relief to the back and rest for the body so a full night's sleep can be achieved. People with certain neck problems, back pain, or shoulder arthritis feel better sleeping in this position. Many of our sleep experts can help you find an angle that would be best for you, and where you can feel the most comfortable.
Visit Your Nearest Best Mattress
At Best Mattress, we understand that a good night's rest starts with the right mattress, and for many an adjustable bed frame makes for an even better night's sleep! Stop by one of our locations in Las Vegas, NV, and St. George, UT so we can help you select the perfect mattress for you! If you suffer from snoring, or have neck and back pain, let us know and our sleep experts will be happy to help you select an adjustable bed to help alleviate that discomfort. Additionally, they are great if you enjoy the convenience & comfort of working on your computer from bed! Visit your local store to learn more