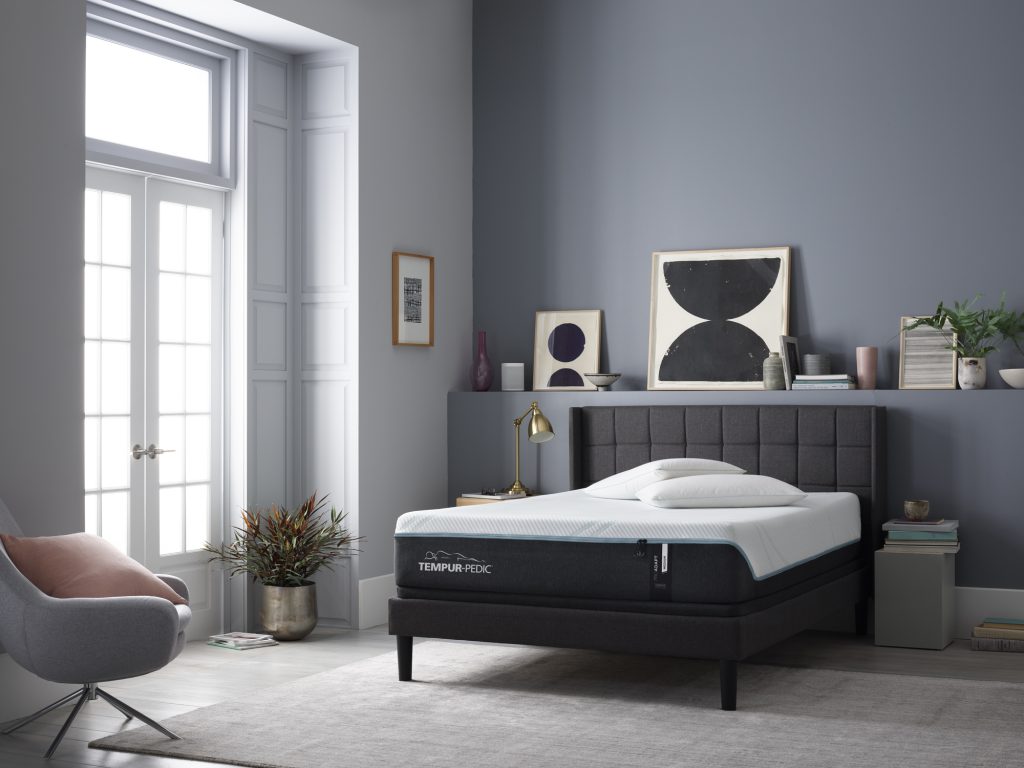 Two Tempur-Pedic Mattresses on a king size dual adjustable bed frame, set in a nice, open, decorated bedroom.
Anyone who has tried to sleep on a mattress that wasn't right for them will know a thing or two about the importance of selecting the ideal sleep setup. Without a trusted mattress, you can bet that you'll be tossing and turning all night with plenty of morning discomfort to boot.
That's no way to live, and it's an issue you can do away with by merely selecting a mattress that suits your needs. While this will, of course, vary depending on your situation, many customers find that Tempur-Pedic provides just such offerings.
This is hardly surprising for the most highly recommended bed retailer in America, but if you have yet to take the leap, you may be wondering what exactly Tempur-Pedic could offer that your current mattress doesn't. Or, more pressingly, why are so many people making the Tempur-Pedic switch?
These are valid questions, and you only need to keep reading to find out their answers.
The Tempur History Like No Other
To understand why Tempur-Pedic is such a hot brand, you only need to look to their history. After all, the materials we now find in our Tempur-Pedic mattresses started life in a somewhat more exciting setting – space.
Yes, really! At their origins, Tempur-Pedic materials were used to absorb the G-force in space. In fact, the original 'Temper' technology was used by NASA in space shuttle seat cushions throughout the 1970s.
The twenty-five years that have elapsed since have seen that original Tempur material developed for sleep thanks to its viscoelastic properties. As well as providing the utmost comfort, these mattresses literally have the claim of coming to your bedroom from a history of space technology. That, in itself, is significant.
Benefits That Speak For Themselves
The world isn't going crazy for Tempur-Pedic just because of those space-age claims — although they certainly help! Rather, customers are choosing Tempur-Pedic mattresses for the wide-ranging benefits. It would take a lot longer than one article to cover them all, but some of the most notable benefits customers are enjoying right now include –
Unparalleled support
Memory foam mattresses are getting a lot of attention for support properties, but Tempur-Pedic takes that even further with a three-layered composition, including a support layer consisting of the famed Tempur material. This ensures even weight distribution and is available at different levels across Tempur-Pedic ranges to ensure you find the best option for your needs.
Spine Alignment Benefits
Following nicely from that support, Tempur-Pedic materials also offer notable spine benefits to sleepers who suffer from back pain thanks to TEMPUR-APR+™. This is because Tempur material will hug your body, and work to keep both your spine and neck aligned.
Minimizing Pressure Points
Tempur technology also has the benefit of minimizing pressure points for sleepers. Your joints will experience comfort like never before. Thanks to that three-layer makeup, you will undoubtedly be able to say goodbye to uncomfortable springs in your back.
Easier Co-sleeping
There's nothing worse for sleep than a partner who keeps tossing and turning. Lucky for you, Tempur-Pedic mattresses reduce motion transfer. In other words, your partner will be able to turn as much as they like without disturbing your sleep.
Temperature Control
For many sleepers, poor temperature control at night is almost as bad for sleep as an uncomfortable position. Your mattress could be the softest on the market, and it'll still prevent you from resting if you feel too hot or cold. This is why Tempur-pedic mattresses have various temperature management capabilities. These include Smartclimate dual cover systems, PureCool, and TEMPUR-CM+™ material. Each of these allows for easier cooling and adjustment to your body temperature throughout the night. The Breeze range, in particular, can help you sleep around eight degrees cooler at night.
Allergy and Dust Mite-Resistant
While most mattresses stop at helping you to sleep better, Tempur-Pedic goes above and beyond to even reduce allergies for sleepers. The foam layers work to prevent dust mites and other such allergens from nesting, saving you from coughs, sneezes, and other unwanted night time disruptions.
Adjustable Bed Frames
Tempur-Pedic provides total sleep comfort. They've created their entire range of mattresses to suit adjustable bed frames. Not only do the mattresses give you premium quality comfort, but the added convenience of an adjustable bed frame creates a complete premium sleep system.
10 Year Warranty
It is also worth noting that Tempur-Pedic mattresses come complete with a wonderful 10-year manufacturer's warranty. This is a substantial plus-point given that the majority of other mattresses will need replacing around this time. By comparison, Tempur-Pedic is so sure of their products that they will offer you a replacement for up to10 years!
Our 120 Day Sleep Guarantee
If you have owned your mattress for longer than 30 days and you aren't happy with your set, Best Mattress is glad to exchange your mattress for 120 days from the date of purchase. Please see our full terms & conditions here.
Tempur-Pedic is a top brand name that only the best retailers are allowed to stock. As discussed in our Newsletter BMNL 8-11-17, we've worked hard to build a trusting relationship with Tempur-Pedic since 1994. They are the only manufacturer from which we carry every collection.
This relationship extends the Tempur-Pedic quality and guarantees to you as Best Mattress customers, including:
Prompt delivery seven days a week
Free in-home set up
Professionally trained delivery experts
And more
You are buying from the best when you buy Tempur-Pedic. As Vegas Valley's number one Tempur-Pedic dealer, we would be more than happy to prove it.