Winter is finally over and spring has sprung! It's time to start cleaning your home to freshen up and feel like new! Dusting, fluffing, & perhaps looking at changing out some of your old and aged furniture. But something to think about as well is have you thought about your mattress? Most mattresses will last from 7 to 10 years, and may not always be something you have thought about for awhile. If you have a very old mattress then now is a perfect time to look at a brand new mattress!
Mattresses are built to last, but if you have noticed you have to adjust into more comfortable positions at night, have a stiff back in the morning, or don't feel like you are getting as good of sleep as you think you should then it is time to consider looking for a new mattress. Luckily for our customers that live in St. George, Utah, we have two convenient locations that you can visit to test our wide selection of mattresses.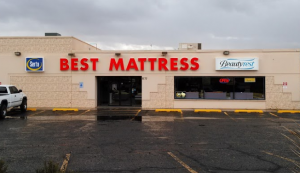 Our two mattress store locations are on Sunset Blvd. and Red Cliffs Dr. in St. George, Utah. Each are staffed by our exceptional sleep experts who are happy to help answer any questions that you might have about our mattresses and what is going to be the best option for your sleeping preferences.  Both mattress stores are open every day except Sunday until late!  Once you have found the perfect mattress to compliment your sleep style you can rest easy knowing that we also offer many great mattress accessories as well to help you get an even more restful sleep. We offer Pillows, Sheets, and Mattress Protectors that go along with your mattress purchase which will help keep your mattress like new, and will be able to give you the comfort and rest that you need for years to come!
Best Mattress prides itself in giving our customers the greatest buying experience possible which is why we offer a 120 sleep guarantee, and free installation and removal of your old mattress so you don't have to stress about the transition of a brand new comfortable bed! Spring has sprung and if you are looking to spring into a new mattress visit your nearest Best Mattress store!