The importance of having a quality mattress cannot be ignored. Your mattress has a huge impact on your sleep quality. Buying a mattress should be considered an investment. A good mattress will protect your health and ensure that you are able to get a restful night's sleep each and every night. One of the best mattresses out there is the Tempur-Pedic mattress range. In this guide, we are going to reveal everything you need to know about this mattress and why it is such a good option.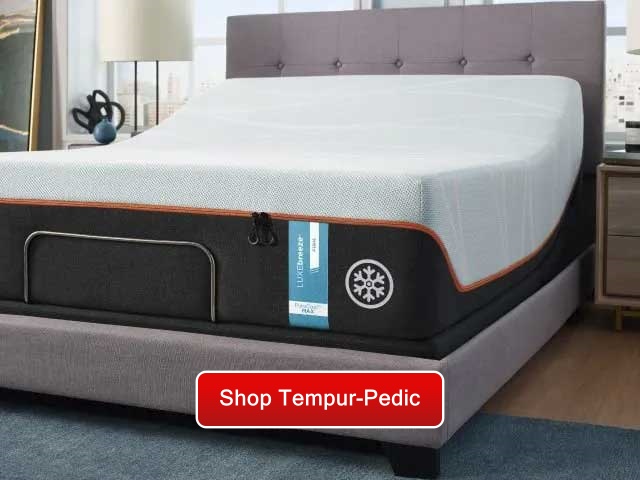 Introduction to the Tempur-Pedic Brand & Mattresses
So, who is Tempur-Pedic? This is the brand name for a manufacturer and distributor of mattresses and pillows. However, what makes this brand unique is that all of its products are made using viscoelastic foam, which can provide you with a comfortable and restful night's sleep.
Viscoelastic foam is another name for memory foam. Memory foam consists mostly of polyurethane, as well as a number of different chemicals that are designed to increase the density and viscosity of the mattress. One of the reasons why this has become a preferred choice for mattresses is because the material will react to the heat of the body. This means it will mold to your warm body, providing you with comfort that is bespoke to you. Once you get out of bed, the mattress will then return to its original shape.
Where Are Tempur-Pedic Mattresses Manufactured?
The company is based in America. They are headquartered in Lexington, Kentucky at Coldstream Research Campus. They also have a number of different manufacturing plants around the country, including in New Mexico, Albuquerque, Virginia, and Duffield. This is one of the reasons why they are able to promise such high levels of quality because everything is made here in the United States.
How Did Tempur-Pedic Mattresses Come About?
The company was originally based on research that was carried out by NASA. This research was conducted so that a material could be developed that would improve survivability in the event of an accident while also providing cushioning for comfort throughout space flight. This research led to the exploration of creating a Tempur-Pedic mattress. The very first one was introduced by a Swedish technical foam company, called Fagerdala World Forms. This brand then came to the U.S. in 1992, which led to the creation of Tempur-Pedic Inc.
Visit Best Mattress Today
Hopefully, you now have a better understanding of the Tempur-Pedic mattress and how it is able to provide such high and impressive levels of quality. If you are looking for the best Tempur-Pedic Las Vegas has to offer, you won't be disappointed with the collection of mattresses that we have for sale at Best Matt. We have worked hard to bring you the best of the best so that you can be certain that you always have a restful night's sleep. Please do not hesitate to get in touch if you have any queries about the Tempur-Pedic mattress.