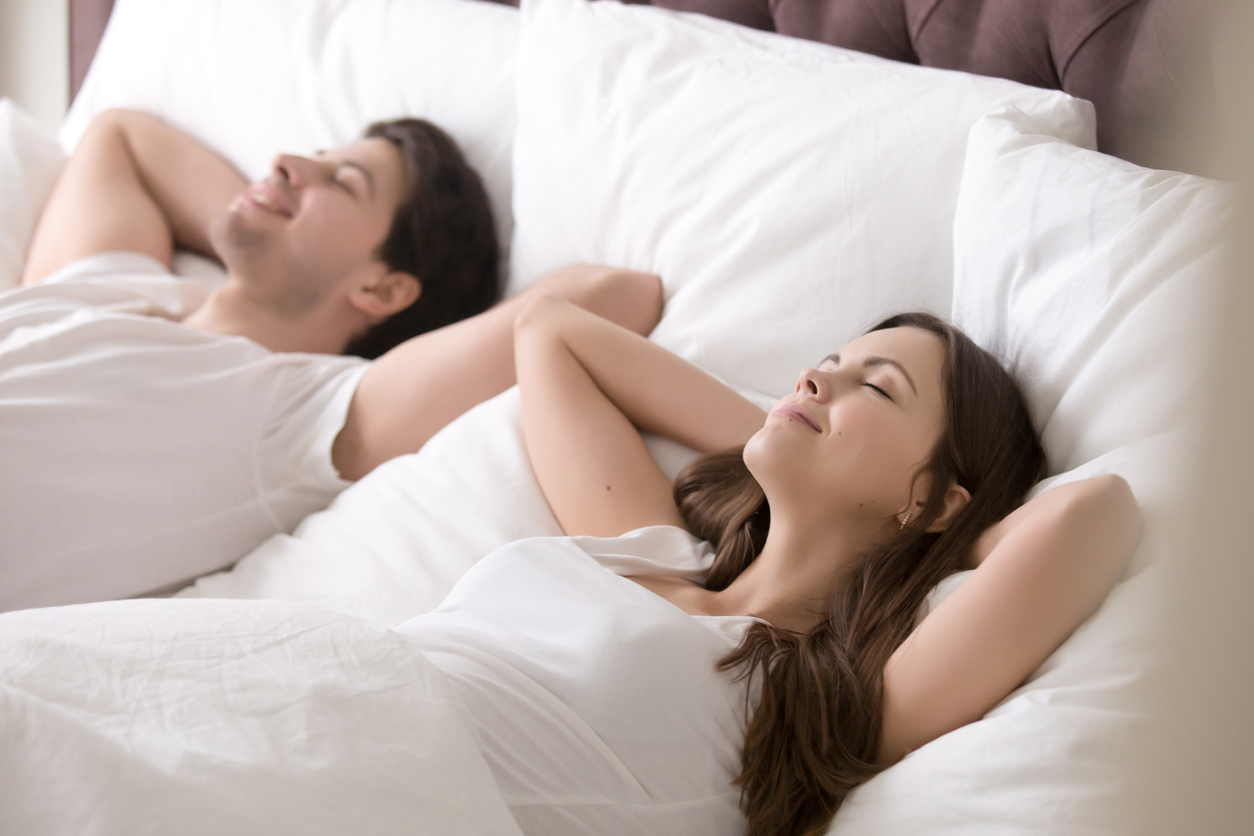 In the United States alone, more than 132 million adults are married, while over 18 million unmarried people cohabit with a partner. Given the fact that each sleeper is likely to have different sleeping habits, this poses a challenge.
To function efficiently, both partners need decent sleep, and that's not as simple as it sounds. Do you need a king bed? Or a dual adjustable bed?
Read on to learn some of the factors that can contribute to both you and your partner enjoying a good night's rest. Let's explore the various best mattresses for couples.
First, Choosing Your Perfect Mattress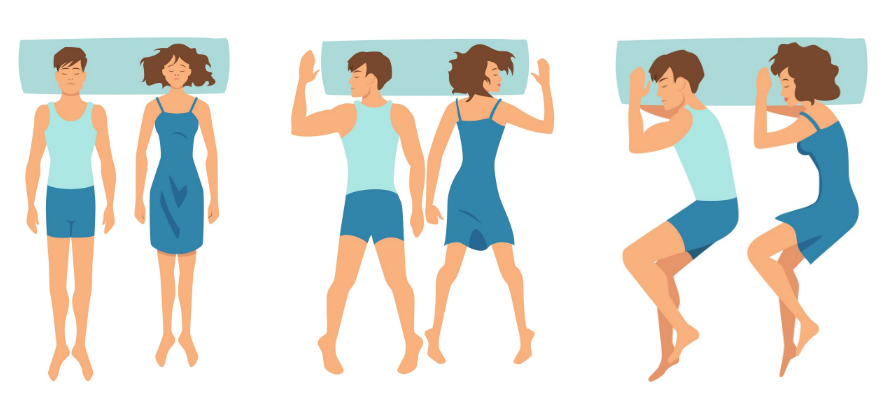 There are three basic sleeping patterns. You and your partner may follow the same style, or you may differ.
Some always sleep on their backs. Others prefer their stomachs. And probably the most popular is lying curled on one side.
Then you have those who often turn during the night. Different product categories suit the varying sleep styles. Before you go mattress shopping, let's take a close look.
Mattress Firmness
Those who sleep on their stomachs need a mattress with enough firmness to support their body to prevent overarching of the back. They also need one that is medium-soft but not too soft.
The side sleeper needs a mattress that is soft to medium-firm. This will give better contouring support.
Back sleepers should look at a mattress that is medium to slightly firm. A top comfort layer is also recommended to provide adequate back support and comfort.
Mattress Bounce
Traditional innerspring mattresses are bouncy and firm. However, they will have a ripple effect between you and your bed partner when one of you moves.
A memory foam mattress such as a Tempur-Pedic, absorbs your partners movements for zero transfer allowing you to sleep undisturbed. However, traditional memory foam has a tendency to trap in heat, unless cooling technology is included in the topper or within the layers of the mattress.
A hybrid mattress is an excellent medium as it combines the airflow of an innerspring mattress with the comfort of memory foam. The memory foam reduces the transfer of movement while the pocketed coils allow heat to excape. This combination offers cool comfortable sleep for both partners.
Mattress Layers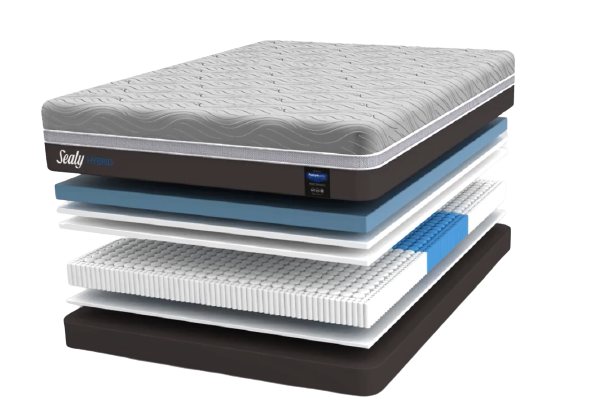 Each mattress has different layers for specific reasons, even Tempur-Pedic mattresses. Each layer offers unique comfort or support features for better sleep. Ask about each of these layers and what they do as you look for the best mattress for couples.
Mattress Covers and Toppers
When we say mattress cover we are not talking about sheets or blanket but the cover that is part of the mattress. The top layer of a mattress is one of the most important layers because it comes in direct contact with your body. The top layer should provide the right amount cushion and support in addition to tempurature control if you are a hot sleeper. It should also feel amazing ot the touch!
Over time the top layer of some mattresses tend to lose their comfort and support leading to aches and pains. When this happens, you could either buy a new mattress or purchase a mattress topper. A topper gives you back the comfort of a new mattress.
Hot Sleepers
If you or your partner sleep hot, be aware that memory foam or latex, especially if they are very soft tend to hold in heat. If you are a hot sleeper and still prefer memory foam, many memory foam mattresses include cooling technology to help you stay comfortable.
Back and Joint Pain
Memory foam and or latex mattresses tend to be best for back and joint pain. They mold to your body and provide better support where you need it. Add an adjustable bed to the mix and you have the best mattress for back pain or joint pain.
Allergies
This seems obvious, yet it is a factor often ignored. If you suffer from allergies, foam and latex tend to be more resistant to mites and mold. Alternatively, you can purchase an anti-allergen mattress cover.
Sizes and Dimensions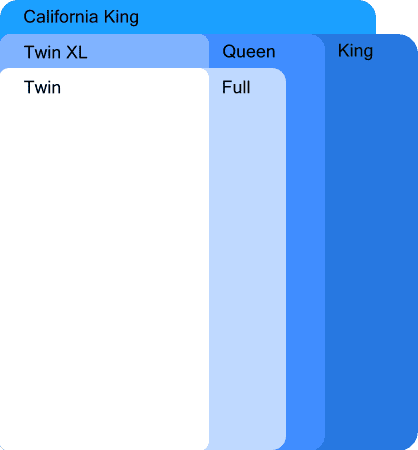 To choose the ideal bed size for couples, you need to consider the size of your bedroom and how much bed space each of you requires. Where two people can fit in a traditional full-size bed, you will be more comfortable with one of the following:
Queen-size is ideal for average-sized couples who like to be close: 60″ x 80″
King-size is the widest and allows plenty of space: 76″ x 80″
California King is longer although not as wide as the king: 72″ x 84″
Split California King mattress has the same dimensions as a Cal King but are two separate mattresses to accomodate an adjustable base
Two twin XL mattresses (split King) equal a King-size mattress that accomodates an adjustable bed: 39″ x 80″ each
Once you've decided on the size mattress you require, the next consideration is what type of mattress technology best fits your needs.
Mattress Technologies
Mattress technology about the sleep systems that make the mattress comfortable. There are several considerations that influence how well a mattress suits your needs. For more information on this vast topic, you may like to review our mattress technologies page. At the bottom, you will find a simplified side-by-side comparison of the different technologies.
TEMPUR® Material
These are made of foam layers and cannot be flipped (because they don't need to be flipped). They minimize the motion effect that occurs when your partner changes position. They are the best for contouring to your body shape. TEMPUR® material is not the same as traditional memory foam. TEMPUR® material is patented and is much more dense and has a very unique contouring feel unmatched by any other memory foam.
Air/Number Mattress
Instant Comfort mattresses incorporate this technology using air chambers combined with memory foam. They have two independent air systems, allowing couples to customize their level of comfort. Air/Number beds by Instant Comfort are modular so any part of the mattress is replaceable without needing to buy a whole new mattress.
Latex Mattress
Latex mattresses may be synthetic, blended, or natural. The different formats vary the feel from a plasticy rubber to a softer foam. For an eco-friendly mattress, this might be the one for you and your partner.
Traditional Innerspring Mattress
These mattresses use metal coils to give better support and airflow. Those mattresses with individual pocketed coils reduce the ripple effect of motion when one partner moves. Innerspring mattresses include layers foam for additional comfort and may even include cooling technology.
Hybrid Mattress
Hybrids combine memory foam and innersprings for the best of comfort and support. Sealy's Posterpedic technology is considered the best in the industry. This gives a good balance of comfort, support, and airflow to both partners.
Smart Bed
The science behind smart beds uses sensors and other means to measure your sleep quality. It then adjusts the bed accordingly. These mattresses combine different technologies.
King-size and Queen-size Beds
Both the king and the split king mattresses are the largest normally available. These are really the best beds for couples allowing plenty of room for all types of sleep styes. The California king is best for couples where one or both are taller individuals.
A queen-size mattress works great for couples as well, especially if you have a smaller space for your bed. Couples may also like the queen-size bed if they like to snuggle before rolling over to sleep.
Dual Adjustable Bed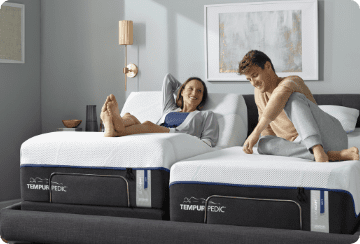 What if you and your partner differ in sleeping positions and habits? The ideal bed for you is an adjustable bed.
This type of bed allows you to elevate the head and/or the foot. Many modern versions include wireless remotes and even such luxuries as massage features, lighting effects, and USB plugins.
Note, however, that if you purchase an adjustable bed, you will need a mattress size that works with it. You will want to consider your unique needs and sleeping positions.
An excellent option where the partners have very different habits is to place two Twin XL mattresses side by side on a split King dual adjustable bed frame. This allows each sleeper to customize their own side of the bed.
Conclusion
After reviewing sleep types, mattress sizes, layers, and technologies, which mattress is best for couples? For snugglers, we recommend a queen-size mattress. For couples that need more space, we recommend a king-size adjustable bed. Adjustable beds allow for customized comfort. There is a lot to consider when purchasing a mattress, especially for two. Generally speaking:
If you are a hot sleeper we recommend a hybrid or mattress with cooling technology.
For side sleepers, we recommend Tempur-Pedic or a soft to medium firmness mattress
If you are tall, we recommend a California king or two twin XL mattresses
Back and stomach sleepers should get a medium-firm or firm mattress
For personalized mattress recommendations, you should take our quick 5 question quiz.
How Can We Help You Further?
We want you to have the best possible sleeping experience. You have probably already decided your ideal choice is the king bed, but you may have more questions.
If so, please visit one of our stores in Las Vegas and St. George to speak with a sleep expert, or give us a call.