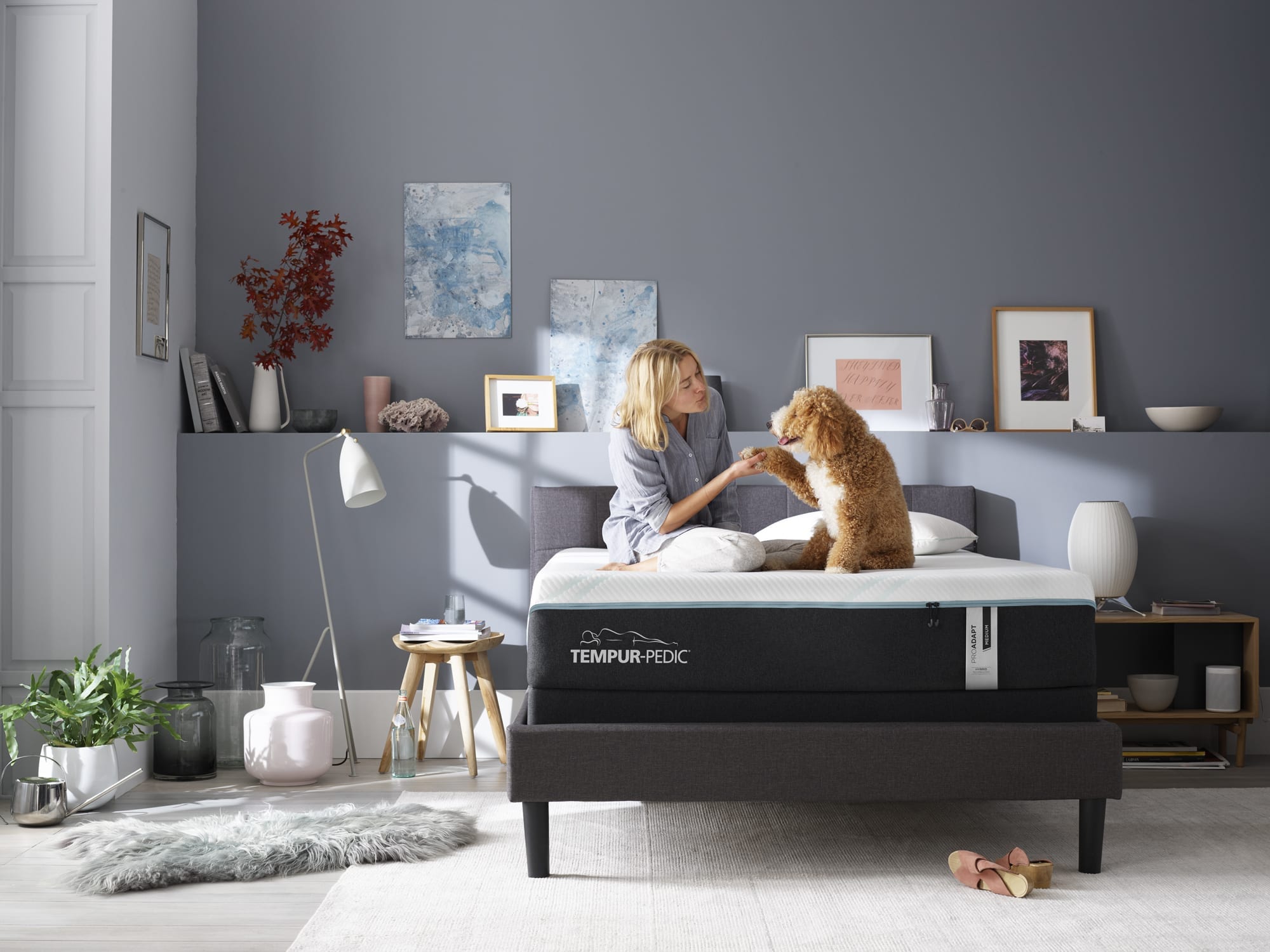 For years, Tempur-Pedic has been investing in new mattress technology. The result of this process is the PROAdapt® Hybrid – a mattress that comes with a plethora of features designed to keep you comfortable at night.
What Is The TEMPUR-PROAdapt® Hybrid?
The TEMPUR-PROAdapt® Hybrid is a high-tech mattress designed to "adapt" to your body. The company behind it says that it is suitable in a wide range of environments and makes it easier to fall asleep. The "hybrid" part of the name comes from the fact that this mattress incorporates the qualities of both soft and firm mattresses, giving it the best of both worlds. You get the underlying support of a firm mattress, but the comfort of a soft one.
This point is important. Most "soft" mattresses work by allowing you to sink deeper into the bed so that more surface area of your body is in contact with the material. This effect takes the pressure off individual parts of your body, but it can hamper your postures. Firm mattresses do the opposite. When you use one of these, you're very much lying on top, maintaining a good position, but leading to pressure points. Tempur-Pedic attempts to combine both styles of mattresses into something that offers both support and comfort.
Why Do People Prefer The TEMPUR-PROAdapt® Hybrid?
Mattress choice is always a personal decision. You might like one mattress more than another – it all comes down to personal preference. This mattress, however, might be suited more to you if you want any of the following:
Stay Cooler At Night
A lot of people get hot and bothered at night and, sometimes, wind up sweating into their beds. Tempur-Pedic, however, claims that the PROAdapt® Hybrid solves this problem. The mattress features several revolutionary technologies. One of them is what they call Cool-to-Touch – a patented weave used in the mattress cover that helps to circulate air, even when in contact with your body. The result is a mattress that feels cool when you touch it and shouldn't provoke the same level of sweat buildup over time.
More Comfort
The TEMPUR-PROAdapt® Hybrid mattress relies on space-age memory foam technology. The material automatically adjusts and conforms to the shape of your body as you move, providing additional support – something that is particularly helpful if you're the sort of person who likes to toss and turn during the night. Compare this to a conventional mattress when the level of pressure varies depending on how you lie on it, and you can see just how beneficial this product could be for you. The more comfort you have, the better you can sleep.
Less Pressure
If you want less pressure on certain parts of your body, the PROAdapt® Hybrid can help here too. Even though it provides the support of a firm mattress, the memory foam element means that you can more easily distribute your weight without having to find a "sweet spot" to get comfortable. The foam conforms to your body, regardless of how you lie on it, making it ideal for people who tend to move about a lot in their sleep.
Deeper Sleep
If you sleep next to a partner, you'll know that sometimes it can be a challenge to get to sleep. Their presence in the bed creates a well in the middle that sucks you in and wrecks the overall comfort properties of the mattress. With the TEMPUR-PROAdapt® Hybrid, you don't have this problem. Both you and your partner have a zero impact on each other's sleeping zones. The foam conforms to the shape of each of your bodies independently, without exerting any effect on the other.
The Technology Of The TEMPUR-PROAdapt® Hybrid
We've briefly touched on some of the technology that has gone into the TEMPUR-PROAdapt®, but it is worth covering it in some more detail here. After all, it is the research and development that has gone into this mattress that makes it so unique.
TEMPUR-APR+™ Support Layer
The TEMPUR-APR+™ support layer is a thick foam sheet that lies just about the hybrid base layer. This material provides the lion's share of the comfort offered by this mattress, changing its shape depending on how you place your weight on it – and then springing back to its original position afterward. Tempur-Pedic argues that this is the most critical component for people wanting to get deeper sleep. The APR Support Layer provides the extra comfort that the body needs to experience deeper forms of REM sleep that make you feel alert and rested when you awake in the morning.
TEMPUR-ES™ Comfort Layer
Like the TEMPUR-APR+™ Support Layer, Tempur-Pedic designed the ES Comfort Layer to provide the mattress with a softer feel. Again, technology helps people who use the mattress to stay asleep for longer and get a higher quality of sleep than they could without the technology.
Hybrid Technology
We've already briefly mentioned what this is – but it is a central feature of the mattress. The goal of hybrid tech is to combine the best of both firm and soft mattresses to provide superior sleep quality. Tempur-Pedic uses its in-house spring coils in combination with memory foam to produce a unique effect.
Smart-Climate Dual Cool-To-Touch
Tempur-Pedic makes the covers of the mattress with a type of mesh fabric that permits airflow, even when under pressure from a sleeper above. This feature prevents sweating throughout the night and helps to regulate temperature – again improving sleep.
The Tempur-Pedic, therefore, is an innovative product that provides many critical features that allow you to get a better night's sleep. The combination of hybrid technology with a breathable mesh layer makes this one of the most feature-packed mattresses on the market. The protectors that come with the mattress are machine-washable. But the beautiful thing about this product is that it protects itself, reducing the amount of sweat that can penetrate the material and cause degradation. It is a mattress built to last.
Try A TEMPUR-PROAdapt® Hybrid Today!
Come to your nearest Best Mattress store in Las Vegas, Mesquite, or St. George to see what a TEMPUR-PROAdapt® Hybrid is like! Our sleep experts are happy to help you find if it will best suit your sleep preference.  We look forward to helping you get the best sleep of your life!