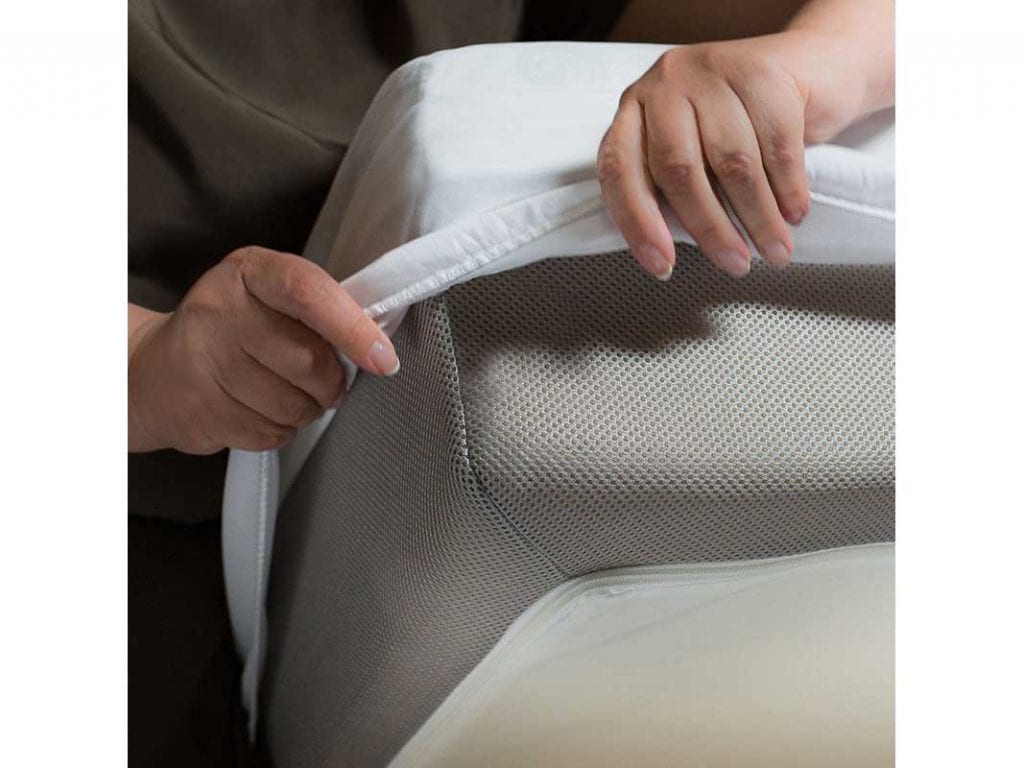 Almost all modern mattresses today have been improved to include additional features. One such feature is a comfortable topper – and we don't mean a pillow top. A lot of mattresses come with a built-in mattress protector, and those that don't have them will be relieved to know that you can buy mattress protectors from Best Mattress separately. Mattress protectors not only protect your mattress from damage and wear, but they help to address specific health issues, including dust mites, allergens, bed bugs and even water damage in some cases. 
For some people, a mattress protector is an essential piece of the puzzle for getting a good night of sleep. It prevents stains and particles from damaging the surface, and there are plenty of options in the market right now, so it's not like you'd be short on choice! Some of the options for sale aren't particularly expensive, but then there are others that are a much higher cost given that they are made with quality materials. Some mattress protectors, for example, are reversible, while others have better airflow or a cooling effect.
When it comes to understanding everything that you need to know about mattress protectors, we've got you covered. Let's explore everything that they have to offer, as well as look through the benefits of purchasing the best mattress cover Las Vegas has to provide you.
What is A Mattress Protector?
Mattress protectors are thin, waterproof bedding accessories that you put on top of the mattress and under the sheets. It's able to trap moisture – and in children, it protects the bed from bed-wetting. Most mattress protectors are made with plastics and fabrics together so that you can be comfortable while keeping the waterproof qualities that you need. Not only are they designed to protect from bed-wetting, but they're designed to protect you from:
Stains

Sweat

Bacteria

Dust mites

Allergens

Spills

And more!
Mattress protectors will provide that leak-proof layer you need to ensure that your mattress doesn't need replacing too quickly. We all know how expensive mattresses can be, so if a waterproof mattress protector can prevent you from spending your money on a replacement, it's the better option. Mattress protectors aren't the same as mattress pads, and they're designed to ensure that your bed is as protected and comfortable as possible.
Reasons To Use A Mattress Protector
To put it bluntly, if you care about your mattress, then you should buy a mattress protector, and you shouldn't wait around to buy one. The cost of a good mattress protector versus the cost of replacing the mattress entirely is massive, and as it can extend the life of your mattress, it's going to be a good investment in the long run. Below are some of the best reasons you should be buying a mattress protector for your bed.
Stain Protection
When you have a protective layer on top of your mattress, you get that extra benefit of knowing it's safe from stains like spills, bed-wetting, pet stains, etc.
You Have Kids
Let's be honest; children are messy. They spill food, they puke in the night, and if you're really unlucky, they'll leak through their diapers. Mattress protectors are a lifesaver in all of these cases, and not only that, but as they protect you by blocking bacteria and allergen buildup, your children will have the same benefits.
An Investment Worth Protecting
Some mattresses can run into the hundreds and even thousands of dollars, which means that you have poured significant amounts of money into the place where you sleep. To have to do that all over again because of a silly stain? That's not okay. Your mattress is an investment worth protecting, as you would a new car with car insurance. The difference is that a mattress protector only costs you a fraction of the cost of insurance, and you only have to buy it once. 
Allergy Protection
Opening the windows in the bedroom during the summer months is a wonderful way to catch a breeze, but it's also a way to allow pollen and other allergens into the surface of your mattress. Save yourself the sneezes and add a mattress protector to the top of your mattress. You can wash the sheets weekly, and this way you won't have to get the mattress steam cleaned professionally. Allergens often build up into the mattress and stay there over time, but a mattress protector can prevent this from happening.
No More Dust
For those who love to know their bedding and mattresses are clean, a mattress protector can give peace of mind that it's not dirty. We sweat when we sleep, and we don't know about it most of the time! Along with sweat, we let go of dandruff, and we also have our beds and furniture subjected to dust and dust mites. With the right mattress protector, all of this is eliminated!
What To Look For In A Mattress Protector
There are several things that you should look for when you are shopping for a new mattress protector, and these include the following:
Daily Use

. You want to ensure that the mattress protector that you choose is washable, breathable and can be used every day.

Anti-Spill

. Waterproof mattress protectors are perfect for those who are clumsy or have children!

Anti-Allergy

. Fabrics that are antibacterial will keep those allergies at bay, ensuring a comfortable night of sleep for all.

Temperature Control

. Most mattress protectors are made with both wool and latex and they offer you the ability to maintain your night time temperature. There is no risk of being overheated or too cold, as the material will be perfectly balanced.

Total Comfort

. You want to have a better padded bed, and a mattress protector can offer you that one extra layer of comfort you want! 

Size

. Mattress protectors come in a variety of sizes and shapes, so make sure that you get the right size for your bed.

Fabric Types

. You can get cotton, Spandex and polyester mattress protectors as the most common types of mattress protectors on the market and you get a total choice of which you choose.
Choosing the right mattress protector is important so that you make a smart purchasing decision. 
Come Into Best Mattress
Come into Best Mattress if you are wanting expert advice on the best mattress protector for your mattress. And if your mattress is begining to sag or feels awkward to sleep in at night we can be happy to suggest a new mattress to help you get a fully rested night's sleep!