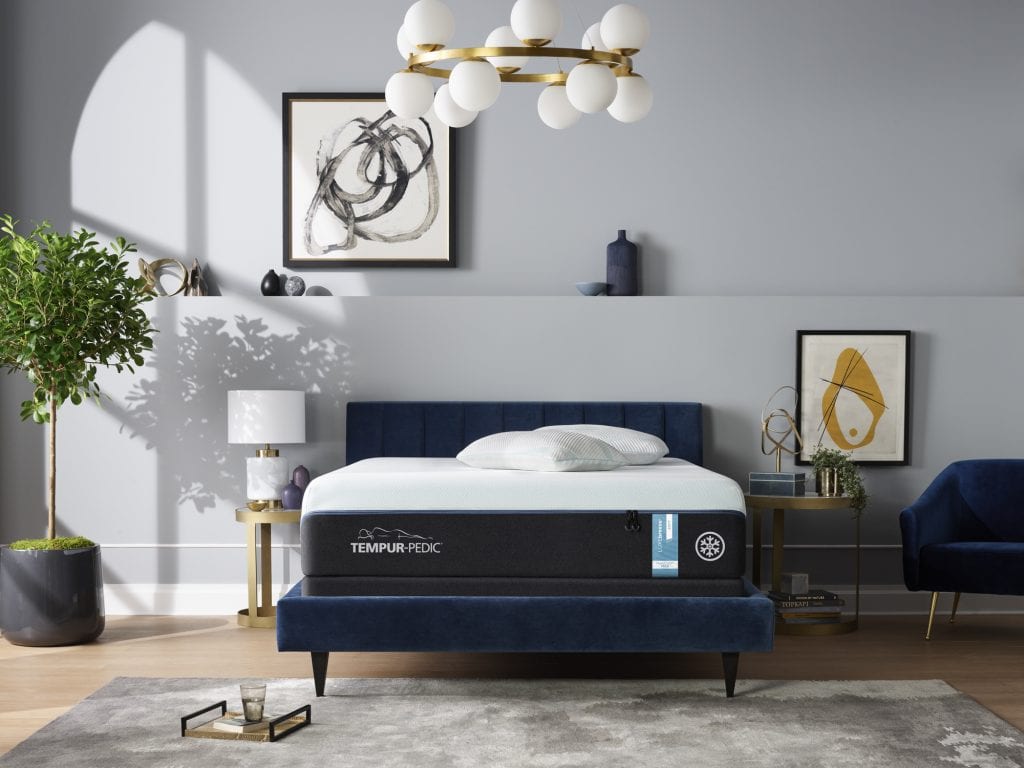 Are you looking for a way to receive the ultimate sleeping experience? Looking for a mattress that stays as cool as the other side of the pillow? If so, then your dream mattress awaits in the form of the Tempur-Pedic Breeze!
It has several amazing features that you'll unlock after purchasing and placing this one-of-a-kind mattress in your bedroom.
Not only will you get sound sleep throughout the night, but you'll also look forward to hitting the hay each night as well. Read below for many different aspects of the Tempur-Pedic Breeze and how it can help you achieve the ultimate night's sleep.
1. Many Different Options for Comfort
Okay, so you've decided that you're going to purchase the Tempur-Breeze mattress, but your decision isn't finished just yet. The Tempur-Breeze collection has many different comforts of beds that they offer.
There's the Tempur-LUXEBreeze Soft, Tempur-LUXEBreeze Firm, Tempur-ProBreeze Hybrid, and the Tempur-ProBreeze Medium for you to choose from. These different titles point you at the right amount of firmness in your preferred mattress.
For example, those of you that are looking for a mattress that feels as if you're lying on a pillow, you can't go wrong with the Tempur-LUXEBreeze Soft. If you and your spouse have opposite preferences, then the Tempur-ProBreeze Hybrid might be a good compromise.
2. Helpful Features
With a name like Tempur-Breeze, you've got to live up to the expectation of providing a cooler, more comfortable sleeping surface each night. Even a few degrees cooler can make the world of difference.
The Tempur-Pedic ProBreeze mattress backs up their big talk with three helpful features: the smart cover DualCool climate system, PureCool+ phase change, and Tempur CM+ material.
The smart cover DualCool climate system provides a flexible mattress cover for all the amazing airflow features underneath. However, it also stays cool for that relaxing feeling every time you touch it. It's also machine washable, which is an added bonus.
Tempur-Pedic's PureCool+ change material is responsible for absorbing the heat of your body, keeping you cool while you gradually fall asleep. It disperses that heat out through airflow vents to prevent you from waking up in a sweat.
Lastly, the Tempur CM+ material is in charge of maintaining constant airflow throughout the night. It works in tandem with the PureCool+ feature to make sure heat isn't being applied on the surface while you're trying to sleep.
Studies have shown that sleeping in a cold room, with a cold mattress, has shown to be better for your health. That's why we highly recommend the Tempur-Pedic Breeze collection.
3. Stays Cool for All Three Phases
There are 3 key phases that Tempur-Pedic uses to design their mattresses and give their clients the most sleep possible. These phases are the moment you lie down in your bed, the moment you fall asleep, and the time that sleep with.
The previously mentioned features are all meant to boost your experience with all three phases, providing a mattress that's up to 3 or 8 degrees cooler (depending on which type you purchase).
The SmartClimate dual cover gives you the initial satisfaction of laying down on a cool surface. The PureCool+ is in charge of keeping it cool while you fall asleep. Lastly, the Tempur CM+ regulates the temperature of the mattress, keeping it cool all night long.
4. ProBreeze and LUXEBreeze
Now that you're aware of the two different types of mattresses in the Tempur Breeze collection, it's time to sort through the similarities and differences of both.
First things first, if you're wanting access to the three cooling features listed above, you'll receive them in both the ProBreeze and LUXEBreeze. They both contain the SmartClimate dual cover, PureCool+ phase change material, and the Tempur CM+ comfort layer.
The main difference is in the support layer, cooling levels, and comfort grades that they provide. The ProBreeze collection offers the original Tempur material that we know and love, while the LUXEBreeze collection offers a ventilated Tempur-APR material.
The cooling levels of these two types of Tempur mattresses differ significantly. The ProBreeze offers up to 3° cooler while the LUXEBreeze offers up to 8° cooler. The LUXEBreeze can be a special help to those that live in warmer, southern climates.
Lastly, the different comfort grades in the ProBreeze are medium and medium hybrid. The comfort "feels" in the LUXEBreeze is firm and soft, respectively. Be sure to factor in all these different features as you find the one that best fits your needs.
5. Different Mattresses for Different Sleep Positions
Perhaps you're having some difficulty choosing which comfort grade you should purchase in your Tempur Breeze mattress. It all depends on your sleep position.
For example, if you tend to sleep on your side, then the ProBreeze mattress will offer your spine more support as you sleep. The ProBreeze Hybrid is perfect for any sleeping position, making it a great fit for couples who sleep differently.
The LUXEBreeze soft mattress is perfect for those that are 190 pounds or lighter, giving the feeling of sleeping on a cloud. The LUXEBreeze firm mattress helps provide solid support to those that sleep on their back.
Invest in the Right Tempur-Pedic Breeze Mattress for Your Needs
Now that you've seen the different benefits and aspects to consider for your Tempur-Pedic Breeze mattress, it's time to find the perfect fit.
Be sure to visit this page to view all the different options you have to choose from in the Tempur-Breeze mattress collection.
For more inquiries, please feel free to reach out via our contact us page and we'll be happy to assist you further!