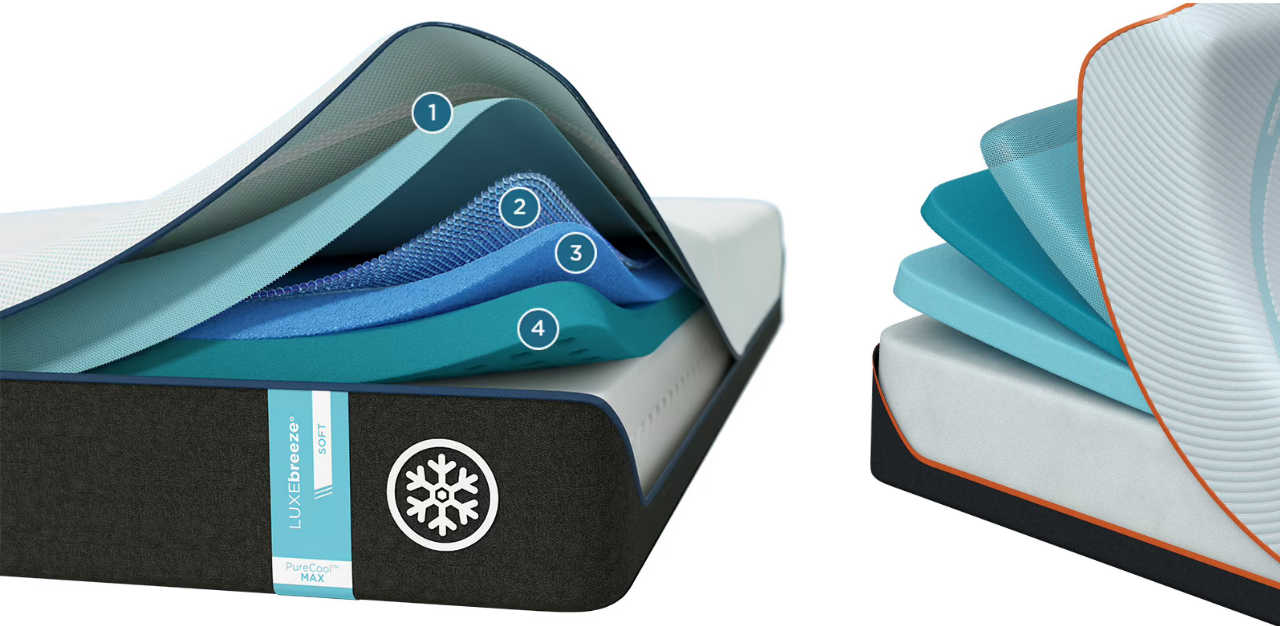 In every aspect of our lives, we naturally seek out things that ensure we feel our best. From the way our desk chair feels, to the upholstery in our vehicles, to the fit of our clothes. We surround ourselves with things that make us feel relaxed and comfortable. Choosing the right mattress is no exception and searching our Tempur-Pedic store is a fantastic step in the right direction. While a lot of factors naturally go into getting a great night's sleep, it all starts with finding the right mattress.
Tempur-Pedic is one of the most well-known names in premium mattresses, with options available in memory foam and hybrid models, each with a wide variety of high-end features. At Best Mattress, we have a few fan-favorite models that stand out for discerning mattress shoppers. Our Tempur-Pedic store includes TEMPUR-breeze° and TEMPUR-Adapt® models. Not sure which one is best for your bedroom? Here are some helpful tips.
Cool Comfort with TEMPUR-breeze° Mattresses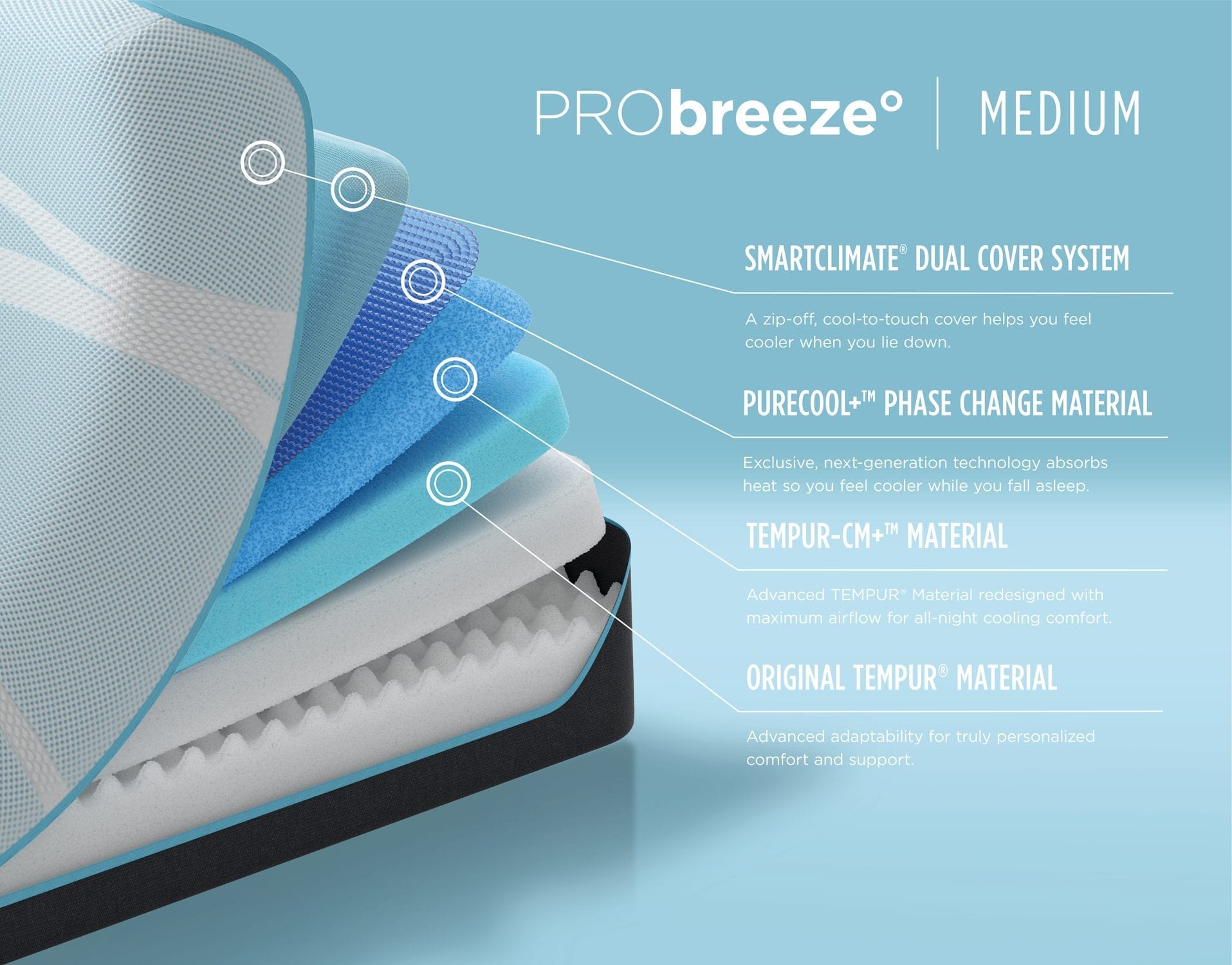 TEMPUR-breeze° is a top model of Tempur-Pedic mattresses that come in two varieties. Our TEMPUR-PRObreeze° and the TEMPUR-LUXEbreeze° are conveniently available in sizes ranging from Twin XL up to a California King (split or traditional). Matching bases, including power bases, are also available to customize your sleeping experience from head to toe.
These mattresses are perfect for sleepers that find themselves waking up hot and uncomfortable, due to the warm weather in Las Vegas or St. George. Combined with a TEMPUR-breeze° pillow and your favorite linens, these cooling mattresses provide the environment you need for a relaxing, restful night.
What Makes TEMPUR-breeze° Mattresses Special?
Tempur-Pedic specifically designed TEMPUR-breeze° mattresses to beat the heat while sleeping. They pull unwanted excess heat away from your body to keep you at a comfortable temperature. It all happens passively, thanks to Tempur-Pedic's state-of-the-art material research and implementation. When the Las Vegas sun keeps things too warm for comfort, even after sunset, these dynamic mattresses help keep uncomfortable sweating out of your sleep sanctuary.
TEMPUR-breeze mattresses have four layers of cooling technology including SmartClimate® Cover System, PureCool+™ Technology, TEMPUR-CM+ Material, and Ventilated TEMPUR-APR® Material (exclusive to LUXEbreeze°). All of these layers work together to keep you cool as you sleep.
Body-Cushioning Performance with TEMPUR-Adapt® Mattresses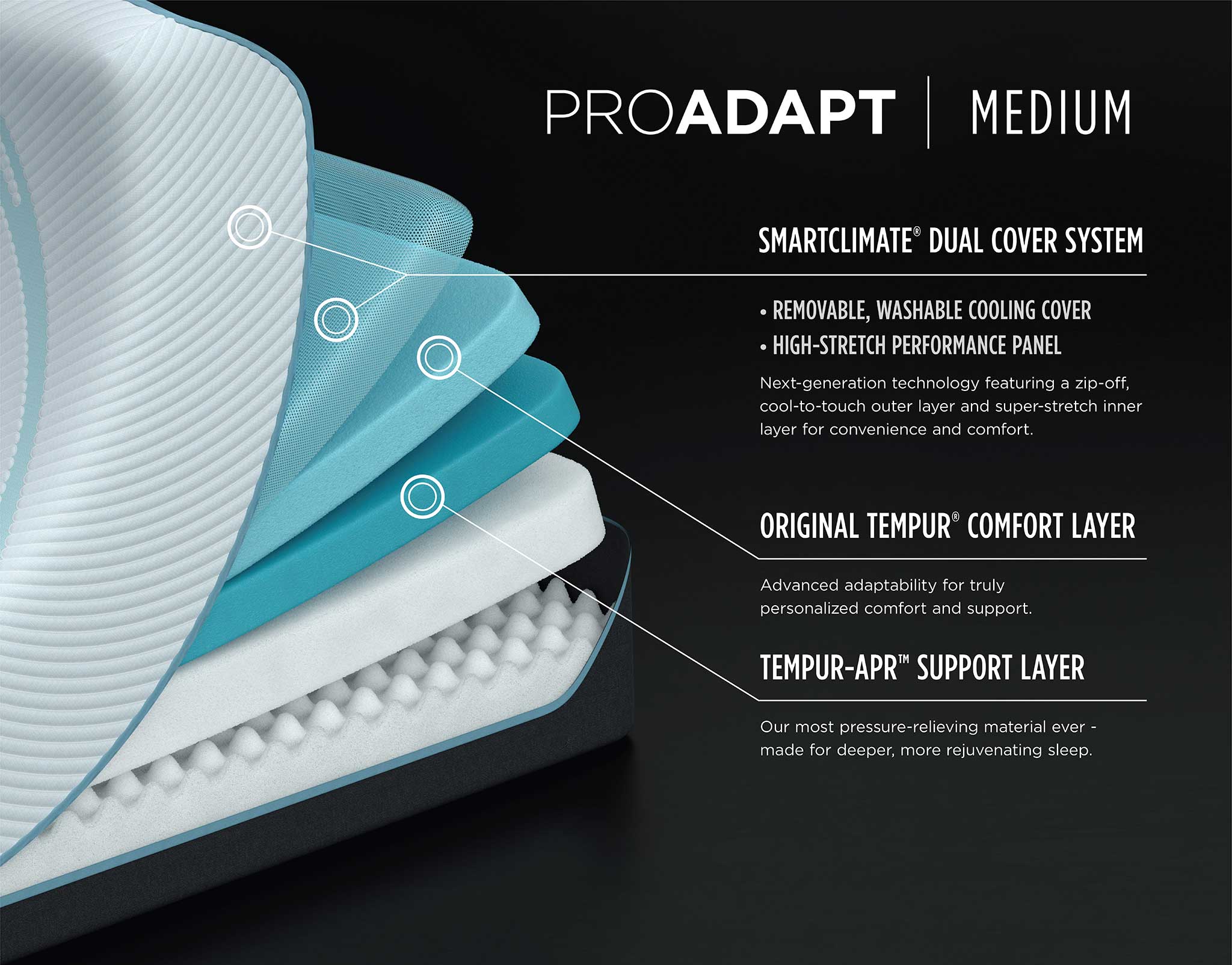 The TEMPUR-Adapt® line of Tempur-Pedic mattresses offers two varieties—the TEMPUR-ProAdapt® and the TEMPUR-LuxeAdapt®. Mattress sizes include Twin XL, Queen, King, California King, and Split California King. Whether you pair this mattress with a traditional TEMPUR-flat base or adjustable base, this premium mattress provides undisturbed comfort for a great night's sleep.
Because the mattress absorbs motion-transfer your sleeping partner won't wake up from movement. For light sleepers, this thoughtful design is a must for harmonious co-sleeping. It might just make you a morning person if you aren't one already!
What Makes TEMPUR-Adapt® Mattresses Special?
There are several reasons you should purchase a Tempur-Pedic mattress. Here are just a few.
No Motion Transfer
The motion absorption design isn't just lip service, it's carefully tested to make sure that motion on one side of the bed won't disturb the other. For example, if you and your partner keep different schedules you can easily do so without waking each other.
Machine Washable Cover
With a machine-washable cover, it's easy to keep your TEMPUR-Adapt® mattress clean and fresh. Simply remove the cover, wash as directed, and zip it back on in moments. This unique feature makes Tempur-Pedic mattresses a fan-favorite choice for sleepers concerned about keeping their bedroom clean and tidy.
Contouring Supportive Comfort
Premium TEMPUR® material cradles and cushions the body. This allows sleepers with chronic joint, hip, or back discomfort to sleep better. The TEMPUR-Adapt® mattress offers the right mix of softness and support to help relieve pain, cramping, or pressure associated with sleeping on lower-quality mattresses.
TEMPUR® Pillows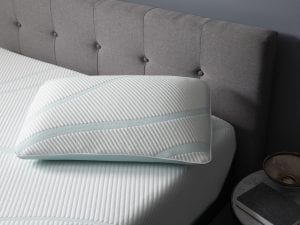 Looking to get the full experience? Once you've found the right TEMPUR-Adapt® mattress, consider adding accessories. A complimentary Tempur-Pedic support pillow gives your body head-to-toe support to rejuvenate after a long day.
Visit Our Tempur-Pedic Store
With soft, medium, and firm, as well as hybrid and foam models of TEMPUR-Adapt®, you'll be able to easily find the right combination for your sleeping needs. When in doubt, simply ask one of the helpful team members at Best Mattress for guidance. We are always here to help you find exactly what you're looking for.
At Best Mattress, we're pleased to serve both Saint George, UT, and Las Vegas, NV, with Tempur-Pedic mattresses and pillows. We understand that finding the perfect bed is a challenging and very personal shopping experience. Our sleep experts are ready to answer all of your questions. Whether you're looking for a cooling mattress or a cloud-like sleeping experience, we have the mattress you're looking for.
Don't spend another night tossing and turning. You deserve better! Shop our Tempur-Pedic store at Best Mattress in Las Vegas and St. George for all the best mattresses, foundations, pillows, and more. Visit us to make sure every night is one that's ready to bring you sweet dreams and a smile each morning, even Mondays!