There's nothing quite like a good night's sleep to lift your mood and set you up for a productive day. Sadly, research shows that many of us don't enjoy the quality of sleep we deserve. If you find yourself lying wide awake, or it takes you an age to drift off because you can't get comfortable, investing in a new mattress may be an option worth exploring. If you're looking for the ultimate in quality, you cannot beat Stearns & Foster. Here's a handy guide to Stearns & Foster mattresses and some tips to ensure you make the right decision when buying your next mattress.
What Makes Stearns & Foster Special?
When you hear the brand name Stearns & Foster, words like exclusive, opulent, and premium spring to mind. Over the years, this manufacturer has established a reputation based on designing beds that are a cut above the rest. Stearns and Foster have thought out and designed every element of the mattress meticulously.
The Stearns & Foster name is synonymous with expert craftsmanship, and the manufacturing process is very different from other brands. This is a business that utilizes the skills of highly-trained individuals who put their all into crafting superior mattresses. Certified master craftsmen have overseen every single stitch. You can appreciate the time and effort that has gone into each individual mattress as soon as you feel the material and test out the surface.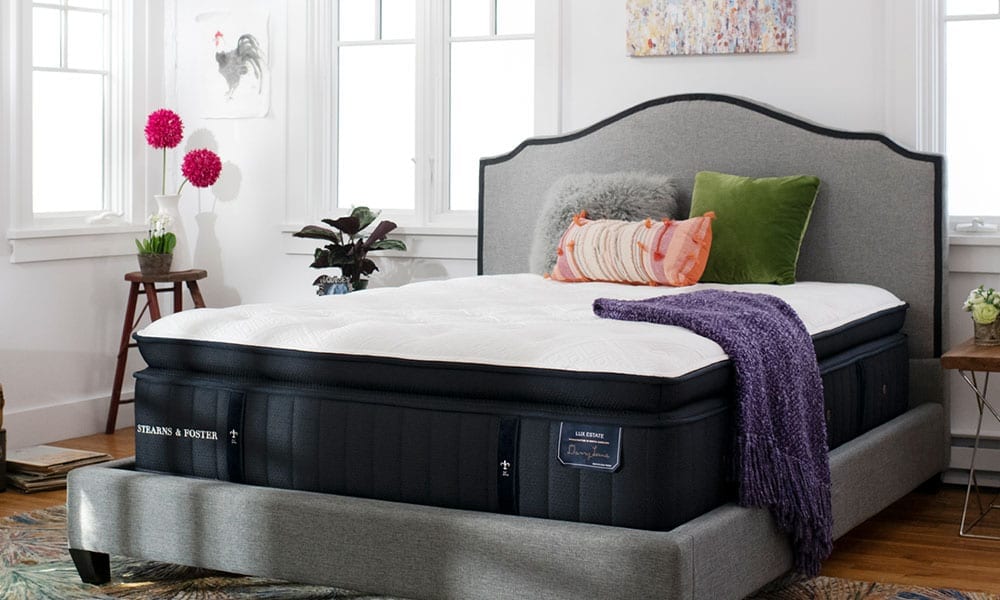 A Better Night's Sleep With Stearns & Foster
Stearns & Foster mattresses are not just aesthetically-pleasing and hard-wearing, they're also designed to enhance sleep quality. Made from breathable materials, these mattresses are ideal for residents in hotter climates. Additionally, the memory foam layer makes for unparalleled levels of comfort.
At Best Mattress, we're proud to offer an extensive range of mattresses, as well as Stearns & Foster mattresses in Las Vegas. We stock the Reserve, Estate, and Lux Estate collections.
The Estate Collection sets the bar for luxury mattresses. It features Intellicoil Advanced materials that mold to your body and adapt to movement during the night. For the ultimate treat, the Luxe Estate is a step up, with added hand-tufting that increases responsiveness in tune with the movement of your body. The Reserve Collection offers unique features not found elsewhere, including a hybrid pillow top. With such an incredible array of options, it may be difficult to determine which fabulous mattress is best for you. The good news is that we're here to help if you need advice or information.
A brand that has been making superior quality mattresses for over 160 years, Stearns & Foster is a market leader famed for its luxurious, decadent beds. If you're looking for the ultimate in comfort, visit a Best Mattress store today and come and see for yourself? We're proud to sell Stearns & Foster in Las Vegas.