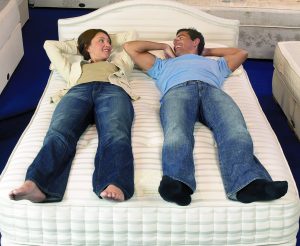 Do you sleep in cramped quarters? Are you sharing a bed with a spouse, a child, or maybe even a pet? This can turn sleeping into a nightly wrestling match! In order to relax you will need freedom of motion. A healthy person moves and rolls anywhere from 40-60 times in a single night!
Two people sleeping on a full or double-sized mattress only have as much personal sleeping space as a baby in a crib. Which as an adult can not make for a very comfortable sleeping arrangement. It's recommended that partners buy no smaller than a queen-sized mattress when sleeping in the same bed. Make sure your mattress gives you room to move around comfortably throughout the night while not disturbing your partner.
For more information on better sleep and to find a brand new mattress in Las Vegas, and St. George, Utah, visit Best Mattress. Also, be sure to share your food craving tips and tricks with us on our Facebook Page.