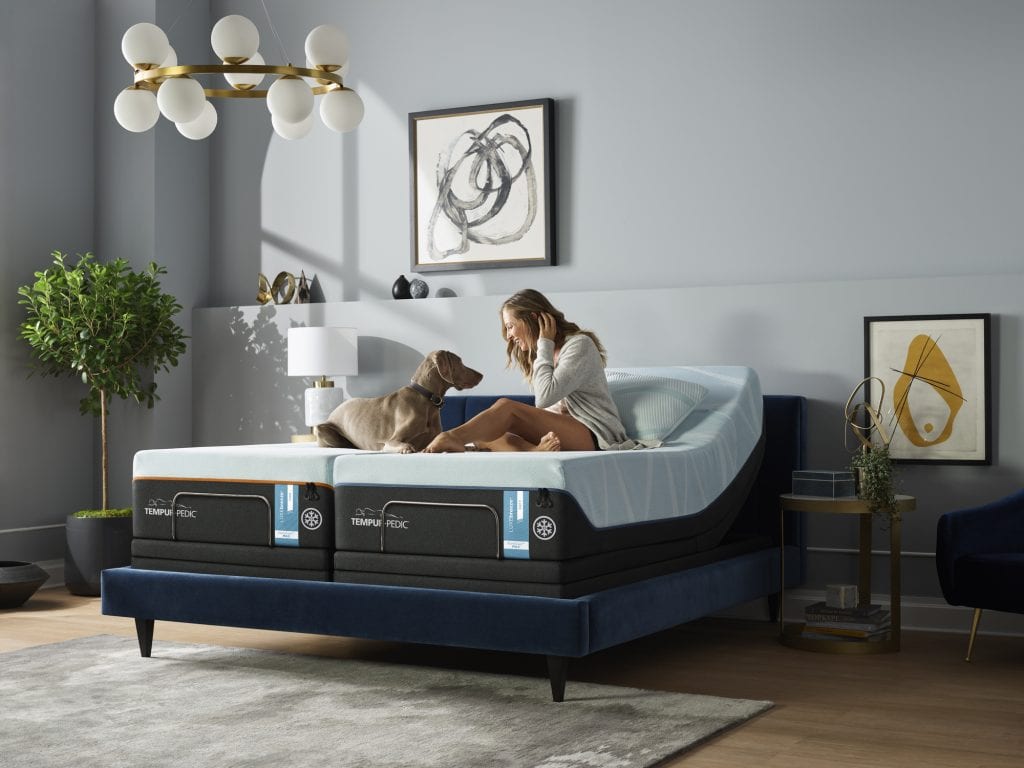 A woman sitting with a dog on a newly purchased Tempur-Pedic mattress and adjustable base.
You may decide to buy a mattress online and shop the internet for your new purchase. Alternatively, you may prefer the idea of visiting a local mattress store to browse the choices available in person before making your final decision.
If you are wondering whether it is better to buy a mattress online or from a brick and mortar store, you will find that they both have their own advantages. This blog post talks about the benefits of buying a mattress in a local store versus purchasing a mattress online to help you weigh up which is the right choice for you.
Before we get into it, let us be clear that we take the safety of our customers and employees very seriously during this time of COVID-19. We have taken measures to protect you as you visit one of our stores. You can read what those safety measures are by visiting our COVID-19 informational page.
In-Store Shoppers Can Try Before They Buy
The ability to try a mattress before you buy it is a significant advantage of shopping in-store for your mattress. Being able to see the mattress yourself, feel how firm it is, and see the material will help you to make a more informed purchase decision. Shopping in-store also enables you to directly compare mattresses to assess which one is best for your needs.
While you may not be able to try before you buy when purchasing a mattress online, you are still able to benefit from the trial offers available from manufacturers. Many mattress manufacturers provide a trial for a limited number of days. This means that if you are not entirely satisfied with the mattress during this time period, you can come to a location near you and exchange your mattress. See our full terms and conditions here.
In-Store Shoppers Are Given Free Added Services
When shopping for a new bed and mattress, you will need to decide what you are going to do with your old bed and mattress. The most convenient option is to have the retailer taken away the old mattress when your new purchase arrives.
It is important to keep in mind that online retailers rarely offer a collection of your old bed as part of their service. Buying your mattress in-store often means that you are provided with the choice of having your existing bed and mattress taken away. This is an added convenience for you and takes away the headache and hassle of trying to get rid of the old mattress yourself.
In-Store vs Online Price Comparison
Retailers often offer the best prices online. Buying your mattress from an online dealer can help you save money, particularly if your budget for your new mattress is restricted. If you would rather shop in-store for your mattress, there are still many ways that you can save money on your purchase. You can save money on your next mattress by looking out for in-store promotions and flash sales, but you may find that the best-priced mattresses are sold by online retailers.
Full-Service Delivery
Online retailers often use parcel delivery services, such as UPS and FEDEX, to deliver their items to their customers. These are efficient delivery services, but they don't offer the full-service delivery that you could receive when buying your mattress from a brick and mortar store. As mentioned before, buying your mattress in-store often includes removal of your old bed and mattress, but it also means the mattress is taken inside your home for you rather than left blocking the door or possibly getting damaged in bad weather or stolen.
Return Policy
Knowing a retailer's return policy is important before you make a purchase. Return policies for online retailers can vary wildly, so it is best to check each store's individual policy before making your mattress purchase. Checking in advance that you can return the item if you need to will help you to avoid the hassle of complicated returns policies.
In general, it is far easier to return a mattress purchased in a local mattress store. Being able to discuss the reason that you are returning the mattress in-person should help to speed things up. Returning a mattress bought in a local mattress store could also mean the whole situation is resolved faster. So, there will be less waiting around for your money to be credited back to your bank account.
Both online and in-store retailers may charge fees for returning items. So, it is wise to check the return policy before you make a purchase.
Customer Service and Convenience
Receiving excellent customer service when purchasing your mattress should be the norm. But, the customer service that you receive online may vary greatly. Buying a mattress online may provide you with online customer assistance around the clock, but not always. However, visiting the store in person can help you to resolve a matter much faster. There is something to be said about face to face communication to enhance understanding.
Shop Best Mattress Online or In-Store
Best Mattress is able to offer you the best of both worlds. We stock a wide selection of excellent quality mattresses from brand names in our stores. Our friendly team members will be happy to help you find the perfect mattress. We also sell our fantastic range of mattresses online, so if you prefer to shop over the internet for your next mattress we can help with that, too. When buying from us online you can benefit from our fast delivery service and excellent customer service.
Whether you choose to buy a mattress online from us or come into one of our local mattress stores, rest assured you will receive the same fantastic customer service and quality products every time.