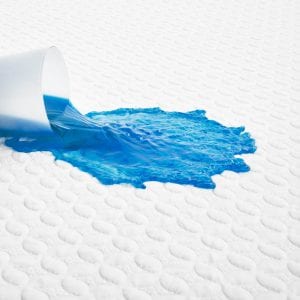 You have invested time, energy and money is choosing a quality mattress, so what is the best way to protect it throughout the years and maintain it at peak condition? A mattress protector will go a long way in ensuring that your mattress stays in excellent condition and lasts as long as possible.
Mattresses are notoriously difficult to clean, but a mattress protector is the first line of defense when it comes to sweat, dead skin cells, other bodily fluids and dust mites which might otherwise damage your mattress. Although these aren't things that anyone wants to think about, having a mattress protector will mean keeping a cleaner mattress in the long run. It's advisable to have two, so you can swap them in and out when washing your sheets. You can also easily maintain your mattress protector by washing it with your bed linen every other time.
 A mattress protector will go a long way to maintaining your warranty. A dirty or stained mattress renders your warranty null and void, but if you've avoided this by using a protector, you can still use your warranty if there is another issue with your new mattress. You can also ensure your mattress is free of bed bugs. These mites feed on dead skin, which is exactly what your mattress protector prevents from lingering.
If a sleeper is an allergy or asthma sufferer, a mattress protector will be nothing but beneficial in preventing the build-up of dust and other debris to give them a wheeze-free night's sleep. It might be dust or pet hair, either way, having a protector than can be removed and cleaned will help those with allergies breathe a little easier.
The type of use you require your mattress protector to stand up to will depend on the sort of protector your purchase. Many people feel as if they are being "upsold" a mattress protector when they are buying a mattress, when in actual fact this couldn't be further from the truth. Think carefully and make an informed decision regarding your mattress protector, and it should last nearly as long as your mattress. Below are a few basic functions of a mattress protector, and which one you should opt for:
 

Daily wear and tear – Standard cotton cover will serve your purposes just fine.

 

Extra-strong bed bug protection – A mattress protector which completely encases your mattress.

 

Extra comfort – You could look at a thin quilted sheet or mattress protector with extra padding.

 

Sleepers with incontinence issues/high risk of spills – Some mattress protectors incorporate waterproof lining which will work well for these sleepers.
Ensure that you find a mattress protector which is easy to wash – ideally one that fits into your machine at home. If you are looking at ones which require more specialist care instructions, it might be time to consider a different protector. Equally, think about sizing if you plan to use your mattress protector in conjunction with a mattress topper. If this is the case, ensure your protector will fit your mattress with the topper in place for maximum comfort and protection.
If you are in need of a mattress protector then come into Best Mattress today to find one to perfectly match your needs.  Our sleep experts are happy to help answer any questions you have! We look forward to meeting and helping you get a better night's sleep!