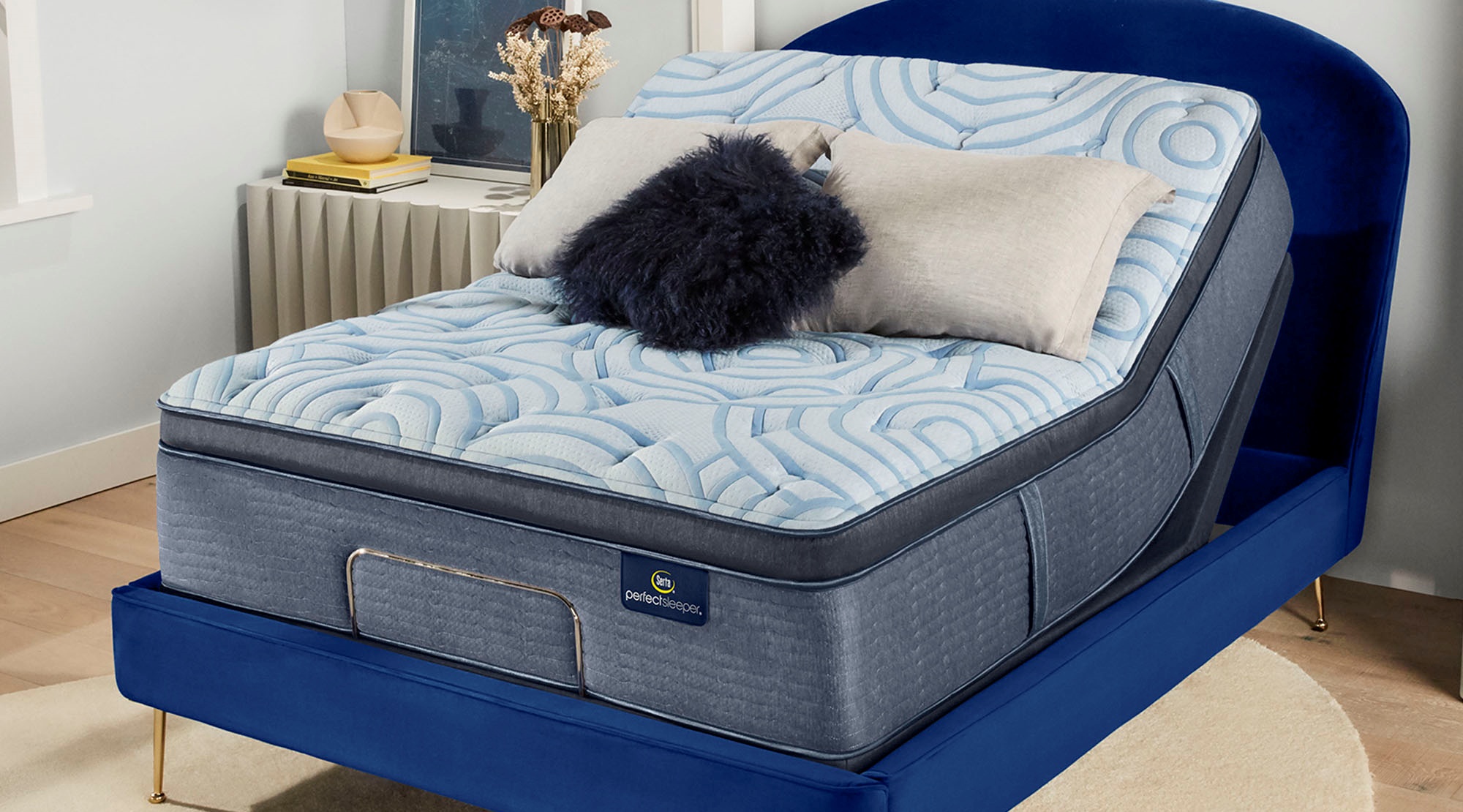 Did you know that lack of sleep can increase the risk of diabetes, obesity, or stroke? The main reason why people lack a good night's sleep is that they aren't sleeping on a mattress that suits their needs.
Everyone has different preferences in the type of mattress, but we have found that many people prefer a Serta mattress over other brands.
To discover why Serta mattresses are top tier, continue reading. This article will go over the different types of Serta mattresses and why you should give them a try!
Serta Mattress History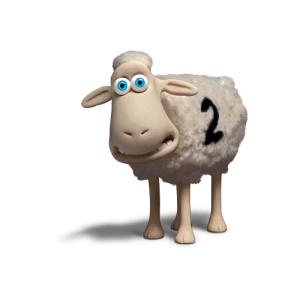 You may have heard about Serta mattresses on the radio, or you may have seen their beloved Counting Sheep on TV. Regardless of when or how you discovered Serta Mattress, they have been a household name since 1931.
Because of their innovative nature of constantly updating and upgrading their beds, they have received America's Most Recommended Mattress title.
Serta Perfect Sleeper Mattress
The Serta Perfect Sleeper Mattress models were Serta's first mattresses that were introduced in 1931. Their best seller now comes in different types such as innerspring, hybrid, or all-foam.
Serta Regal Retreat Pillow Top Mattress

The Serta Regal Retreat Mattress, also known as the Serta Perfect Sleeper Luminous Sleep, is a mattress with three layers of foam. This bed contains HexCloud foam, BubbleCloud foam, and WonderCloud foam. HexCloud foam has geometric hexagon patterns that provide support and transfer the heat away from your body.
The BubbleCloud foam adds additional cushioning support, making your sleepless nights a thing of the past. Serta created the WonderCloud foam to help relieve tension in your pressure points and other sore parts of your body.
In addition to each of these foam layers, the Regal Retreat mattress contains HeiQ V-Block, an anti-microbial technology that rests on the bed's surface. It has been proven to kill 99.9% of bacteria the second it touches the surface, keeping your mattress clean and germ-free.
Serta Night Excellence Extra Firm Mattress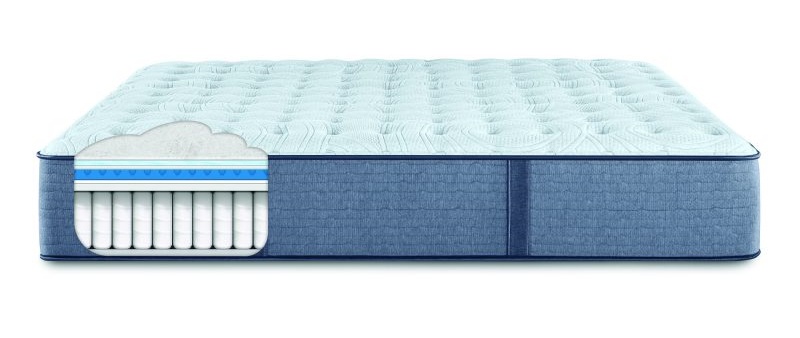 If you need to sleep on an extra firm mattress that doesn't sacrifice comfort, you need to purchase the Night Excellence Extra Firm mattress. This mattress has individually wrapped coils that give you additional support and less motion transfer, which you need to sleep throughout the night.
This bed also contains the HeiQ V-Block and three layers of memory foam. The CoolFeel Fabric on this mattress allows air to circulate through the mattress's upper layers even after laying down on it.
Customers who have raised concerns about an extra firm mattress doing more harm than good have found this mattress an exception. They report that the three layers of memory foam help relieve body pain while providing the optimal support you look for when purchasing a firm mattress.
Serta iComfort Mattress
Serta created the iComfort mattress model to help maintain your body temperature when you sleep. Serta's revolutionary coil and foam technologies were specifically designed to keep you and your mattress cool throughout the night.
iComfort CF4000 Plush
The iComfort CF4000 Plush mattress is innovative with its Air Support foam technology and carbon fiber memory foam. The carbon fiber memory foam was specifically designed to provide strength and support for your neck and back. Serta created the Air Support foam technology to conform to your body and move with you while you sleep.
Whether you are someone who prefers to sleep on their stomach, their side, or all over the place, this mattress will make sure to cradle and comfort you. Even though this mattress is plush, it doesn't make you feel like you are sinking into the middle of the bed.
Customers report that they feel like they are sleeping on a cloud when they sleep on this mattress. Another unique feature of this bed is that it comes from the UltraCold System line. Serta created the UltraCold System to absorb excess heat from your body, so you don't have to toss and turn to find a cold side of the bed.
iComfort Mattress 3000
This Serta bed costs less than the CF4000 Plush model, but it still provides the Serta comfort promise. It also offers the same Carbon Memory Foam and Air Support Foam so you can still count on a great night of sleep. If you are someone who often gets hot when you sleep, this mattress is for you as it contains a Gel Active Max Foam, which encourages airflow.
Health Benefits of Serta Mattresses
Not only are Serta sleepers highly rated and comfortable, but they also have health benefits. When you sleep on a lower-quality mattress, you miss out on continuous sleep. Serta mattresses are heat-regulating, which transfers your body heat from your body into the foam of the mattress.
When you are sleeping, your body heat drops, but your body heat can rise depending on the environment you are sleeping in. When your body heat increases, your muscles tense up, making it harder for your body to relax.
Relieves Back Aches
Serta beds have gel memory foam, which Serta created to help relieve back pain. Not only do these mattresses ease pain, but they also provide proper support to make sure that your spine stays properly aligned.
Body Positioning Adjustment
Serta mattresses adapt and adjust to the contours of your body, which allows you to have a restful night's sleep.
Why Is Good Sleep Important?
Some people believe that operating on two or three hours of sleep is healthy, but it increases your risk of getting sick. When you get a good night's rest, you lower your risk for diabetes and heart disease.
Your blood pressure goes down when you are sleeping, which gives your blood vessels and heart a break. So if you skip out on a good night's rest you increase your risk of heart disease or stroke.
Weight Control
When you are sleep-deprived, you mess with the hormones in your brain that control your appetite. If you are running on a low amount of sleep, you are less likely to want to get up and cook a healthy meal or go work out. Instead, you may find yourself reaching for unhealthy foods and snacks to fulfill your hunger.
Different Firmness Levels
Serta mattresses come in different types of firmness levels: plush, medium, and firm. If you prefer to sleep on your stomach, a firmer mattress is ideal for your sleep type.
Side sleepers can benefit from plush to medium-firm mattresses. For back sleepers or those who have back pain, medium to firm mattresses is most likely going to be your best choice.
Specific mattress models can offer extra firm, pillow tops, or memory foam. Make sure to look at all the different Serta mattress models before you make your final selection to ensure that you choose the right mattress suited for your sleeping needs.
Buy a Serta Mattress Today!
If you are in Las Vegas and you are looking for a new Serta mattress from a certified Serta mattress vendor, visit one of our Best Mattress stores today! We offer a 120-day satisfaction guarantee and free setup and removal. You can come in today to try out the different Serta models we offer, and we can get it delivered to your house the same day.