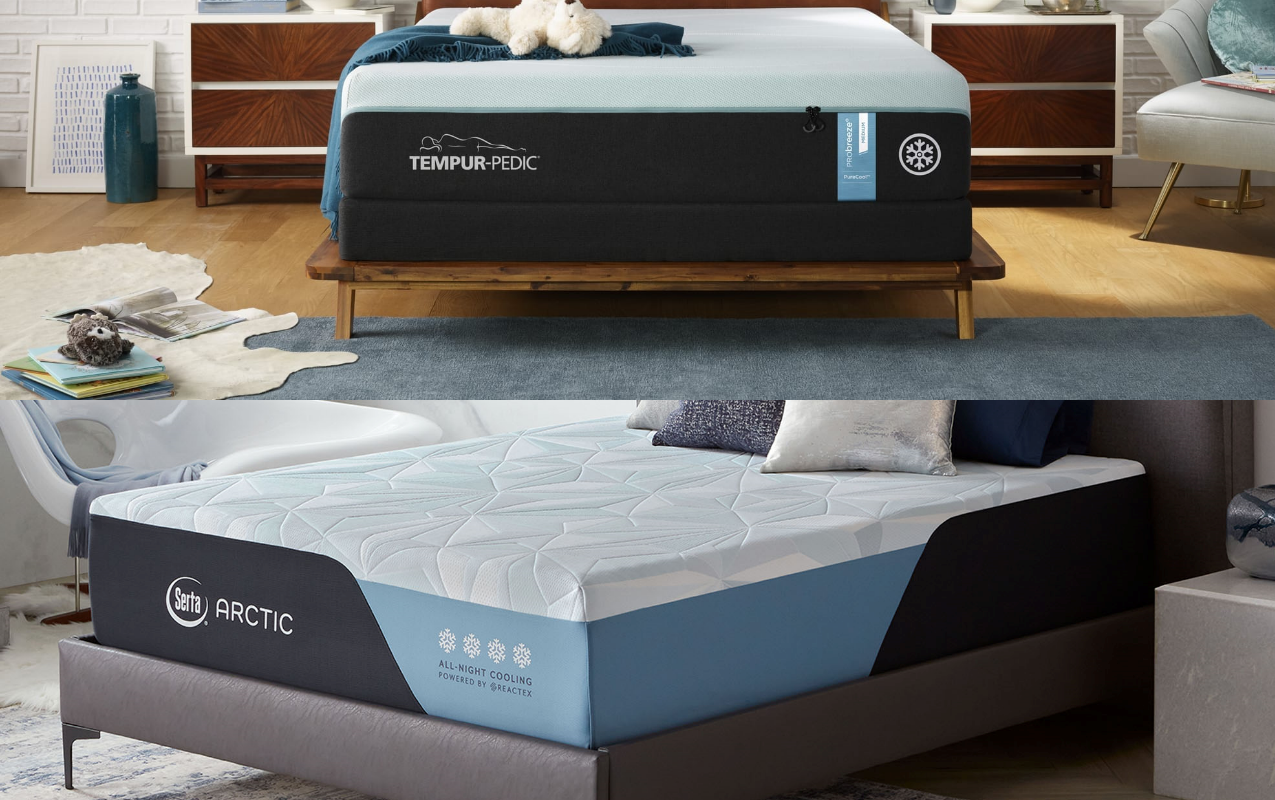 Great sleep requires a great mattress. You need the optimal amount of support and comfort to cradle your body through the night. Other important features include cooling and moisture-wicking to keep you at a comfortable temperature all night. We compare the Serta Arctic Hybrid with the TEMPUR-PRObreeze° Hybrid, two top mattress brands that provide adaptive support, comfort, and cooling technology. Both Serta and Tempur-Pedic produce top-quality mattresses for superior comfort with the latest technology for better sleep. Let's get into it!
Serta Arctic Hybrid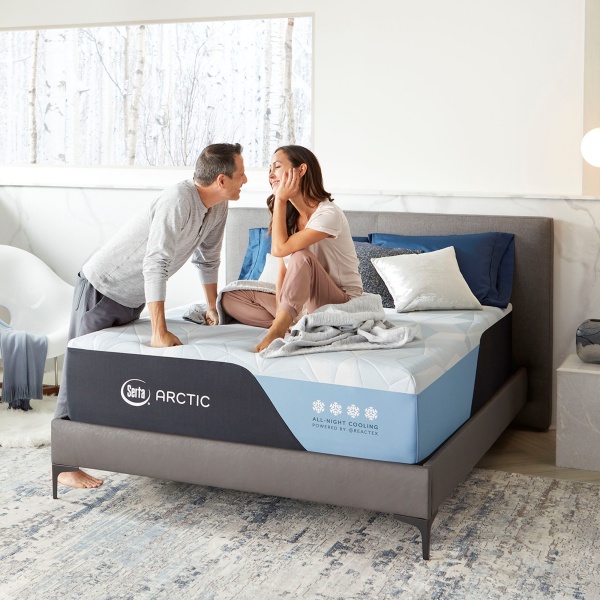 The Serta mattress utilizes an exclusive Reactex System. Each mattress layer is made from quality material that, when combined, leads to a superb sleeping experience. Check out the specialized layers and the benefits of each feature:
Reactex System – three layers of material that absorb your body heat and pull it further and further away with each layer. Stay cool all night instead of tossing, turning, and sweating.
Deep Reaction Max Gel Memory Foam – conforms to your unique shape. The high-density memory foam offers the ultimate in supporting your shape while providing comfortable cushioning. Tension and pain ease away so you can fall asleep and stay asleep.
CustomFit HD Memory Foam – another layer of superior quality memory foam that adds more support and greater comfort.
Serta Micro-Hybrid Coil – micro coils beneath the layers of memory foam. The coils work with the foam to provide support.
1025 Hybrid Support System – a unique coil system where each coil is individually wrapped. This allows for greater flexibility as each coil can move independently. This advanced spring system provides customized support as it conforms to your exact shape. These coils are built to last and won't sag with time.
BestEdge Foam Encasement – ensures that the entirety of your mattress is comfortable. This technology extends the surface of the mattress from one edge to the other, while preventing roll-off. Get a great night's sleep no matter where you prefer to lay on your mattress.
Customized support and cooling gel memory foam transform your nights into blissful, uninterrupted sleep. Memory foam hugs your body and offers comfort in any sleeping position. Get relief from pain in your pressure points as the Serta Arctic Hybrid provides equal support to your whole body.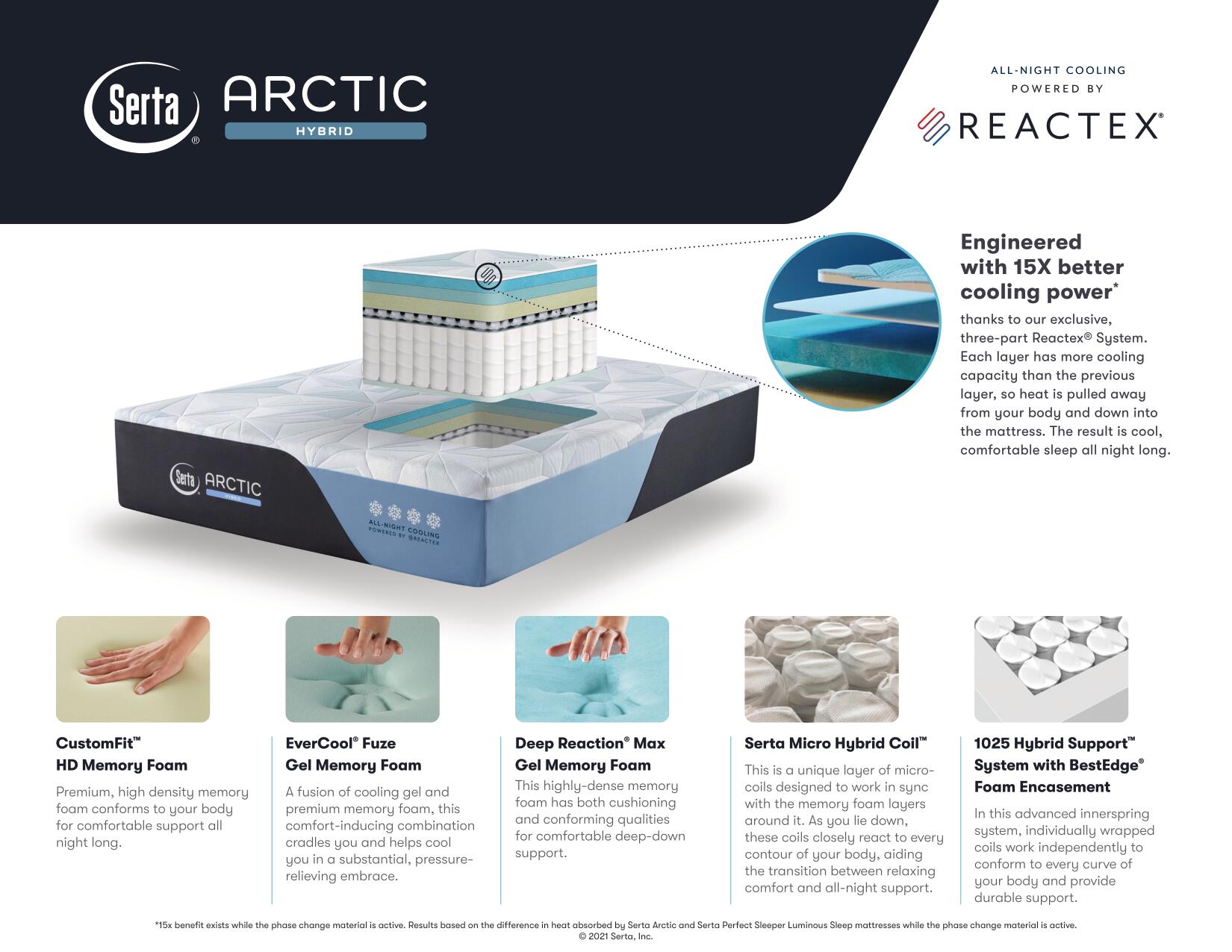 TEMPUR-PRObreeze° Hybrid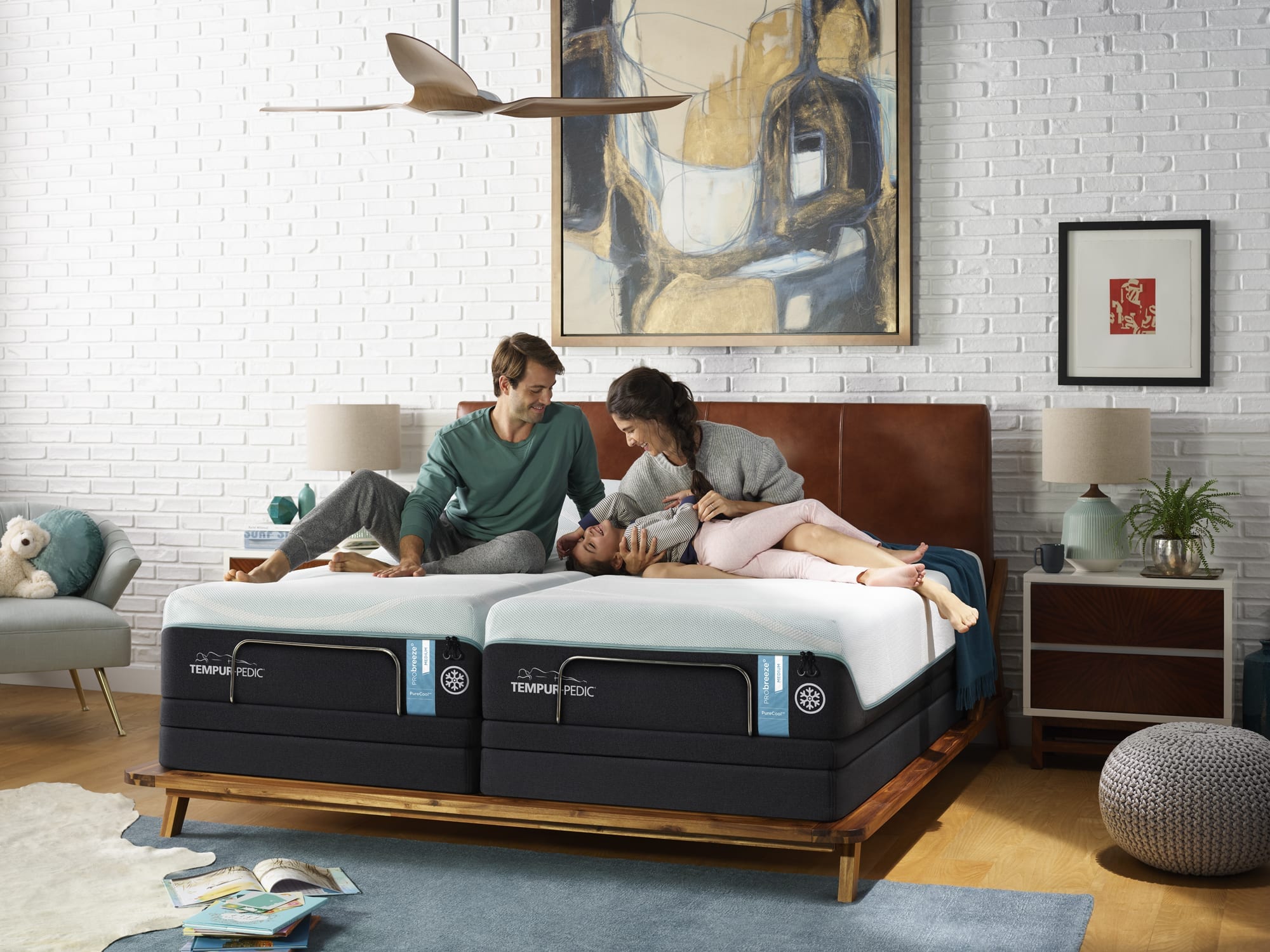 Sleep happens in three phases. First, you begin to relax, and then you fall asleep. The third phase is when you enter the sleep cycle. If discomfort, due to temperature, jars you out of any phase, your whole night's sleep is compromised. The TEMPUR-PRObreeze° uses new temperature regulation technology to support every phase of your sleep. The technology to keep you cool and comfortable are:
SmartClimate Dual cover system – A hypothermal cover that generates little heat compared to other materials. The cover is cool to the touch so you can sink into your bed and instantly begin to cool down. You can also easily unzip and clean the machine washable cover.
PureCool+ Phase Change Material – prevents the mattress from heating up as you lay on it for hours through the night. Thermal gradient technology keeps you comfortable by drawing away heat and keeping it away.
TEMPUR-CM+ Material – moves heat and humidity away from your body and completely out of the mattress. Moisture and excess heat release into the air instead of becoming trapped in your mattress making you hot and sweaty.
The combination of these features keeps the TEMPUR-PRObreeze° up to three degrees cooler. This can make a huge difference if you are a hot sleeper that tosses and turns all night. However, the features of this mattress don't stop at just cooling:
A five-centimeter thick layer of Original Tempur Material provides wonderful support and comfort. The material adapts to your shape so you get a personalized fit.
Hybrid Technology uses over 1,000 spring coils that allow you to move easily and stay supported.
The combination of comfort with serious cooling can help you fall asleep faster and get a deeper, more restorative sleep. You will also experience pressure relief and be able to relax fully, without painful spots and body aches. The motion cancellation helps you to stay asleep even if your partner moves throughout the night.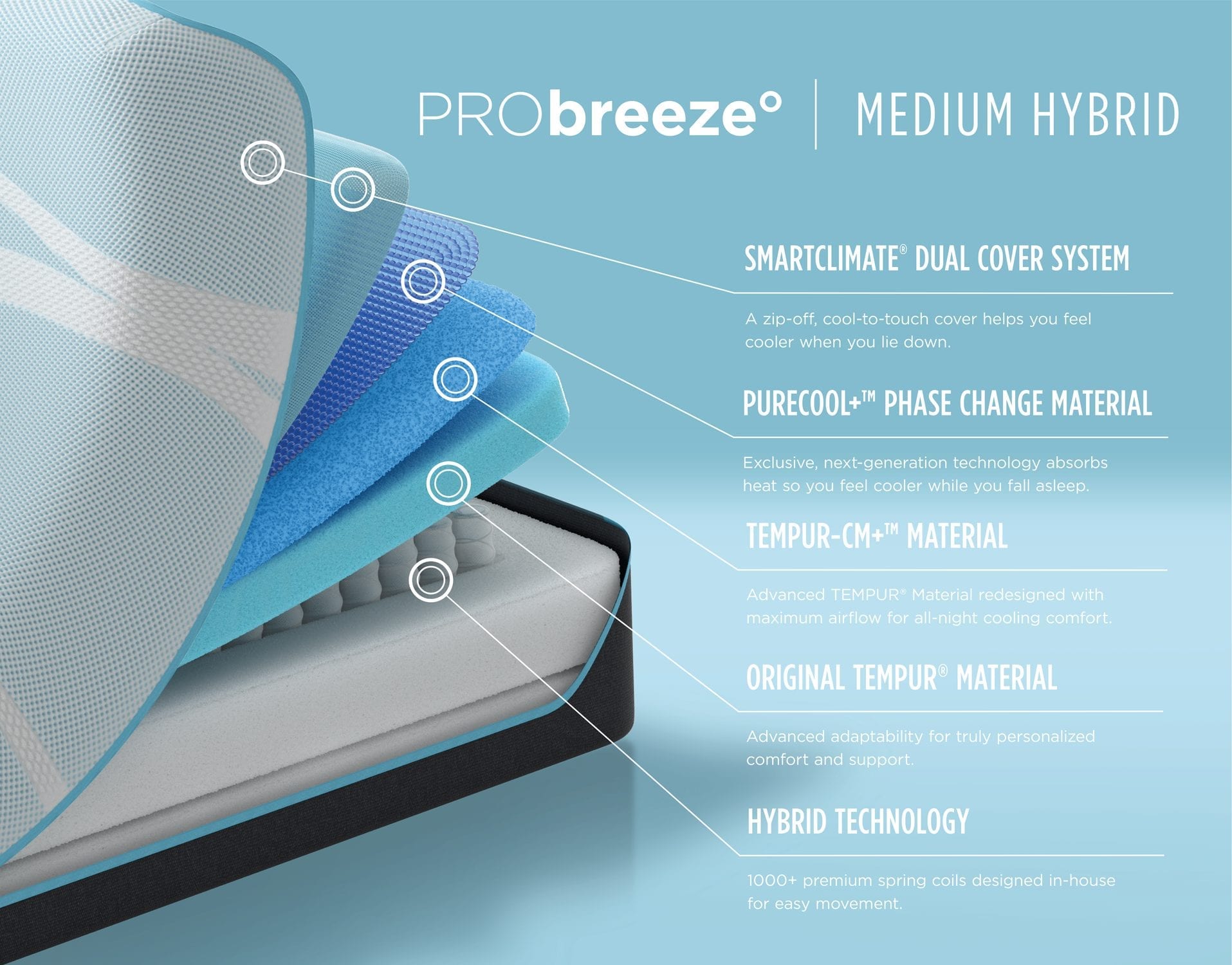 Which Do I Choose?
The Serta Arctic Hybrid provides a 14.5 inch, soft sleeping surface with full support and cooling technology to keep you comfortable at any temperature. It is plush and luxurious, with a medium feel. The many layers of memory foam provide relief from aches and pains. This mattress is a great fit for anyone that suffers from back pain or tension in their body.
The TEMPUR-PRObreeze° Hybrid has slightly less height, with a profile of 12 inches. Enjoy a medium firmness and serious cooling. The cooling technologies in this mattress focus on keeping you at the perfect temperature all night.
Both mattresses have some amazing benefits and compelling features. They are similar in that they have intense support delivered in a comfortable and soft mattress. They also each offer an impressive cooling feature to prevent you from waking up overheating. In the end, the mattress that you select comes down to personal preferences and what fits best in your space.
The Serta mattress is slightly higher and may be easier to get into and out of if you have pain or joint issues. If you suffer from arthritis or have any difficulties bending down or standing up, then the added height may be of benefit.
The TEMPUR-PRObreeze° focuses on providing an unparalleled cooling effect. This could be the deciding factor if your primary concern is finding a comfortable temperature. Hot sleepers can benefit from the several cooling technologies combined into one mattress.
Each mattress promises a comfortable, cool night's rest. The use of high-quality materials to support your body while cradling it in comfort means that you will sleep soundly no matter which you choose.
Get the best sleep of your life on a quality mattress from Best Mattress. There's nothing like experiencing it yourself. Visit a mattress store in Las Vegas or St. George and try out the Serta Arctic Hybrid and the TEMPUR-PRObreeze° Hybrid side by side. Compare and contrast the way it feels in person. Begin to sleep soundly and wake up free from pain and ready for your day with one of these top hybrid mattresses.