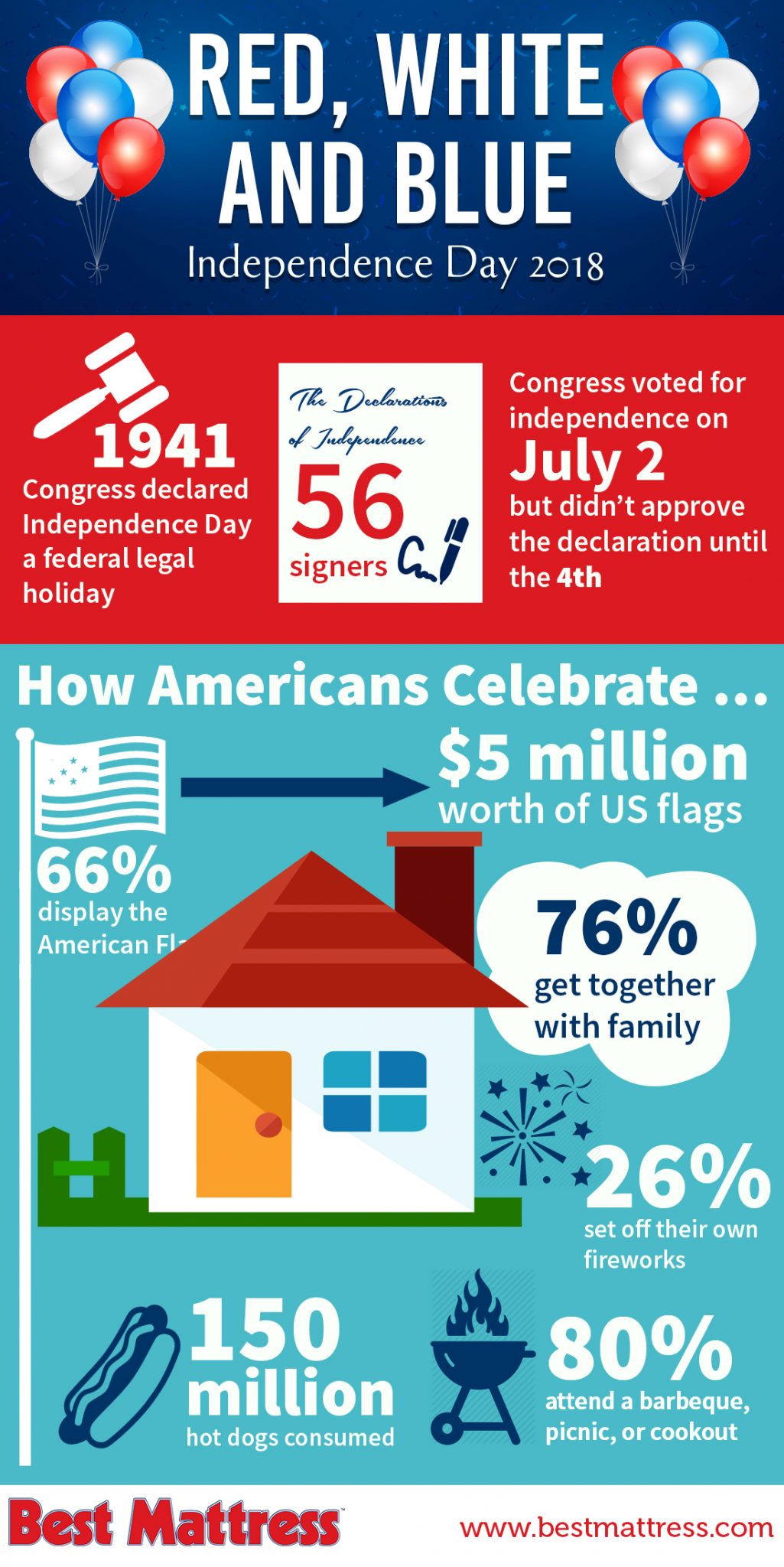 It's time for America's favorite summer holiday again! Independence day 2018 is here with a bang, and Best Mattress is excited to celebrate our beautiful nation's beginnings with you! Everyone loves the 4th of July, fireworks, and barbeques have been a family tradition for generations! You might think you know all there is to know about this great holiday, but we're betting that we've got a few interesting pieces of information that will surprise you as well as provide you with a few great conversation pieces!
Did You Know?
You might think that the 4th of July has been a nationally recognized holiday since we had the power to declare our own holidays! You would be wrong though if that's what you thought! The 4th of July wasn't declared a national holiday until Congress decided it needed to be made federally legal in 1941!

Surely the date of July the 4th has some sort of historical significance right? Well yes and no. The historic Declaration of Independence was in fact signed on the 4th of July; however, Congress voted to approve the declaration on the 2nd of July! It took them a couple of days though before everyone was happy with how the document was worded and signed by the 56 signers. Had spell checker been a thing back then, we might be celebrating the 2nd or 3rd of July!

Americans are well known for being patriotic but did you know that 66% of households will display Old Glory on the 4th of July? That's a lot of flags! 5 million dollars worth of flags to be precise!

Americans are also known for being big on family. We love getting together with family for the holidays! 76% of us get together with family to celebrate the birth of our nation. That's not far short of the 84% of Americans who get together with family for Christmas!

Fireworks are fantastic, and we love them just as much as the rest of you! Most families are content just to watch fireworks, but 26% of American families love them so much they buy and light their own fireworks! Just how much do we love fireworks? Well, we love them to the tune of over billion dollars every year!

If there's something that gives fireworks a run for its money for being, "most American," its barbeques! 80% of us will attend or host a cookout on the 4th of July. That's a lot of propane and charcoal! You're probably asking yourself, just how many hot dogs do we consume in 1 day? It just so happens that we have an answer for you; 150 million! You read that right, one hundred and fifty million hot dogs consumed in 1 day!
From all of us at Best Mattress, a very happy and safe Independence day for you and your family!