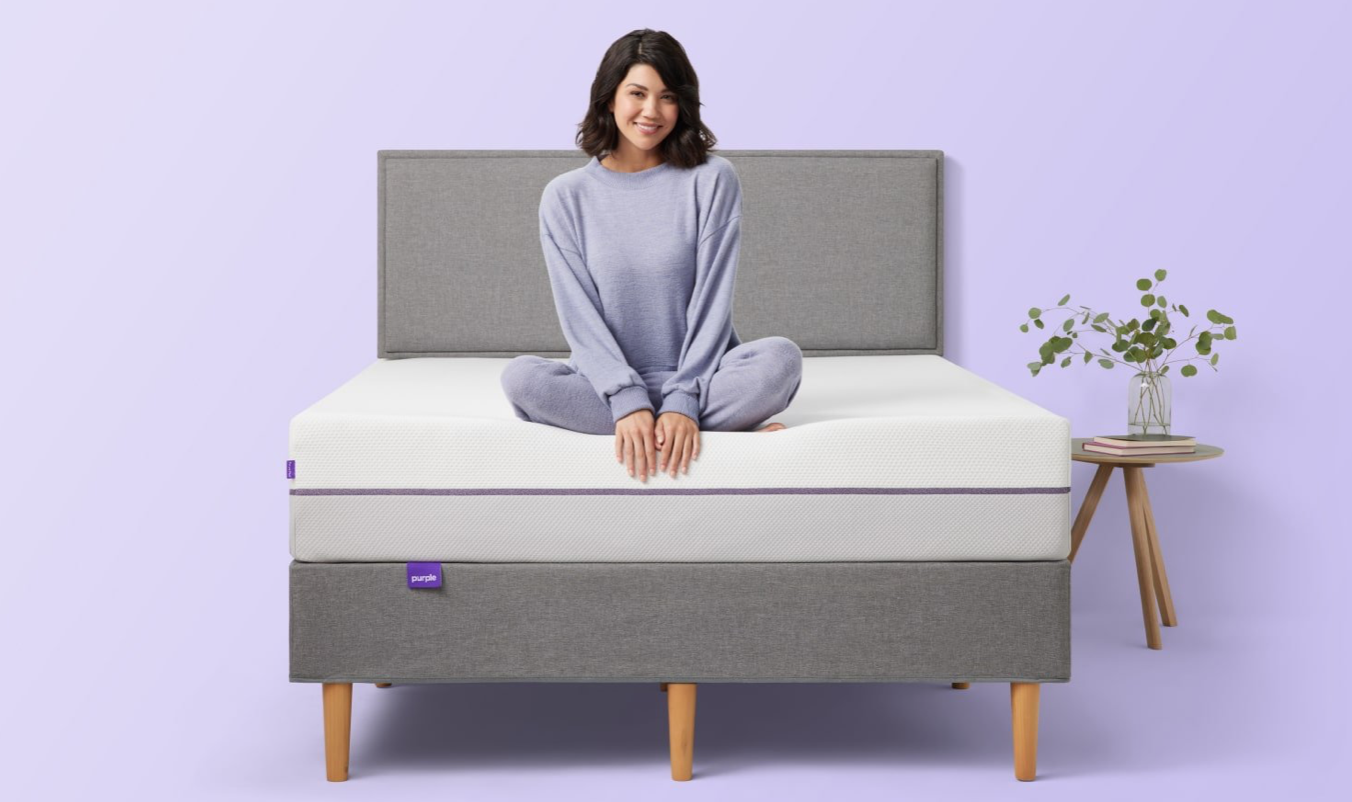 At Best Mattress, we know that the right mattress makes a world of difference. That's why we're so thrilled to carry Purple mattresses. These unique beds use exclusive materials and a unique design to deliver a comfortable, pressure-free night of sleep. Choose from a variety of Purple models to match your comfort and support needs.
Discover the Purple GelFlex Grid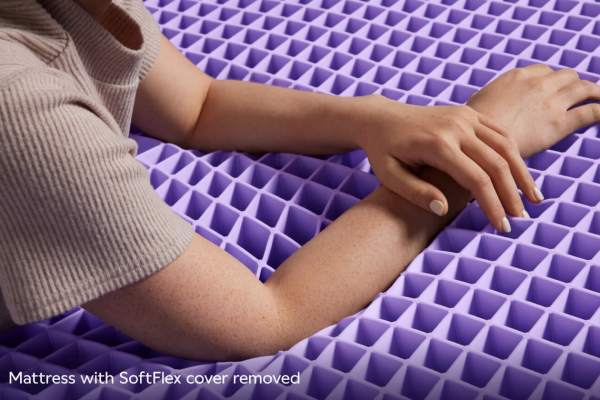 If you've ever seen a Purple mattress, you've probably noticed its most important feature: the proprietary GelFlex Grid. This unique grid texture layer is engineered to give you a better night's sleep. The grid has three crucial benefits:
Adaptable support: The GelFlex Grid is made from hyperelastic polymer. This special material has an ultra-fast recovery time—it responds quickly to your every movement. Unlike memory foam, which takes time to return to its original shape, the GelFlex Grid snaps back instantly. That way, you're always supported, even if you change positions frequently during the night. It's so effective that you'll feel like you're floating.
Flexible cushioning and support: Do you ever feel sore in the morning? It's probably because your current mattress provides an uneven amount of support. The GelFlex grid solves that problem. It flexes around your hips and shoulders, reducing stress and alleviating pressure. At the same time, it stays full and supportive where you need it most: your lower back. This flexibility ensures custom support for every body type—it's both soft and firm at the same time.
Temperature regulation: Bid farewell to night sweats with the GelFlex Grid. The secret lies in the grid itself. The hollow rectangular areas allow air to flow freely, moving heat away from your body. With more than 1,400 chambers, this mattress creates the perfect temperature at all times. You'll never feel too hot or too cold, even in the extreme summer heat in Las Vegas and St. George.
If you've ever dealt with soreness or trapped heat, the grid can revolutionize the way you sleep. Plus, the GelFlex grid material is incredibly durable. Where traditional mattresses tend to form depressions over time, the Purple mattress always snaps back into its original shape.
Perfect for Couples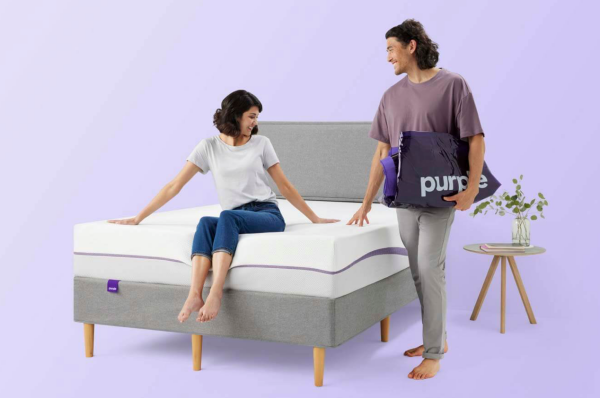 Do you need a mattress that works for you and your partner? Purple mattresses are perfect for couples. The grid flexes around each person's body and reduces motion transfer. That way, you can roll over without causing a disturbance.
You won't find the GelFlex Grid on any other mattress. It's made exclusively by Purple. In fact, the company designed and produced its own machines to manufacture the grid.
Purple Mattress Construction: Comfortable Layers for Better Sleep
Purple mattresses are all about layers. These unique beds use carefully crafted layers to create a one-of-a-kind sleeping experience. With a variety of designs to choose from, it's a breeze to find the mattress that works for your sleeping preferences.
Purple Mattress
The original Purple mattress offers both versatility and comfort. It features a 2-inch GelFlex Grid layer on top for flexibility and responsive support. Underneath, a thick layer of foam offers a stable and supportive base. This model is ideal if you need a bed with medium-firm support.
Purple Plus Mattress
Do you prefer a bit of extra softness in your bed? The Purple Plus mattress delivers. Like the original model, it features a 2-inch GelFlex Grid for air circulation and adaptable support. This model also comes with a second layer of comfort foam—it adds softness and cushioning for a medium level of firmness. If you struggle with soreness around your pressure points, the Purple Plus offers the extra relief you need.
Purple Hybrid Mattresses
If you like the bouncy feeling of a traditional innerspring bed, the Purple Hybrid mattresses could be the perfect fit. They offer the best of both worlds—the light, airy feeling of coils and the flexible support of the GelFlex Grid.
Each of the Purple Hybrid coils is individually wrapped. The fabric casing enables the coils to move individually for customized support. It also reduces noise, so you can sleep soundly.
Purple knows that no two people are alike. That's why they offer three Hybrid mattresses. Each mattress has a different level of cushioning and support.
Purple Hybrid Mattress – If you prefer a firm mattress with lots of support, this model has you covered. It's the most supportive model in the Purple lineup. You'll still get the comfortable, pressure-relieving GelFlex Grid, so you don't need to worry about hot spots.
Purple Hybrid Premier 3 Mattress – The medium-soft Hybrid Premier 3 offers excellent cushioning and support, so you can enjoy a pressure-free experience. The magic lies in the special 3-inch GelFlex Grid. It creates a lightning-fast response time, and the extra-deep chambers offer extra cooling power.
Purple Hybrid Premier 4 Mattress – When it comes to softness, it's hard to beat the Purple Hybrid Premier 4 mattress. As you might guess from the name, this model offers a 4-inch GelFlex Grid. This extra-deep layer offers the ultimate cushioning and pressure reduction—you'll feel cradled from head to toe. Underneath, the individually wrapped coils offer a gentle, bouncy effect that increases the airy effect.
What Sizes Do Purple Mattresses Come In?
Purple mattresses come in a wide range of standard sizes, so you can find the right fit for your existing bed frame. Size options include:
Twin XL
Full
Queen
King
California king
Split king
Do you have an adjustable bed? The split king Purple mattress enables you to enjoy all the features of your frame, plus the comfort of the GelFlex Grid.
Try Out a Purple Mattress at Best Mattress in Las Vegas, Mesquite, and St. George, Utah
At Best Mattress, we're proud to announce that we'll be adding Purple Mattress to our lineup in the near future. We're dedicated to offering the best possible sleeping solutions to our customers, and Purple mattresses fit the bill. The material production and assembly happen here in the USA, which means that Purple has complete control over every step. As a result, each mattress offers top-notch quality and comfort.
Are you ready to try out a Purple mattress for yourself? Stop by our Best Mattress locations in Las Vegas, Nevada, Mesquite, Nevada, and St. George, Utah. Our experienced team members can help you find the Purple model that delivers the right mix of cushioning and support.
When you shop at Best Mattress, you'll enjoy a variety of perks. Our professional in-house drivers deliver mattresses seven days a week; they'll even set up the bed for you at no extra cost. Stop by or call us today to find out when Purple mattresses are in stock.