The all-new TEMPUR-Ergo® ProSmart™ Base powered by Sleeptracker-AI® gives you an innovative sleep solution that can detect snoring and automatically respond, which may help reduce it,* so you don't have to be disturbed during the night. The innovative base also includes features to help you relax through soothing massage combinations that prepare your mind and body for sleep. Plus, through an easy-to-use app, you can receive personalized sleep coaching with insights and expert-level analytics to help track and improve your sleep quality over time. 
AUTOMATIC SNORE RESPONSE: The TEMPUR-Ergo® Smart Base Snore Response™ automatically senses snoring and raises your head to a position which may help reduce it.*
ULTIMATE CALMING EXPERIENCE: SoundScape™ Mode is an immersive experience that allows you to both hear and feel sound through the mattress. By connecting devices that use Bluetooth® wireless technology, you can choose sounds or even songs to help you relax for sleep.
RELAXED MIND AND BODY: Wind Down™ is a preset program option that cycles through different base positions and soothing massage types so you can calmly and comfortably drift off to sleep.
UNIQUE MASSAGE EXPERIENCE: Wave Form™ Massage uses sound waves to transmit vibrations from the base throughout the mattress to help promote relaxation by easing muscle tension.

 

THE ADJUSTABLE BASE ADVANTAGE: Take complete control of your sleeping space with nearly unlimited head and foot lift positions for sitting, reading, working, or watching TV.
*Bed raises once approximately 12 degrees in response to snoring. This may reduce snoring in otherwise healthy individuals who snore due to body positioning.
The new Tempur-Ergo ProSmart adjustable bed base represents a revolutionary leap forward in smart bed technology. Engineered by the experts at Tempur-Pedic and powered by AI from SleepTracker, this adjustable foundation provides an unparalleled sleep experience.
Advanced Sensor Technology Detects and Responds to Snoring
One of the truly groundbreaking features of the Tempur-Ergo ProSmart is its snore response technology. Integrated sensors can actually detect snoring and then prompt the bed to automatically adjust your head position to one that may reduce or eliminate snoring. This means both you and your partner can experience dramatically fewer sleep disruptions from snoring – and more restorative rest.
Studies show that snoring tends to occur most often when individuals are sleeping on their backs. By gently elevating the head approximately 12 degrees when snoring is sensed, the Tempur-Ergo ProSmart puts you in a position that can diminish airway obstruction and reduce snoring vibrations. This snore response automation works for otherwise healthy snorers – analyzing sound, assessing sleep position, and seamlessly adjusting the bed for you.
Next-Level Massage for Muscle Relief and Relaxation
The Tempur-Ergo ProSmart also includes specialized massage programs designed by Tempur-Pedic engineers to enhance relaxation and prepare your body for sleep.
The proprietary Wave Form massage mode transmits gentle sound waves through the mattress that help relax the body from head to toe. Users report Wave Form massage promotes muscle easing and a calming sensation perfect for winding down at night.
For a more immersive experience, the SoundScape setting combines massage vibrations synchronized with soothing sounds like rainfall, ocean waves, or ambient music. You can stream audio from your own devices through the bed's Bluetooth connectivity. SoundScape massage offers an enveloping multisensory journey to sleep.
And the pre-programmed Wind Down feature cycles through varying full-body massage intensities paired with automated base recline positioning. Wind Down's 20-minute experience is the ultimate way to transition your mind and body into sleep mode.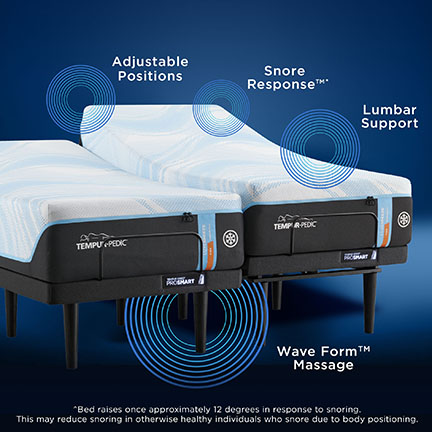 Personalized Guidance for Improving Sleep with AI
In addition to its onboard sensor tech and massage features, the Tempur-Ergo ProSmart works seamlessly with the Sleeptracker-AI app for iOS and Android. The app provides custom sleep coaching and analytics to help you achieve better rest over time.
Sleeptracker-AI leverages AI modeling to assess your sleep patterns, vitals, and biometrics. It develops a comprehensive understanding of your sleep issues, needs, and goals. With daily feedback and science-based recommendations – like adjusting ambient bedroom conditions, tweaking your sleep schedule, or winding down better at night – you can implement small changes that compound to optimize your sleep.
The app's Sleep Blueprint maps your stats like time slept, interruptions, sleep stages, respiration rate, and heart rate variability against your personal sleep profile. You gain incredible insights into how environmental factors, daily behaviors, and health impact your ability to sleep soundly. Sleeptracker-AI coaches you on modifications to make each night healthier and more rejuvenating.
Over time, you'll sleep better and wake up feeling more refreshed – ready to power through your day with energy. The Tempur-Ergo ProSmart adjustable base, with Sleeptracker-AI integration, gives you the most in-depth, actionable sleep guidance on the market.
Fully Customizable Comfort for Work, Rest, and Relaxation
Of course, the Tempur-Ergo ProSmart delivers all the adjustable base features you expect for personalized comfort and support. The Zero Gravity setting mimics the position astronauts use for minimal strain by elevating the legs above the chest and head. You'll feel practically weightless and completely relaxed.
For those who enjoy lounging in bed with a book or catching up on Netflix, the dual customizable massage on the Tempur-Ergo ProSmart helps prevent back tension and discomfort in upright positions. Use the variable lumbar support and under-knee tilt provided by the advanced base.
And for partners, the Tempur-Ergo ProSmart allows you to independently control your own side of the bed. Adjust your ideal head and foot positioning or start a massage without disturbing your sleeping partner on split king models. Each side has a wireless remote for direct control too.
As a state-of-the-art sleep system, the Tempur-Ergo ProSmart delivers high tech innovation that adapts to your needs – for sleep as unique as you. Explore the smart bed of the future today.