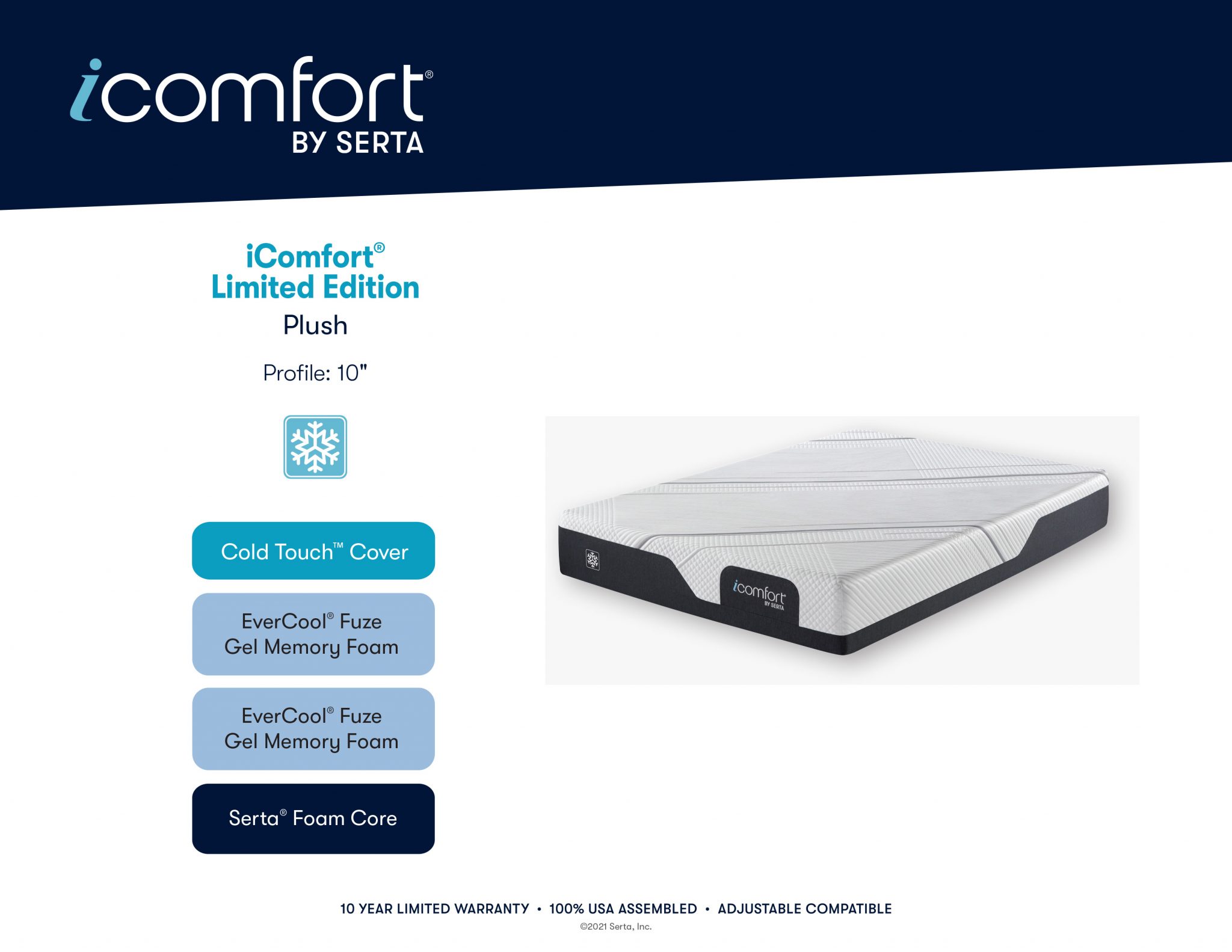 If you're looking to treat yourself to a new mattress, the bed of your dreams is only a trip to one of our Best Mattress stores away. A high-quality mattress that will improve your sleep quality is the least you deserve given that it could impact your daily life for years to come. Come discover the benefits by visiting one of our showrooms in Las Vegas or St. George today.
The Serta® iComfort® mattress is neither too soft nor too firm, so you won't be tossing and turning to get comfy. The mattress is designed using EverCool® Fuze Gel Memory Foam, to dissipate heat and enhance airflow. With the breathable knit cover, you will feel cool and cozy the second that you get into bed.
EverCool® Fuze Gel Memory Foam
The EverCool® Fuze Gel Memory Foam helps your body to cool down as you sleep, by channeling heat away and improving airflow.
The Benefits of the Serta® iComfort® Limited Edition
The best thing about the Serta® iComfort® Mattress is that it's the perfect combination of soft and firm. It's soft, yet without being too plush to offer full support for your body. It's an excellent mattress for pressure relief, so it's great for those that suffer aches and pains.
The Serta® iComfort® Mattress offers minimal motion transfer. This is ideal for light sleepers as it is not likely that you will be disturbed by your partner moving or rising from bed.
The iComfort® mattress adapts to the shape of your body as you sleep and move, so you are not likely to wake up with muscle tension.
A mattress that's too hard or too soft is a major cause of discomfort in both the lower back and the neck. To improve your health and gain the support that you need, the Serta® iComfort® Mattress is a great option.
Our 120-Day Sleep Guarantee
If you have owned your mattress for longer than 30 days and you aren't happy with your set, Best Mattress is glad to exchange your mattress for 120 days from the date of purchase. Please see our full terms & conditions here.
Who Is Serta®?
Serta® is the top mattress manufacturer in America. They provide a variety of mattresses from innerspring to memory foam and cooling technology. Serta® mattresses are also catered to a range of budgets.
Each mattress is designed to offer incredible comfort and improved sleep. The gel memory foam inside the mattresses provides motion support, improved airflow, and heat reduction. Some Serta® mattresses offer advanced pressure relief, and the latest cooling technology to take your sleep to the next level!
When choosing the right mattress, Serta® is a brand you can trust with the latest sleep technology and quality materials for a better night's sleep.
Why Purchase from Best Mattress?
Best Mattress continues to grow with many locations across Utah and Nevada in the last 25 years. Our amazing growth and acquired expertise is the result of putting the customer first every time. At Best Mattress, our mission is to help you to sleep better, and use our success to give back to the local community.
We only offer the best quality brands and we take our job of finding you the right mattress very seriously! We understand that the perfect mattress means improved sleep quality, enhanced well-being, and better health.
At Best Mattress, we have a team of sleep experts who are ready and waiting to help you with your comfort test. We use our famous comfort tests to pair the right people with the right mattresses, and believe us–we deliver!