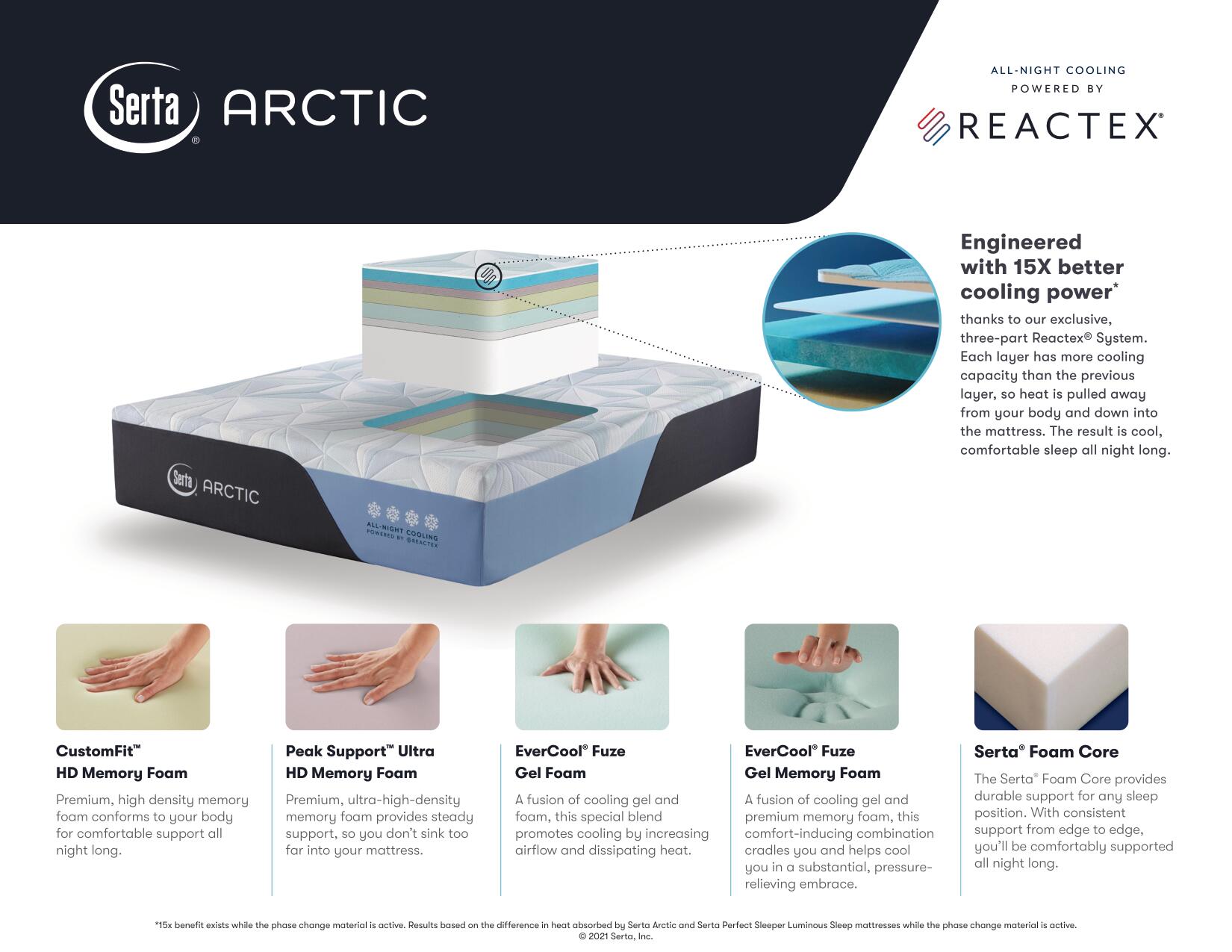 If you spend your nights feeling overheated, uncomfortable, and restless, chances are your mattress isn't regulating your temperature. The right cooling mattress ensures that every hour of shut-eye energizes you for the day ahead. You should end each day and start each morning on the Serta Arctic Plush Mattress and get the relaxation your body deserves. This multi-layered, cloud-soft premium plush mattress comes designed with Serta technology and is made with your body's needs in mind.
What Makes the Serta Arctic Plush Mattress Different?
This cooling mattress starts with softness and an invitation to let the cares of the day slip away. With a quad-layering design, each of the four layers in the mattress provides a different function—cooling, comfort, softness, and support. This plush mattress is an ideal choice for hot sleepers that prefer memory foam over innerspring.
Layers of the Serta Arctic Plush Mattress
Reactex® System
Serta's exclusive Reactex® System consists of three layers of cooling technology. Each cooling layer has more cooling capacity than the previous layer. Each layer pulls heat away from your body and deeper into the mattress. The result is a cool, comfortable sleep all night long.
Peak Support™ HD Memory Foam
Premium, ultra-high-density memory foam provides steady support, so you don't sink too far into your mattress.
CustomFit™ Memory Foam
Premium, high-density memory foam conforms to your body for comfortable support all night long.
EverCool® Fuze Gel Foam
A fusion of cooling gel and foam, this special blend promotes cooling by increasing airflow and dissipating heat.
Serta® Foam Core
Our new and improved Serta Foam Core provides durable support for any sleep position. With consistent support from edge to edge, you'll be comfortably supported all night long.
A Refreshingly Cool Sleep Experience
Many cooling mattresses rely on technology that only works on the surface of the mattress. With the Serta Arctic Plush mattress, each layer has more cooling capacity than the previous layer. With 15x the cooling power versus other cooling mattresses, the Serta Arctic Plush mattress isn't just a catchy tagline. The special combination of foam materials actually helps absorb and disperse your body heat actively. This ensures that you never feel overheated.
A Mattress Made to Fit Your Form
The high-quality combination of memory foam layers in the Serta Arctic Plush mattress work together to support all body types. It provides excellent support and resiliency, even years into use. The premium combination of high-end mattress materials and Serta's attention to detail is like a dream come true.
A Comforting Cushion for Joints
Pressure points are a pain point—literally and figuratively—with conventional mattresses. One night on this plush, cooling mattress will treat your body to supportive softness without unwanted heat and sweating. The memory foam relieves pressure points as it perfectly conforms to every curve providing excellent support.
Finally: A Cool and Comfortable Night's Rest
Find the 'chill' in your sleeping schedule with this premium Serta cooling mattress. You'll wonder why you ever spent a night tossing, turning, and overheating when something so heavenly was only a click away.

SAME DAY DELIVERY
In-stock merchandise purchased by 1 pm will be delivered the same day upon request, excluding holidays and limited to a geographic area with a minimum purchase of a $599 mattress set. Excludes floor models. See store for details.
DELIVERY
The room must be ready for delivery when the drivers arrive.
As a service, we will remove your old mattress and box spring before delivering the new set (subject to inspection, unsanitary bedding will not be removed, limited to equal amount delivered).
As a service, we will remove your old mattress and box spring before delivering the new set (subject to inspection, unsanitary bedding will not be removed, limited to an equal amount delivered).
Delivery cannot be made to a minor and finance orders will require a signature from someone with a valid state-issued ID.
The driver will call the phone number provided on your order on the morning of delivery to give you a three-hour time frame. If you are not home for a delivery, there will be a $69.99 re-delivery fee.
If the driver determines that the delivery attempt could cause damage to your home, you will be required to sign a release of liability to complete the delivery.
Our C.O.D. Policy:
All orders must be paid in full before the delivery date. We do not accept payment at the time of delivery.
10-Year Limited Warranty
Beautyrest stands by its products and materials with limited warranties so you rest easy.
Our-120 Day Sleep Guarantee
If you have owned your mattress for longer than 30 days and you aren't happy with your set, Best Mattress is glad to exchange your mattress for 120 days from the date of purchase. Please see our full terms & conditions here.
Best Mattress also offers FREE REMOVAL* of your old mattress. Our delivery driver will pick up your old mattress and seal it in plastic before loading it onto our truck.
Need financing? We have you covered! Best Mattress offers a variety of options available, including No Credit Check Financing! Please contact us for additional details on all offers.
We appreciate your patience, understanding, and support at this time. Thank you for continuing to be a loyal Best Mattress customer. Sleep Easy, Friends!
Available Bed Sizes
See our mattress sizes and dimensions page.
Twin XL
38″ X 80″
Queen
60″ X 80″
King
76″ X 80″
Cal King
72″ X 84″