Fabrictech Luxury Microfiber sheets provide quality, value-driven sheet option that is ideal for your guest room or weekend retreat. Enjoy the Precision-Fit™ corner construction which helps to ensure a proper fit on mattresses up to 18″ deep. The extra-fine, wrinkle-resistant twill weave allows for proper airflow and enhanced overall comfort.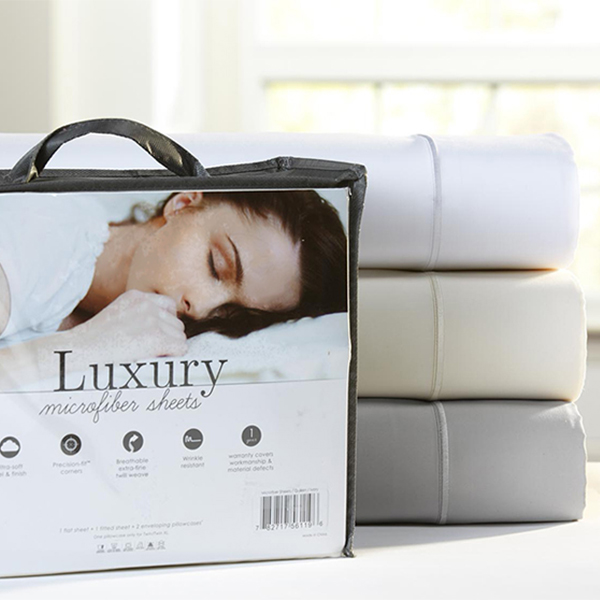 Sheet set includes: fitted sheet / flat sheet / two pillowcases
If you want to add a sophisticated touch to your bedding set, consider purchasing PureCare Luxury Microfiber Sheets. Available in white, dove gray, and ivory, these supple microfiber sheets are sure to match any décor while offering a superior sleeping experience.
Ultra-soft Feel
PureCare Luxury Microfiber Sheets are made of fine threads specially woven to feel extra soft–as soft as silk. To top it off, PureCare Luxury Microfiber Sheets can be washed and dried in your normal washer and dryer—no special care required.
Precision-fit™ Corners
Who wants to sleep in a bed with sheets that look poorly fit and messy? To keep your sleeping surface flat and secure, PureCare Luxury Microfiber Sheets contain Precision-fit™ Corners. This special construction ensures that your sheets will fit perfectly over the edge of your mattress. To keep fitted sheets from coming loose and bunching as you sleep, the fitted sheet of the PureCare Luxury Microfiber set contains an elastic band around the outer edge. PureCare Luxury Microfiber flat sheets are also designed with an extra four inches of fabric so that they drape correctly when your bed is made.
Breathable Weave
Comfortable, breathable PureCare Luxury Microfiber Sheets are designed with the sleeper in mind. This superior microfiber allows heat to transfer through the sheets, keeping the sleeper cool.
Wrinkle-Resistant
To help you to create a bedroom that looks like it came straight out of a magazine, our PureCare Luxury Microfiber Sheets are also wrinkle resistant. This means that you can enjoy that turned-down sheet look without worrying about breaking out your ironing board. Instead of worrying about trying to press sheets and keep them perfectly flat at all times to prevent wrinkles, you can simply wash and dry your PureCare Luxury Microfiber Sheets, put them on your bed, and enjoy a crisp sheet set every time you climb into bed.
Warranty Covers Workmanship & Material Defects
PureCare is also proud to offer a generous one-year manufacturer's warranty that covers workmanship and material defects. This means that if the stitching on your Precision-fit™ Corners comes loose or you notice a strange defect in the fabric, you can get a replacement directly from the manufacturer.
Visit Best Mattress To Find PureCare Products
If you are interested in purchasing PureCare Luxury Microfiber Sheets, visit a Best Mattress near you or shop online!