Are you curious to learn about the way you sleep? Do you find yourself tossing and turning all night, or are you one of the people that doesn't have an issue when they sleep? No matter what your situation, learning about how you sleep can actually improve your sleep. The Beautyrest sleep tracker is designed to help you understand your sleep so you can focus on getting better rest each night. Learn more from our owner Dave on the morning blend show this morning: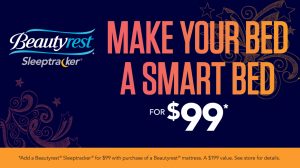 What is it?
The Beautyrest sleep tracker consists of multiple sensors designed to analyze your heart rate, respiratory patterns, and movements. The sleep tracker only takes a few minutes to install. The sensor needs to be placed underneath the mattress, connected to a power source, and then synced to an app on your phone. There are two sensor units for individuals that share the bed, and want to learn more about their sleep patterns.
Understanding the Data
The device itself is simply a tool, the important part is the app you need to download and activate. The app provides you with a lot of data to go through. Users can set up sleep cycle alarms, white noise, sleep times, and more. Once you have data from your first full night's sleep, you will be able to decipher this data. The initial screen will provide you with a sleep score, showing you exactly how much time you spent asleep, and what was happening when you weren't asleep. Once you have enough data recorded, you can set up some goals and start receiving tips and advice on how you can sleep better.
Why You Need It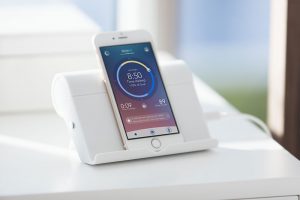 More often than not, many of us are not sleeping properly. It is easy to get stuck into bad sleeping habits due to job loss, stress, family, and other factors. With the Beautyrest sleep tracker, you will be able to visually see how your daily habits are impacting your ability to sleep. You may find yourself completely exhausted at the end of a long weekend, but only spent in light REM sleep mode. As you learn more about your sleeping habits, it can help you focus your brain at night to get into deep sleep mode sooner, and stay there longer. While there are fitness trackers and other things that do provide you with data about sleep, the Beautyrest sleep tracker is the only one that does work by utilizing your mattress and gaining accurate data about your sleeping habits. Invest in a sleep tracker today and start learning about your sleeping habits and make positive changes to improve the way you feel each time you wake up.
Visit us Today
If you would like to see the Beautyrest sleep tracker in action and talk with a sleep expert to learn more about it, then please visit your nearest Best Mattress location. All of our Sleep Experts have been trained and know how this amazing technology can help you gain better sleep each night.  We look forward to your visit and helping you get the best sleep of your life!