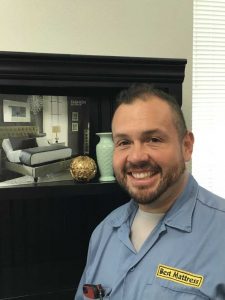 Jorge Garibay came to Best Mattress in 2009 when the company acquired Mattress Discounters where Jorge had been working a delivery job. With six locations, he recalls work being slow until he joined Best Mattress. This delivery team member now happily travels between Best Mattress' 22 locations across the Las Vegas Valley, Mesquite and Utah. Jorge is so great at navigating and troubleshooting that he is the go-to guy for the rare Arizona routes.
Customers love Jorge! His key to a successful customer experience is "be yourself, be honest, be thorough and take pride in a good job." This Star Wars fan enjoys the fact that his job varies from day to day. He can never predict what is going to be on the other side of a patron's door when he is scheduled for delivery. Jorge recalls one experience that stands out in his mind: "Back when we accepted cash at the time of delivery, a woman answered the door in her underwear! I was so taken a-back that I forgot to collect the funds."
Jorge appreciates the success of everyone that he comes across. He states, "I enjoy that everyone in the company gets along and does well." Jorge promotes listening and trying to see things from the perspective of the customer. "I like to fix the situation to the best of my ability," says Jorge. "I want everyone to be happy with me and with Best Mattress."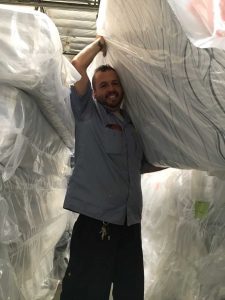 We are so glad to have Jorge as a part of the Best Mattress family and his dedication to his career and serving our customers everyday! We hope you enjoyed our spotlight on Jorge and we look forward to mentioning more of our dedicated staff in the future!
Be sure to check our blog often and also you can follow us to learn about the latest deals and promotions on Twitter and on our Facebook page!