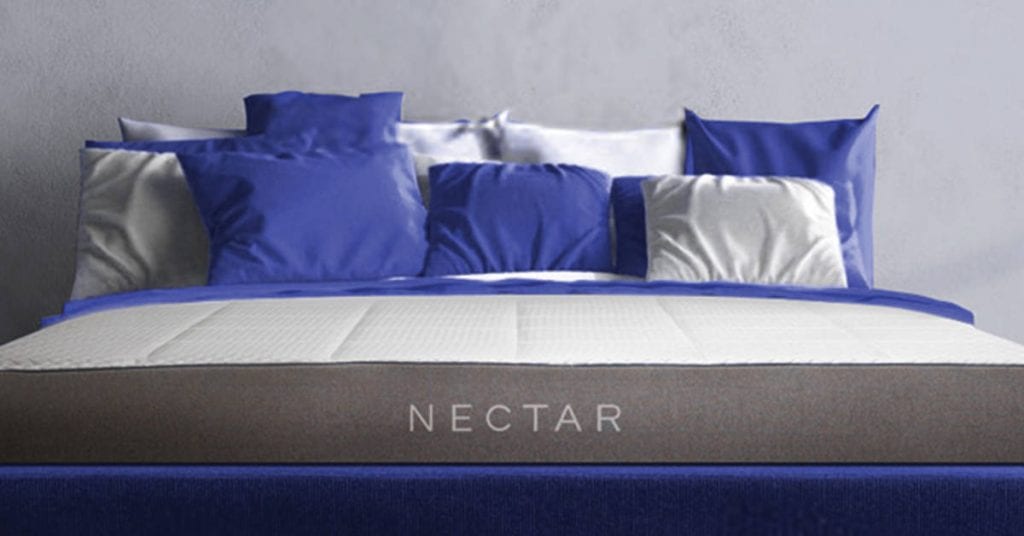 We have a problem on our hands: We're not getting enough good sleep.
The strive for more (and better) sleep is an acute one. 27% of adults have trouble both falling and staying asleep at night. An additional 68% of adults—or 164 million people—struggle with sleep at least one time every week.
This causes significant health problems, ranging from the physical and mental to the emotional. That's why Americans spent a whopping $41 billion on sleep aids in 2015 (with expectations to increase to $52 billion this year).
We have a healthier, more natural solution: a Nectar mattress.
Forget sleep aids. Sometimes, the problem can be as simple as not having the right tools to get you to settle into bed at night. This quick-fix allows you to pay a one-time amount for a mattress instead of buying a continuous stream of sleeping pills. Plus, you'll wake up feeling less groggy and more rejuvenated and energized, as you deserve.
Quit counting sheep and keep reading to see why Nectar is the quality, affordable brand for you.
Who Is a Nectar Mattress Ideal For?
You may be wondering if the Nectar mattress is right for you. After all, there are so many options when it comes to a new bed—the choices can feel overwhelming. Who is an ideal candidate for this brand?
We're glad you asked. Nectar mattresses seem to be especially popular for:
Those who are over 130 pounds
Back and stomach sleepers, regardless of weight
Those who want a great product at an affordable price
Those who are often disturbed when their sleeping partner changes positions
Because of Nectar's slight firmness, you won't be waking up every time your partner shifts—something we all know is a tiny bit annoying, right? This medium-firm support (which sits at about six on the 1-10 scale) provides a dense and durable product that allows you to feel cozy, but also like there's some sustenance there.
With that said, those who enjoy soft mattresses may not love the firm feeling. However, you may be surprised what it does for your back, neck, and shoulders!
Has the Nectar Mattress Received Any Accolades?
Don't just take our word for it that Nectar mattresses are fantastic. Check out some of the many awards given to the Nectar brand:
Best Online Mattress
Best Mattress for Side Sleepers and/or Stomach Sleepers
Best Mattress for Kids
Best Mattress for Couples
Best Memory Foam Mattress
Best Mattress for Back Pain
Best Budget Mattress
And the list goes on. What does this tell us?
It doesn't matter if you're younger or older, single or in a partnership, a side sleeper or a stomach sleeper. Nectar mattresses accommodate a vast range of individuals, and they do it all at an affordable price. It truly is the best bang for your buck.
What Is the Nectar Mattress Made Out Of?
Nectar mattresses have four layers of foam in them, three of which are dedicated to that glorious memory foam.
It has a new two-part comfort system (discussed in-depth in the next section) that includes two different types of memory foam, each serving their own distinct purposes in the mission of achieving maximum comfortability. These memory foam layers utilize a semi-open display and are infused with gel, which further promotes that cooling sensation and prevents overheating.
Because of the mix of memory foam with sturdier layers, the bed remains steady but still has a bit of bounce to it. Polyfoam makes for a more durable, long-lasting product.
The mattress itself is covered with a breathable material called Tencel, which can be removed for spot cleaning if needed. Nectar recommends keeping the cover on otherwise. Its breathability offers a perfect amount of air circulation.
What Technology Is in the Nectar Mattress?
Let's take a look at the construction side of things.
The Nectar mattress may be on the firmer side, but it's perfectly balanced with memory foam technology that promotes that cuddly feeling. Nectar's Smart Memory Foam is 30 times more breathable than other memory foam mattresses.
So, although it's dense, it should satisfy you even if you're a hot sleeper. Its breathability allows heat and moisture (i.e., sweat) to dissipate, keeping you cool through the night—which is a significant way to promote better rest. Nectar also has an adaptive cooling system that can circulate fresh air, ensuring the environment is never stale.
In addition to Smart Memory Foam, there's also the Pressure-Relieving Memory Foam.
This innovative technology makes the mattress contour to the shape of individual bodies, providing much-needed comfort. This feature is especially useful for couples, as each one can enjoy "their side" of the bed, where it'll be perfectly fitted to them. This also aids in regulating the temperature.
Nectar mattresses also utilize a 7-zone supported base. What does this mean, exactly? Well, it's a way of arranging the firmness-to-softness levels of the mattress.
Near the head and shoulders, you'll feel softer cushioning. Under the hips, you can expect a nice firm support system that keeps you from sinking. Additionally, there's a base material that provides an even sensation on the bottom of the mattress, preventing it from sliding around as you move.
Get Some Shut-Eye: Invest in Nectar and Invest in Your Sleep
Are you ready to get a good night's sleep?
Whether you need a Nectar King mattress, a Nectar Queen mattress, or even an XL Twin (and more), we've got your back—literally. A Nectar mattress allows you to sleep soundly, waking up refreshed. Say goodbye to insomnia and hello to the back of your eyelids.
Best Mattress sells the Nectar brand online, or at one of our three locations in Las Vegas, NV, Mesquite, NV, or St. George, UT. Click here to browse our promotions, and please contact us if you have any questions or concerns. We look forward to helping you get some rest!