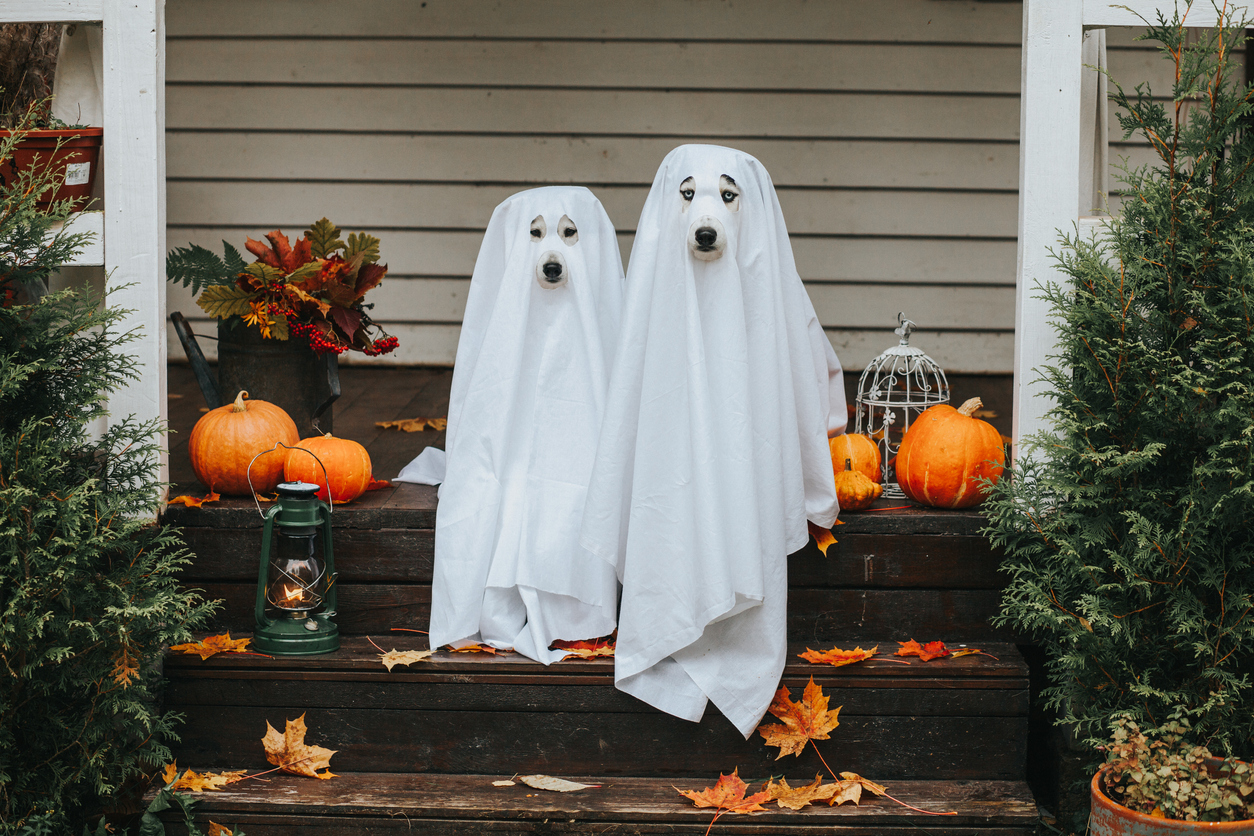 You don't have to be crafty to get creative with bed sheets this Halloween. They are so versatile. You can transform your home into a spooky party house with several projects that won't harm your sheets. Other projects, however, will have you reaching for scissors and dye. You can transform old sheets into darling children's Halloween costumes that require no sewing. Check out these ideas before you plan your next haunting event.
Here is some décor ideas that do not damage bed sheets.
Twin Barstool Ghosts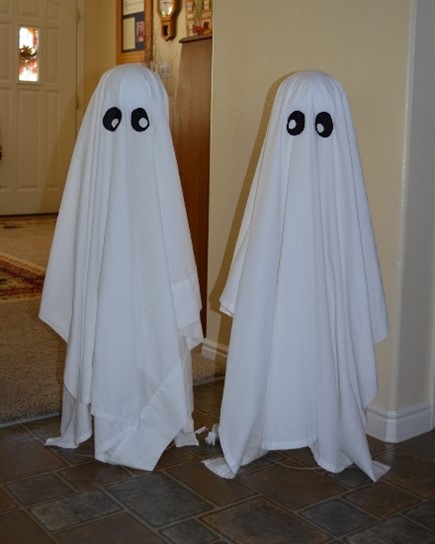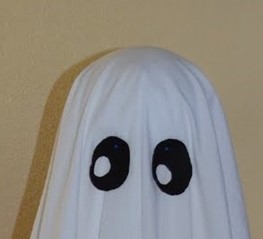 These cute ghosts look great standing against the wall at a party. This craft won't damage your bed sheets.
Materials:
2 flat-top barstools
2 foam balls
2 sturdy (large base) metal candles
2 twin flat sheets
1 sheet of black felt
straight pins with black-ball heads
Steps:
Place barstools against the wall.
Press foam balls on top of candlesticks and center on the barstools.
Drape sheets over the balls.
Fold black felt in half and cut out an identical set of large black eyes for each ghost and then cut the "white" openings to match one another.
Secure the eyes in place using the black-headed straight pins.
Doorway Sheet Ghost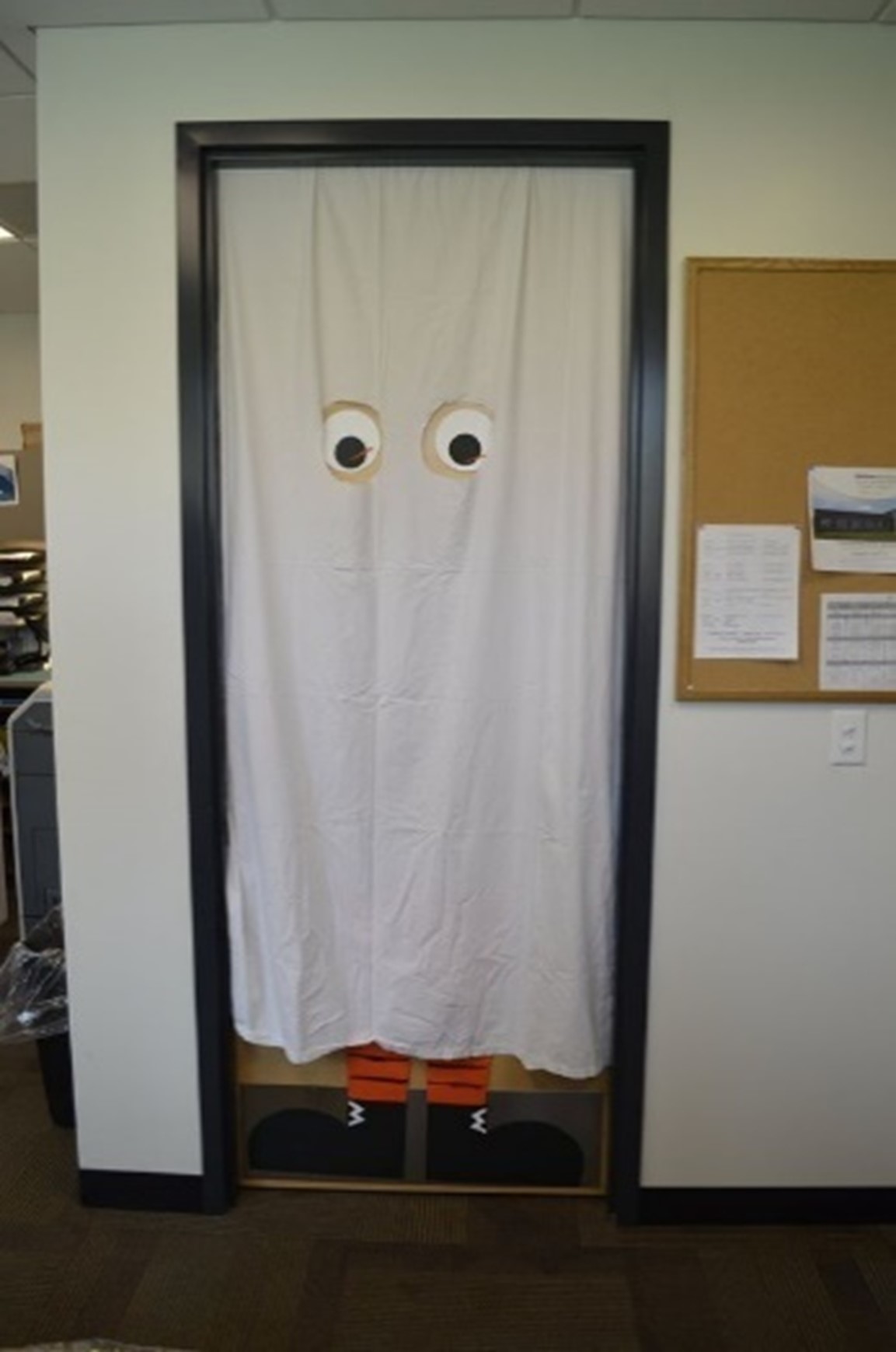 Cute and eye-catching ghosts can cover a closet door or a door that won't be used.
Materials:
1-bed sheet white
Painter's tape
Double-sided tape
2 sheets each of white, orange, and black construction paper.
Steps:
Drape the sheet over the top of the door and anchor the back in place with painter's tape.
Use a pencil any round object as a stencil and trace the eye openings.
Either cut the eye openings (as shown) OR don't cut the sheet and create two large black-white-black eyes out of the construction paper and anchor them in place with double-sided tape.
Cut pant legs, shoes, and laces out of construction paper and anchor to door with rolled pieces of double-sided tape.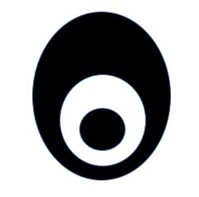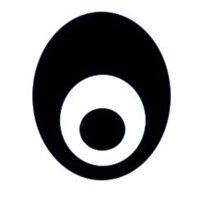 Gathered Ghost Table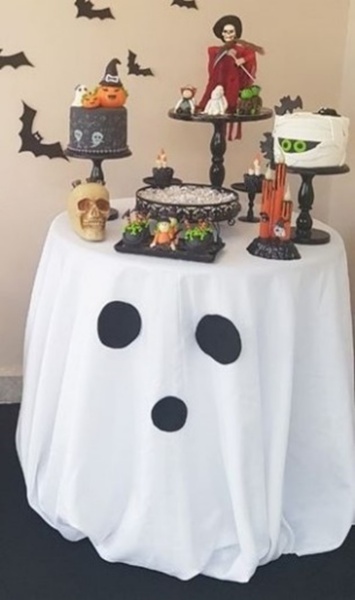 Dress up the treat table using a fitted sheet.
Materials:
1 small, untrimmed fitted sheet
Black felt or construction paper
Double-sided tape
Steps:
Take the fitted sheet and billow over and tuck in under a spool or round table.
Cut eyes and mouth out of black felt or construction paper
Secure the eyes with double-sided tape onto the bed sheet.
Haunted Mansion Look "Covered"
Create that spooky house look with bed sheets draped over as much furniture as you can. They can be white or dyed gray. To enhance the look, pick up fake cobwebs at your local Halloween store spread throughout the room.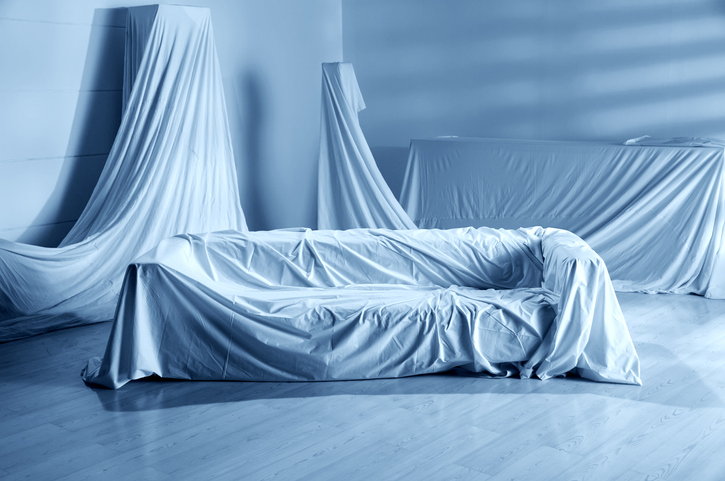 Costumes from Bed Sheets, No-Sewing Required
Create classic and popular Halloween costumes for children from bed sheets that required no sewing—just cutting, tearing, and securing with ties or belts. Check these out.
An Angel with Wings
Materials:
1 flat bed sheet
Scissors
4 safety pins
Steps:
Cut off the top border of a flat sheet and save it for the belt.
Fold the flat sheet in half lengthwise and cut a small scallop in the middle for the child's head.
Have the child model the sheet, with both arms extended.
Use safety pins to mark locations for cutting four slits at the waist (two on the front half of the sheet and two on the back).
Remove the sheet and make the four belt slits.
Place the sheet once more over the child's head and arms, then feed the belt ends in the front slits and out the back.
Tie the belt in the back. Your angel now has wings.
Enhance costume with your own halo.
Classic Ghost with non-slip eye holes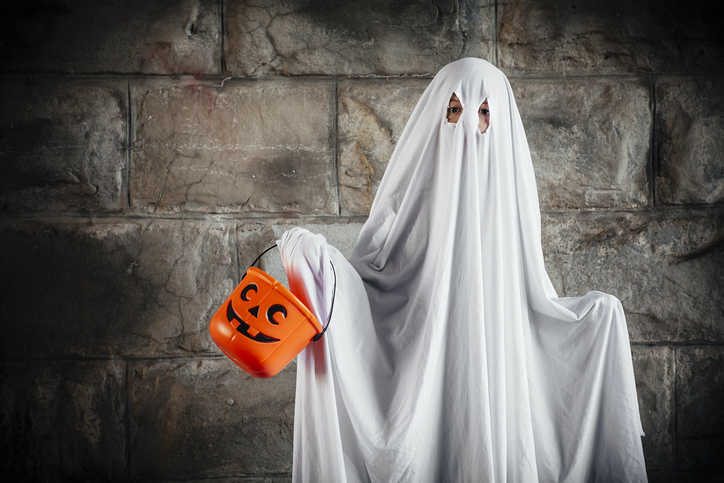 This is the classic bed sheet ghost with a twist—not letting the sheet slide around on the hair making it impossible to see. Instead, the sheet is secured to a beanie and worn before placing the eye openings.
Materials:
1-light colored beanie
several safety pins
scissors
1-can of spray tack (available in craft and hardware store)
1-black permanent marker
1-bed sheet if the child is 45 inches tall or shorter. Note: Flat sheets range in length from 96" to 108" and Fitted sheets can measure as little as 75" to 84" after their corners are trimmed away. Taller children will need 2 connected sheets.
Steps:
Place beanie on child's head, drape sheet over a beanie, and center it.
Use safety pins to secure the sheet to the beanie.
Use the child's eye socket as a guide and gently mark where the eye openings are needed.
Remove the beanie and sheet.
Cut small holes in the sheet for eyes to peep through.
Place the face of the ghost on a flat surface like cardboard.
Use a black permanent marker to color oversized black eyes around the eye holes.
Carefully remove safety pins from half of the beanie, spray the spray tack in between beanie and sheet, and press the sheet back into place.
Repeat step 8 for the other half of the beanie.
Rey, the hero from Star Wars: The Force Awakens
Sorry, copyright does not allow us to show you a picture of Rey. You'll have to Google it.
Materials and Steps:
Start with a cap-sleeved t-shirt, capri pants, and a low boot or high-rise casual shoe.
Gather a sheet dyed beige or tan and tear it into wide and narrow strips.
Drape wide strips across the child's shoulders and torso and secure with a belt.
Wrap thin strips around arms to create arm warmers and tie a knot to secure each strip safety pin them to each other discreetly. To complete the look, don't forget the tri-bun hairdo and staff.
A Toga for a Goddess or The Statue of Liberty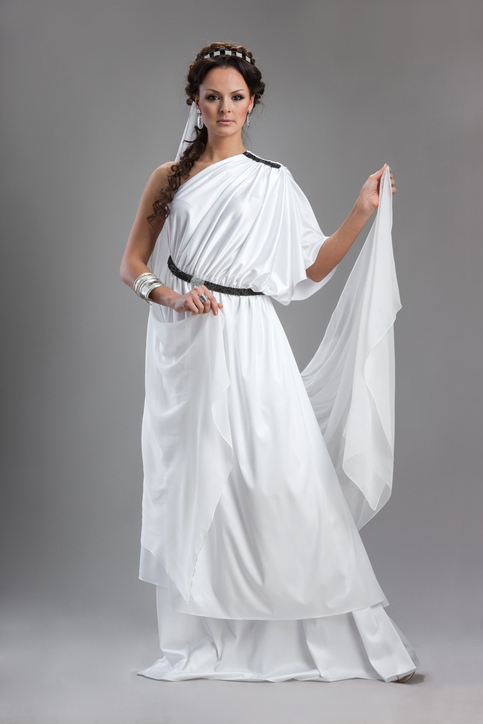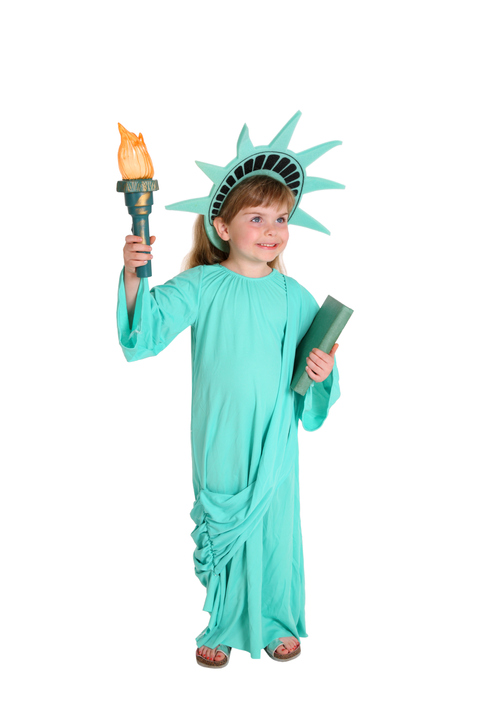 Greek goddess dresses are white. If creating the Statue of Liberty costume, gather a sheet dyed green.
Materials:
1-sheet 12" longer than the person's shoulder height
scissors
20 ft. gold cord
a hole puncher
Steps:
Fold sheet down 12" from the top, as illustrated, to create a double layer at the bodice.
Place the sheet around the person like a sandwich and mark the shoulder strap locations, front and back.
Use the hole puncher, scissors, and the braided cord to create two sets of tying shoulder straps per shoulder.
Use the remaining cord to cinch the dress in at the waist and dangle down near the ground.
Collecting sheets
Ask local hotels for their "old" sheets and tell them you don't care if they are fitted, flat, stained, or ripped. You can use them all for Halloween décor.
Check your local thrift stores for used bed sheets. Don't turn away from the non-white solids. You can use beige and tan ones for sand people costumes, and gray ones for mummies. You can also dye or bleach them to darken or lighten them.
Preparing and Dyeing Sheets
Wash white sheets with bleach to sanitize and brighten, or with fabric whitener in the detergent to get them to glow under a black light in the room.
Trim sheets if stains or tears are present. Cutaway fitted corners if necessary.
Cut off the top and bottom borders of flat sheets and use remnants as belts for costumes.
Dye sheets as needed. Rit dye is commonly used for cloth projects. It's available at craft stores and comes with well-documented instructions.
Happy Halloween!
We hope this gives you some great ideas on how to use bed sheets for fun Halloween decor and costumes. Happy Halloween!