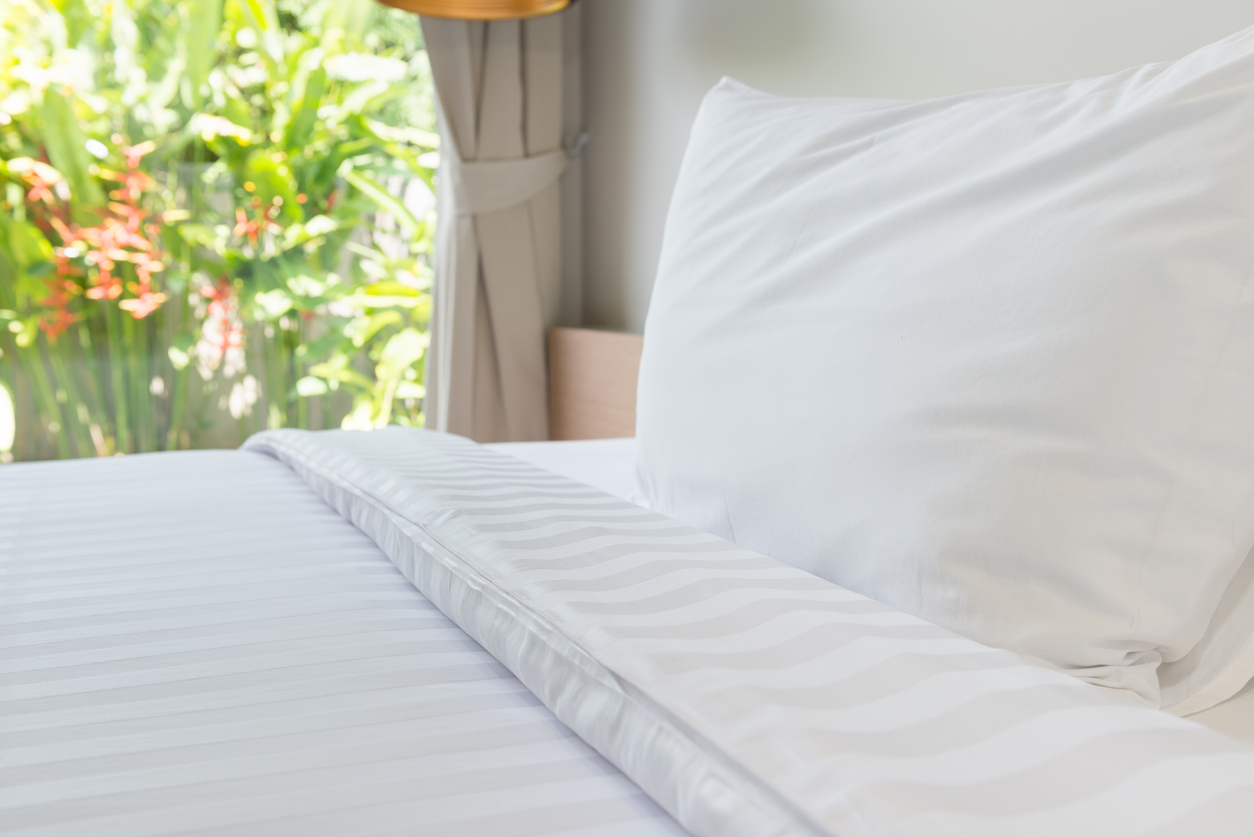 Have you noticed a smell coming from your mattress, despite having just washed the sheets? Are there stains on your mattress after only a few years of owning it? If so, you'll want to learn about the benefits of mattress protectors.
Mattress care isn't always at the top of many people's priorities, but it should be. The National Sleep Foundation recommends adults get between seven and nine hours of sleep a night. For most people, that sleep occurs on a mattress.
While you're trying to relax in your cozy bed, millions of bacteria from years of use, lab tests on 7-year-old mattresses found over 16 million bacteria colonies per square inch.
And that's only one reason you need a mattress protector! Keep reading to learn how mattress protectors protect your mattress (and yourself).
Why Mattress Care Matters
Mattress care is directly related to the health of the person sleeping on the mattress. Mattresses collect a lot of, well, pretty gross stuff. In addition to dust mites, mattresses absorb our sweat, oils, and dead skin cells while we sleep.
This can be detrimental for people with allergies, but it's also a health hazard for anyone. Washing your sheets regularly helps, but it doesn't solve the problem.
How Do Mattress Protectors Protect Your Mattress?
Mattress protectors are specifically engineered for protecting your bed. Some fit over the top and sides of your mattress, while others cover and protect all six sides of your mattress.
Different types of mattress protectors use different technology to keep bacteria and allergens out of your mattress. Here's how a mattress protector works.
Keeps Your Mattress Clean
Mattress protectors keep all those dead skin cells, body oils, sweat, and other bacteria-causing fluids off of your mattress. Some mattress protectors are waterproof, and yet others are smoke-proof.
Once this stuff gets into your mattress, it's nearly impossible to wash it out. But, it's very easy to remove and wash a mattress cover.
Lengthens the Life of Your Mattress
A mattress protector will maintain the condition of your mattress. If you put one on right away, your mattress will feel and smell like new for much longer.
Did you know moisture of any kind disintegrates the foam material inside mattresses? Over time that will reduce the comfort and support of your mattress.
Prevents Dust Mites
Allergic to dust? Then congratulations, you're in the company of about 20 million other Americans. A mattress protector will keep those dust mites from burrowing into your mattress.
Protects Your Mattress Warranty
Stains on your mattress will void your warranty. It doesn't matter whether the stain is related to the issue you're addressing; any stain will void your warranty.
If you're at all concerned about how well you're going to like your mattress, put a mattress cover on it. Let's take a look at five of the most effective mattress protectors on the market.
Sleep Tite Mattress Protector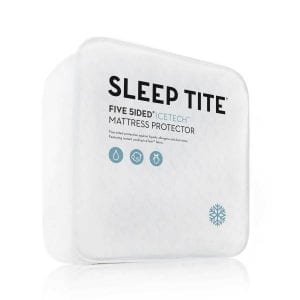 The Sleep Tite mattress protector offers unparalleled comfort and protection. It features a breathable material that is impermeable to moisture and allergens.
Created from IceTech™ fabric, it disperses body heat, so you sleep comfortably in all climates. Sleep Tite mattress protectors also feature deep pockets, elastic banding to hold the mattress protector snugly on any size mattress.
ReversaTemp 5-Sided Mattress Protector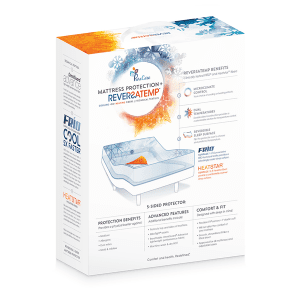 The ReversaTemp 5-sided mattress protector boasts both versatility and adaptability. It disperses body heat, so you'll sleep cool all night. But in the winter, you can flip it over and use the HeatStar fabric side to stay warm.
This protector also features an antimicrobial silver chloride coating that prevents mold, mildew, and bacteria from growing on or inside the mattress.
FRíO 5-Sided Mattress Protector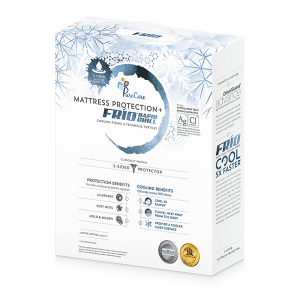 The FRíO 5-sided mattress protector was designed using nano-technology, nylon, and natural mica minerals. Together these move heat away from your body while you sleep.
Advanced weaving technology makes this mattress protector soft and quiet, unlike other mattress protectors.
This mattress protector seals all four sides of your mattress and the top against bacteria and allergens. It's also durable enough to wash in either hot or cold water.
OmniGuard Total Encasement Mattress Protector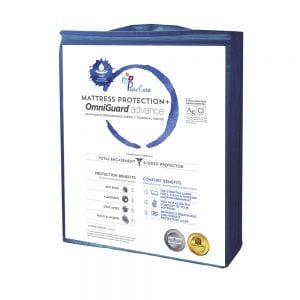 The OmniGuard Total Encasement mattress protector provides the ultimate quality in mattress protection. This mattress protector not only safeguards the top and sides of your mattress – it protects the bottom of your mattress as well.
This mattress protector provides the most effective barrier against mildew, mold, allergens, moisture, and bed bugs. It also features MiteTight® seams, so dust mites can't permeate the fabric of your mattress.
This protector also has antimicrobial silver chloride that won't wash out. You can wash it safely at any temperature.
OmniGuard 5-Sided Mattress Protector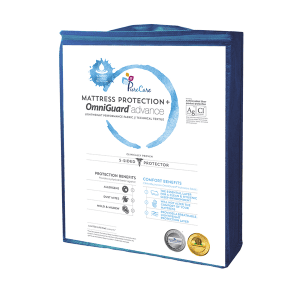 The OmniGuard 5-sided mattress protector is a Women's Choice Award winner. It is easy to care for and clean. It also defends against mold, moisture, dust mites, mildew, and bed bugs on the top and all four sides of your mattress.
It features lightweight fabric that provides a quiet, comfortable sleep. You can wash and dry this protector on high heat settings. This mattress protector is ideal for small children and people with allergies.
How to Clean an Unprotected Mattress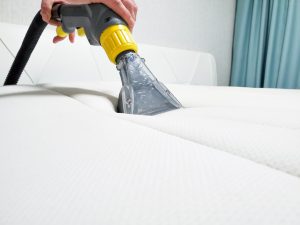 If you haven't been protecting your current mattress, there are a few mattress cleaning methods you can try. But, it is unlikely you will be able to remove all of the bacteria, allergens, and dust mites from your mattress.
Begin by stripping your bed and vacuuming your mattress. You'll want to use your vacuum's upholstery attachment. Vacuum the entire top and sides several times and pay close attention to crevices where dirt can get stuck.
To remove stains from the mattress, always spot clean. Do not pour liquid onto your mattress. This will only cause more bacterial growth.
Use an enzyme cleaner and pour it into a spray bottle before applying it to your mattress. Spray it on the mattress and then blot the stain with a clean cloth. To rinse the cleaner off of your mattress, dab with a clean, wet cloth.
Start Protecting Your Mattress and Your Health
Mattress protectors lengthen the life of your mattress, protect your warranty, and keep bacteria and allergens out of the fibers of your mattress. A mattress protector is the best way to get a healthy night's sleep.
You can find all of the top-rated mattress protectors we discussed at Best Mattress. Find a store near you, or order your mattress protector online today!