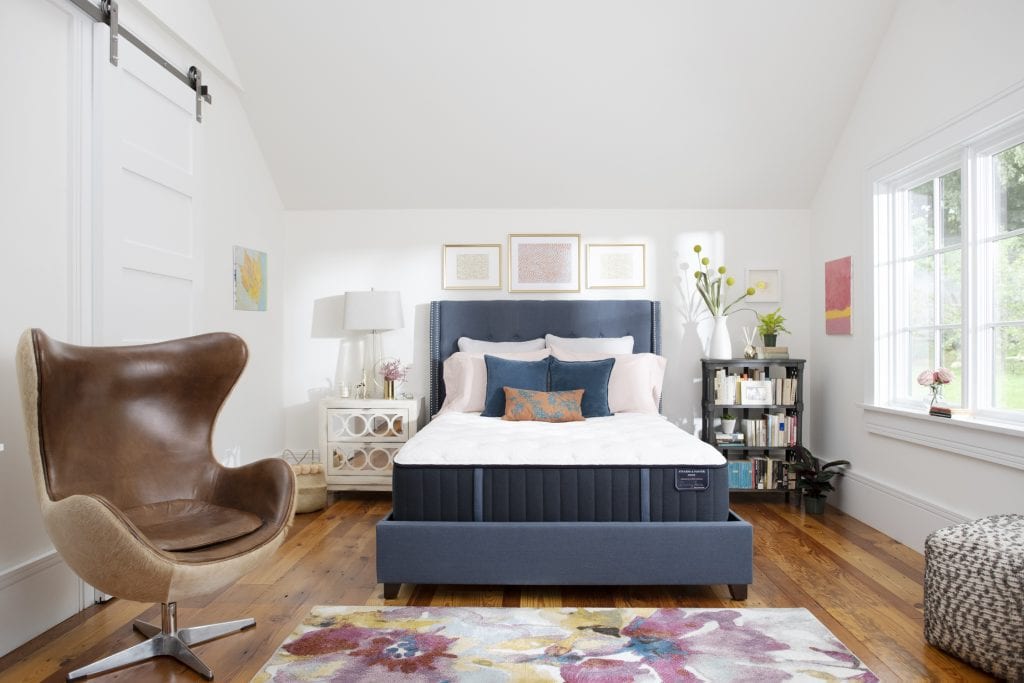 Full size mattresses measure 53″ x 75″ or 53″ x 80″ (XL full). According to BetterSleep.org, they fit two but are ideally meant to give a single sleeper maximum space without taking up too much room in the bedroom. This guide provides insight into all the things to consider when choosing your full mattress.
For your comfort think about what you expect in terms of comfort, style, and durability. Then, consider the various brands available at Best Mattress, including top brands like Tempur-Pedic, Sterns and Foster, Sealy.
Whether you are an extremely close couple that likes to snuggle or a single person looking for more elbow room than a twin bed provides, full-size mattresses provide many sleep options for your preferences.
How to Choose the Right Full-Size Mattress for You
There are three kinds of mattresses:
foam
adjustable
innerspring
Individual preferences vary, but here are the general rules. Side sleepers often choose a soft mattress, stomach sleepers gravitate toward firm full mattresses and back sleepers often vary in their choices.
Based on your sleeping style and whether you share a bed with a partner, your choice will also vary. Let's look at several categories together.
A Bed with Bounce
If you want a bed that has a lot of bounce, a traditional full-size mattress with inner springs will provide the firmness and feel you crave. Serta is just one of the name brands that excel in innerspring mattresses.
Interconnected coils make the mattress extremely durable while "pocketed" coils cushion the mattress to contain movement. This is key if you have a partner who moves around in their sleep.
Firm Full Mattresses
For a firmer base, go with memory foam options with less bounce and enhanced relief for pressure points. Beautyrest and other leading manufacturers produce firm memory foam and gel memory foam mattresses with medium-firm to firm options.
Here's a quick quality test. Look at the thickness and density of the foam. This determines how far you'll sink into the mattress. If you want a firm full mattress, go with a slightly thinner foam padding that combines comfort and support. Also, heavier foam on the bottom gives you the support you need while lighter, cooler top foam layers help you maintain your body temperature without getting hot or cold.
Plush Full-Size Mattresses
Innerspring mattresses often use fiberfill or an outer layer of foam topped with cozy quilted ticking. If you want a super-plush feel, choose a pillowtop mattress. Alternately, go with a firmer mattress and buy a mattress topper for added comfort.
Side Sleepers
For side sleepers, support is crucial. When you sleep on your side, you can wake up achy from pressure on your neck, hips, and knees. Innersprings provide more pressure point relief. Some foam and latex mattresses may also work. Ensure that the full-size mattress you choose cradles your shoulders and hips.
Stomach Sleepers
If you sleep on your stomach, enveloping memory foam may not be the best choice. Firmer material such as a dense innerspring or air-filled mattress can support your body without restricting airflow. Tempur-Pedic has a mattress in full sizes to meet your needs.
Back Sleepers
Back sleepers need support and comfort but fall somewhere in the middle of side and stomach sleepers for firmness. Choose a mattress style and type that has some give for spinal comfort. Splay out on the mattress you like to ensure you have enough spine support.
Does Your Partner Move Around a Lot?
Most full-size beds are designed for single sleepers. However, chances are, your partner will stay with you at least part of the time. If your partner moves during sleep, consider options that contain movement to their side of the bed. Innerspring mattresses with pocketed coils do the jobs nicely. You can look for a memory foam mattress with a medium firmness to help quell the movement so that you can sleep soundly.
Other Considerations
If you get hot during sleep, foam and latex may not be the best choice for your full mattress. These materials can hold heat in. Newer technology allows you to accessorize these beds with toppers and sheets that provide a cooling effect.
Antimicrobial materials such as latex and foam resist mold and dust mites, for a healthier sleep cycle, especially for those with allergies. You can also invest in an allergen-resistant cover to avoid coughing and sneezing from allergens in your bed.
Those with back pain often choose memory foam and latex full-size mattresses that mold to the body's contours for support and comfort.
Worried about chemicals or toxins in your mattress? Look for CertiPUR-US and other certifications offered by today's top mattress brands, available at Best Mattress.
There are even hybrid styles for those who want the benefits of more than one type of mattress. If you like the buoyancy of an innerspring full mattress combined with the motion isolation offered by memory foam, there's a mattress out there for you. Shop through our styles and brands to get a better idea of the features you love and call us for more details to help you finalize your decision.
When to Replace Your Mattress
While some mattresses come with long-term warranties, it's a good idea to switch your mattress periodically for sanitation and hygiene. In general, we recommend changing your mattress every five to 10 years.
Best Mattress Full-Size Mattresses
You can find dozens of full mattresses from soft to extra firm in many materials and styles. Search by cooling, low motion transfer, pressure relief, and eco-friendly options from the best brands in the industry. Tempur-Pedic, Sterns and Foster, Sealy and other manufacturers produce full mattresses that meet your specific needs.
If you need to upgrade to a queen or king-size bed, Best Mattress has a wide selection of mattresses and accessories to fulfill your dream of the perfect mattress for a great night's sleep.