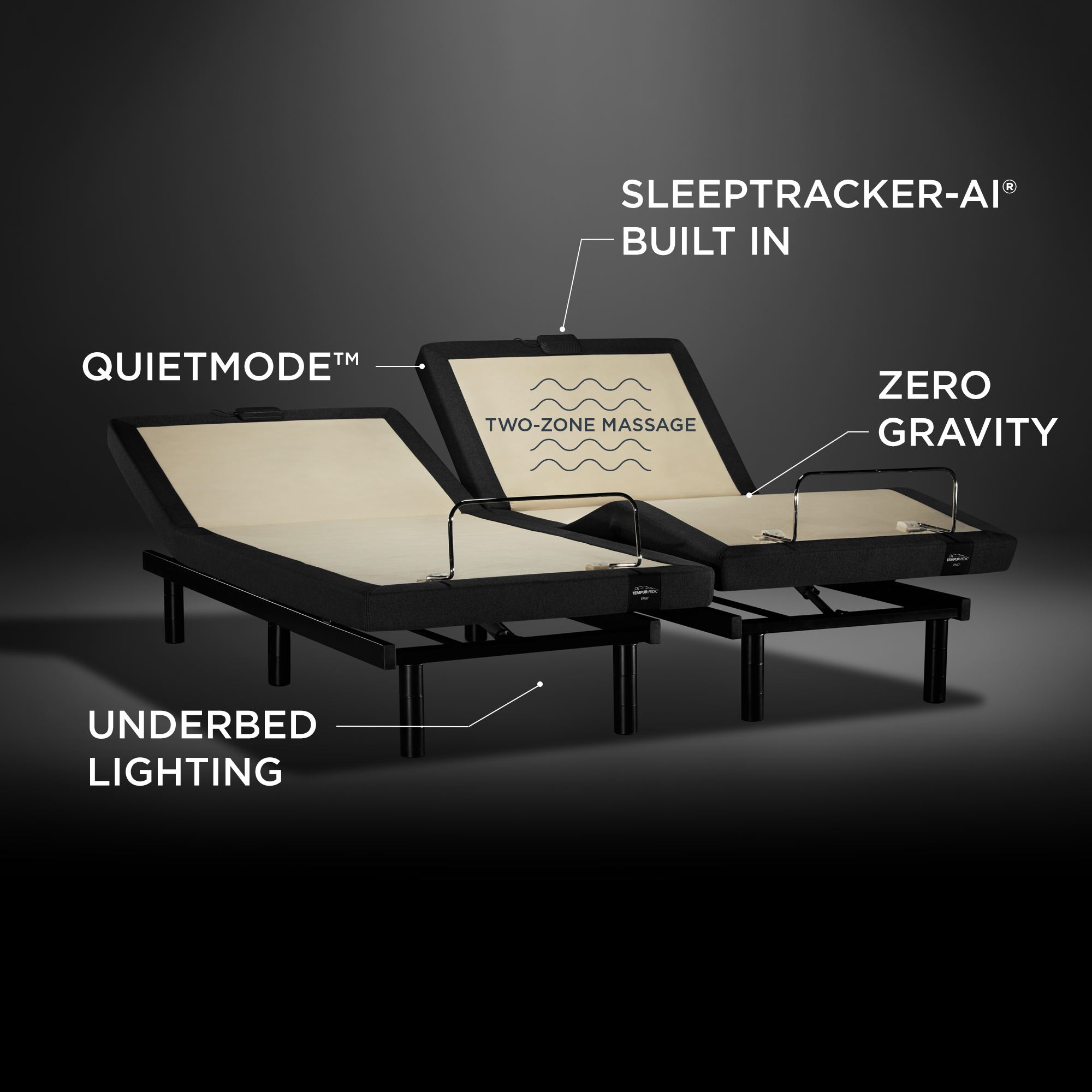 Do you find yourself regularly uncomfortable when trying to fall asleep? Do you or your partner have a tendency to snore, keeping the other awake at night?
Did you know that adults aged between eighteen and sixty-four need seven to nine hours of sleep each night? Any less, and we could receive a negative outcome.
Are you having trouble sleeping? Discover how the Tempur-Ergo Smart Base can help improve sleep duration and quality.
The Importance of a Good Nights Sleep
Getting our seven to nine hours is imperative to keeping ourselves healthy. Losing sleep can have some severe effects on the body. Let's briefly have a look at some.
Struggle to Concentrate
Sleep deprivation will drastically reduce our level of productivity during day-to-day tasks. This lack of productivity will be due to a lack of concentration.
If we find ourselves having trouble sleeping, we could be damaging part of the brain. Mainly the part of the brain which controls reasoning. This damage will cause our brain to easily drift from concentrating on the tasks we wish to focus on.
Increased Risk of Heart Disease
By losing sleep, we are causing your body to have irregular blood pressure. High blood pressure is one cause of heart disease. By allowing the body to receive enough sleep, we are lowering our blood pressure.
Lower Immune System
Having high blood pressure could also affect the body's ability to repair itself. Our immune systems will struggle to fight off infections. This will lead to the body falling ill on a more regular basis.
High Risk of Depression
There have been many studies into the effect that lack of sleep will have on our brains. It has been found that people who suffer from sleep disorders will also so signs of depression.
Tempur-Ergo Smart Base
Now we know the importance of sleep, let's look into how the Tempur-Ergo Smart Base will help.
In 1991, Tempur hit the market with its instant success of memory foam mattresses. Since then, helping people to get a perfect night's sleep has been their primary goal.
And they have done just that with the Tempur-Ergo Smart Base. They have followed the rise of the technological age with some fantastic new features.
Tempur-Ergo Smart Base Features
The bed has a built-in AI system which allows it a vast array of technological features. Tempur developed the computer system for ease of use.
It doesn't take long to learn how to use the bed. In fact, some of the features the bed will do automatically.
Snore Response
The Tempur-Ergo Smart Base has the ability to sense when one of its users begins to snore. It will then automatically adjust its position.
The bed will rise roughly 12 degree's in response to snoring. This function will be perfect for those who snore due to a bad sleeping position.
Sleep Coaching
The built-in AI will read your nightly sleeping behavior. By connecting your phone to the bed, you will receive the data it reads.
It will also give you tips to improve your sleeping habits. If you wish, you can even compare your habits to people similar to you.
For example, the bed will tell you what time you typically fall asleep. It will also give advice on what time you should go to sleep. This advice is a great way to increase the chance of a healthy sleeping pattern.
Connected Home
The sleep coach also has the ability to connect to your smart home through Google or Alexa. Simply use voice commands with the bed. You can ask to hear your sleeping tips and sleep quality rating or to adjust the bed.
Head and Foot Massage
At the end of a stressful day, come home and relax. The Tempur-Ergo Smart Base will even help you with this.
With a built-in head and foot massager, you can come home and unwind. The bed sends out soothing, gentle vibrations. You can adjust it to different levels to help release the stress.
Feel the stress and tension release by relaxing the body and mind. You may even want to spend more time in bed than usual.
Zero-Gravity Sensation
With the zero-gravity setting, the bed positions itself with your head and feet elevated to give you maximum relief for your back and legs. This position simulates being on your side in the fetal position, except you're on your back.
By spreading your weight, it relieves the pressure in your spine. It also helps with blood circulation.
Wireless Remote
A lot of these functions involve either a smartphone or smart house. But, for those who aren't tech-savvy, the bed also comes with a wireless remote. With backlit keys, you can see the buttons in the dark.
How Will You Cushion the Base?
Buying the Tempur-Ergo Smart Base is a smart choice. What's even smarter, is getting a Tempur-Pedic mattress to use with your smart base?
Get a Good Nights Sleep
Now you know why sleep is so important. You also know how the Tempur-Ergo Smart Base can help you sleep better.
Help your body remain healthy. Reduce the risk of losing sleep because of snoring with the snore response feature. Also, buy a new Tempur mattress to complete your new sleep experience.
But, above all else, get a good night's sleep.
Visit one of our Best Mattress Tempur-Pedic stores in Las Vegas and St. George or shop online.