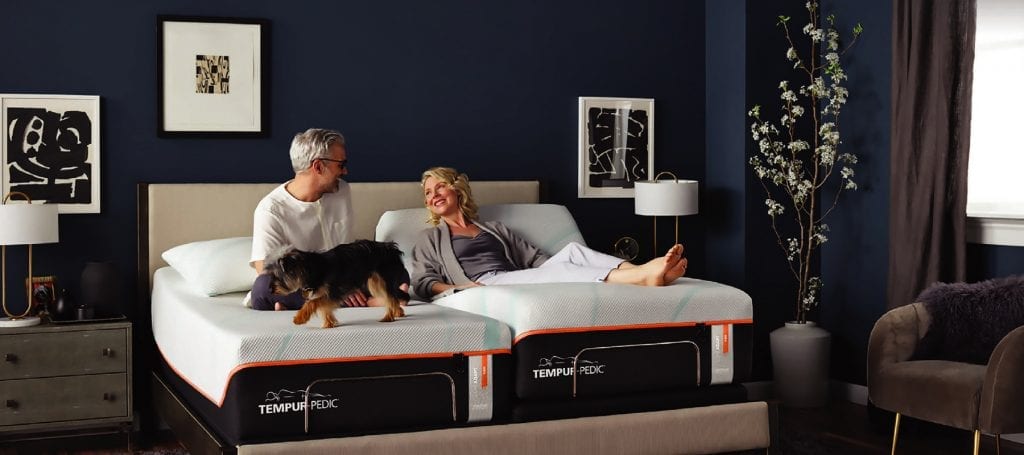 A good night's sleep starts with a good mattress. The trouble is that even when you pay top dollar for a good mattress, you can quickly find that the mattress doesn't stay good for long. It can be excruciatingly frustrating when the mattress that was once luxuriously comfortable starts to feel like a bed of nails. A mattress is a long term investment, and you want to know that you'll be getting your money's worth from your mattress now and for years to come. 
What Makes A Tempur-Pedic Mattress Different?
The Better Sleep Council recommends that you should change your mattress every 7-10 years to maintain optimal support for your back while also affording you the comfort and feeling of luxury that will help you to drift gently off to sleep. The trouble is that many will find that their mattress has taken a turn for the worse after little more than 5 years.
A Tempur-Pedic Mattress, however, is different. You'll get more than 5 years with one of these amazing mattresses. You'll get more than 10, too. In fact, every Tempur-Pedic Mattress comes with a 25-year guarantee. How are they able to offer such an ambitious guarantee? Because of the brand's unique combination of ingenious design and quality materials.
Let's take a look at what makes Tempur-Pedic Mattresses help you have the best night's sleep in Las Vegas…
Constantly Adapts To Your Changing Needs
An important factor in the Tempur-Pedic Mattress' longevity is its adaptability. Every mattress uses not one but two layers of premium TEMPUR® Technology. These work together to ensure that your mattress is constantly adapting to your body. Night after night and year after year, it continually adapts and conforms to your body's changing needs while you rest. This unique technology works tirelessly all night every night, relieving pressure and reducing motion transfer. This not only makes for a great night's sleep but helps the mattress to protect itself from disproportionate wear that can compromise its longevity.
Advanced Cell Structure
Tempur-Pedic Mattresses have always used cutting edge technology to bring you years of perfect slumber. However, this brand did not earn its reputation by resting on its laurels. The technology behind the mattress' comfort and longevity is always being refined and improved upon.

Newer models such as those with Tempur-APR+ technology have even tighter and more advanced cell structure meaning that you get ultra-conforming comfort and a mattress that will last for decades, rather than years.
Come See (And Feel) For Yourself
Of course, we could wax lyrical about these wonderful mattresses all day. But there's no substitute for seeing, feeling, and experiencing them for yourself. Come and visit us at one of our exquisite Las Vegas locations to see and feel the unrivaled comfort of a Tempur-Pedic mattress for yourself! Don't forget that we also offer a 90-night trial and free delivery on all of our mattresses. 
We can't wait to meet you and help you find a new mattress!