Do you ever get uncomfortably warm at night? If you have a hard time falling asleep in a hot, clammy environment, the problem might be tied to your bed sheets. Some fabric blends aren't breathable, creating unnecessary heat buildup that can make it difficult to get the rest you need. Fortunately, PureCare Frio sheets are designed to feel cool to the touch, while simultaneously wicking away heat and moisture. Here are just a few of the great features PureCare Frio sheets offer, and how they will improve your life.
Cooling Fibers for a More Comfortable Sleep Environment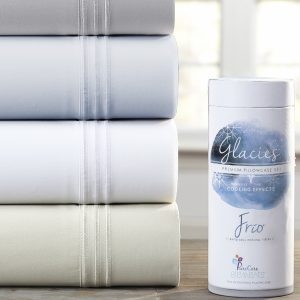 The key to PureCare Frio Sheets is the FRíO® rapid chill cooling fibers the sheets are made from. Created from TENCEL®, a luxurious textile that cools five times faster than polyester, these sheets feel luxurious and smooth while wicking away humidity. To create these cooling fibers, liquid polyester is infused with minerals to create fibers with tunnels throughout the threads. These tunnels help to channel away heat and moisture. The result is bed sheets that feel fresh, clean, and cool, even after several washes. In fact, the cooling effect lasts the lifetime of the sheet.
Infused With Antimicrobial Silver to Inhibit Pathogens
To keep the sheets clean and healthy, they are infused with antimicrobial silver particles that help to destroy mold, mildew, and bacteria on contact. In addition to preventing stains and odors, this feature helps to keep your sleeping surface sanitary.
Designed to Meld With Any Décor Scheme
PureCare Frio sheets are available in white, ivory, dove gray, and light blue, helping you to match your bedding to your existing design scheme. The sheets are also created with pocketed corners that help the sheets to stay in place, creating a clean, tidy appearance.
Sleep Better With Cooling Sheets
Stop trying to fall asleep in a bed that feels hot and humid. Enjoy cooling sheets that feel brand new each time you roll over, and sleep a little better knowing that those sheets are protected with natural minerals designed to ward off pathogens. For more information about cooling sheets, visit a Best Mattress near you. With over 20 locations throughout Mesquite, St. George, and Las Vegas, you are sure to find the perfect sheets for your mattress set.