If you are interested in enjoying a better nights' sleep, you might be exploring the possibility of investing in a new mattress and a few accessories. In addition to choosing high-end pillows that suit your sleeping style, mattress accessories like mattress protectors really can help you to sleep a little easier at night. Here are just a few of the powerful benefits of mattress protectors.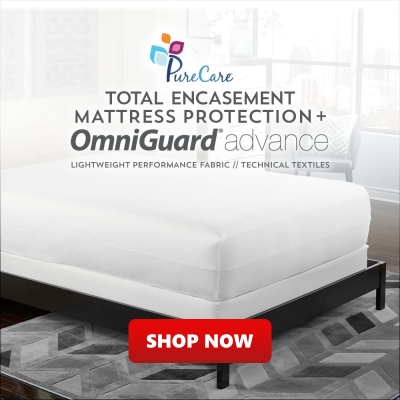 Extends Your Mattresses Lifespan
One of the best things about mattress protectors is that they protect your mattress from spills, drips, and food particles—which is tremendously helpful for people who have kids or if you tend to eat or drink in bed. Mattress protectors are designed to guard against stains and crumb accumulation, protecting your investment and extending the life of your mattress!
Reduces Dust Mites
Protecting the surface of your mattress also helps you to reduce the number of dust mites that take shelter inside of your mattress, alleviating allergies and helping you to sleep a little better at night. Dust mites are microscopic insects that feed off of the skin cells that you shed, but protectors can help to ward against them. In fact, one study showed that allergy sufferers who used mattress protectors didn't need as much medicine as sufferers who slept on a mattress only protected with plain sheets.
Adds Another Layer of Comfort
Mattress protectors can also be used to add another layer of comfort to your bed. Modern versions are often fitted with foam inserts to cushion your bed, or to create a cool-to-the-touch surface where you can sleep comfortably.
Explore PureCare Total Encasement Mattress Protectors
In order to help you to get the sleep you need, Best Mattress offers a wide variety of mattress protectors, including PureCare Total Encasement Mattress Protectors. These special protectors are designed to envelop your entire mattress, creating a superior physical barrier against allergens, liquids, mold, mildew, and dust mites. Created with special performance fabric designed to stretch with the mattress, PureCare Total Encasement protectors are also infused with microscopic silver particles that prevent microbial growth. For more information about these protectors, visit a Best Mattress near you today.