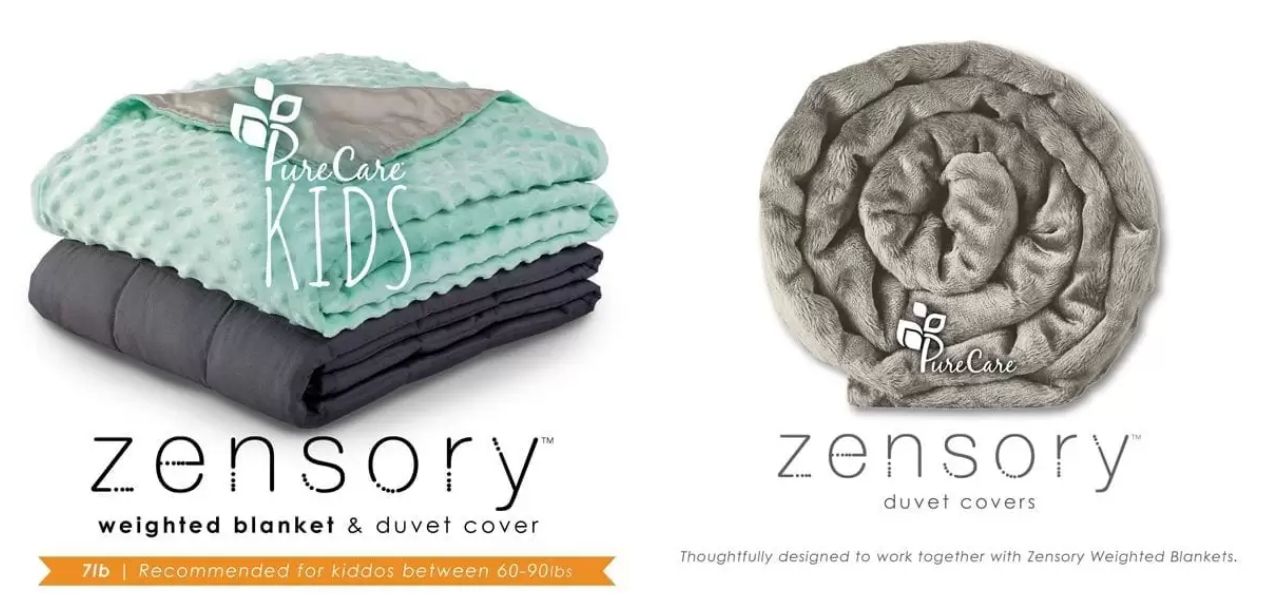 Have you considered getting a weighted blanket for a while now (or a new duvet cover), but you aren't sure what brand to choose?
Famous for their Zensory Weighted Blankets and weighted blanket covers, the PureCare brand is no stranger to the sleep world. PureCare has stayed true to its promise of providing a healthier sleep solution to those seeking it.
In this article, learn more about the PureCare brand and why you should make the switch to PureCare weighted blankets and other sleep products.
About PureCare
With award-winning sleep essentials, PureCare is committed to helping sleepers reclaim their sleep through premium sleep products like duvet covers, weighted blankets, and much much more.
Awarded with both the Women's Choice Award for Official Mattress Protectors and the National Sleep Foundation Official Bedding Products Partner, the PureCare brand prioritizes overall wellness and sleep. But, why should you choose their sleep products to help you out in your sleep journey? Here are our top reasons why you should—finally—make the switch to PureCare.
Why Switch to PureCare Weighted Blankets (and Covers)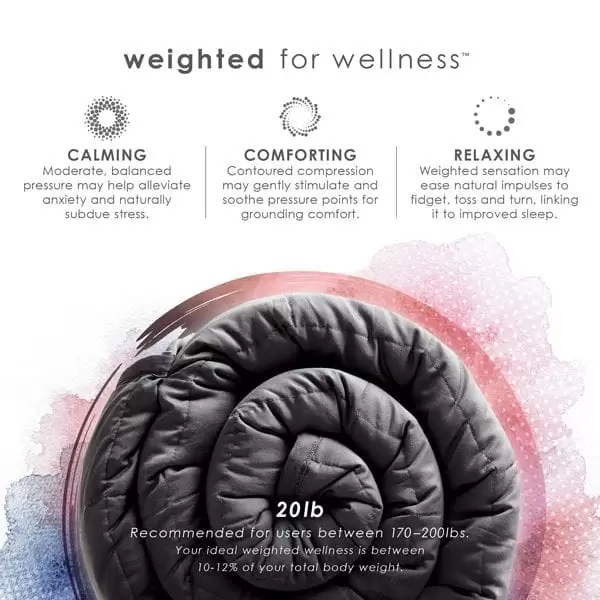 We all want to sleep well, but the truth is that we don't always get enough sleep.
According to the Centers for Disease Control (CDC), 1 in 3 adults don't get enough sleep. Poor sleep isn't doesn't just lead to restlessness, it can also increase your risk of health problems like heart disease, diabetes, and other chronic issues.
If you're one of those people who struggle with getting enough sleep, it's time to make some changes. Luckily, there are things you can do to improve your sleep quality—including changing up your bedding.
At Best Mattress, one of our all-time favorite bedding lines is PureCare because their sleep products are:
Gentle on the Skin
PureCare duvet covers and blankets are made with a premium fabric that is soft on the skin.
This means you will have a great night's sleep, even if you have sensitive skin. In fact, their duvet covers are so soft that they feel like silk against your skin—even better than most other duvet covers!
Cool-to-the-Touch
When it comes to temperature control, there is nothing better than PureCare.
The PureCare duvet covers and blankets are made with a unique blend of materials that use cool-to-the-touch technology. This means that even if you have hot flashes or suffer from night sweats, you won't wake up drenched in sweat!
Antimicrobial
A clean and fresh duvet cover is a must for a good night's sleep.
But are you really getting the best results from your duvet cover? PureCare has developed an innovative line of duvet covers that will help you protect your covers and keep it clean for longer.
All of PureCare's duvet covers use Silver and Chloride to inhibit the growth of mold or mildew to keep your covers fresh with its antimicrobial technology.
Breathable
PureCare duvet covers are known for their enhanced breathability.
This means that they allow your body to breathe while you are sleeping. Say goodbye to the days of unwanted moisture build-up and hello to waking up feeling refreshed!
Connectable
Did you know that the Zensory weighted blankets are designed to work seamlessly with the PureCare duvet covers? (Pretty cool right?)
So, when you purchase a weighted blanket and duvet cover, you can easily connect the two pieces to make for the ultimate sleep experience.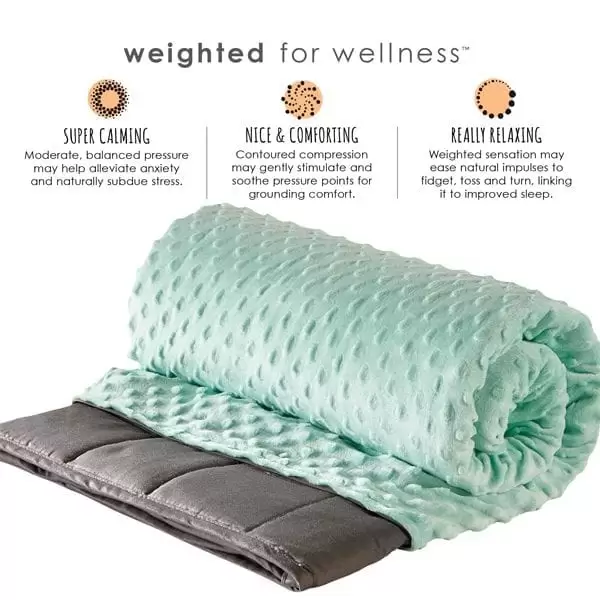 "Wellness in Mind" Made
Lastly, all PureCare products are made with your wellness in mind!
Every fabric selected is chosen with great care by PureCare sleep experts to ensure that you have an unmatched sleep experience. The PureCare sleep collection offers you a range of products (from duvet covers to weighted blankets) that are designed to help you relax and enjoy a more peaceful rest.
All in all, if you are looking for an unmatched sleep experience, you have to use PureCare for all of your bedding needs.
So, which PureCare product should you consider? Here is a compilation of some of our favorite PureCare products.
PureCare Sleep Products
Are you looking to take your sleep experience to the next level? Well, now you can with these PureCare products that enhance your sleep experience.
Zensory Duvet Cover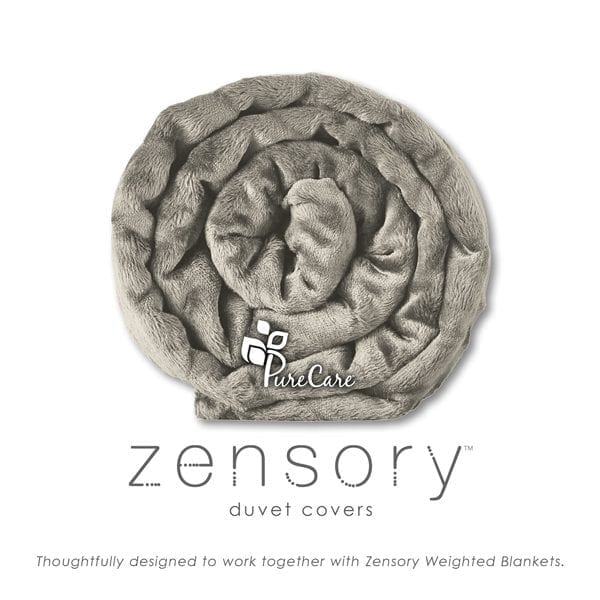 With its 100% washable materials, the Zensory Duvet Cover is a great addition to your Zensory Adult Weighted Blanket. Just simply attach your duvet cover to your Zensory weighted blanket of choice for the perfect, seamless fit. Our  Zensory Duvet Covers are breathable, cool-to-the-touch, and very comfortable.
Top Features:
Tencel Lyocell Fibers finish
Antimicrobial technology blanket materials
Compatible with Zensory Duvet Covers
SHOP NOW
Zensory Adult Weighted Blanket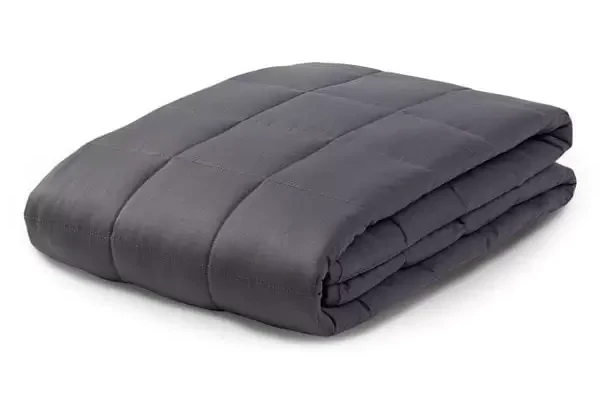 Calming. Comforting. Relaxing. That are just a few of the words that our customers use to describe the PureCare Zensory Adult Weighted Blankets!
The Zensory Adult Weighted blanket gives sleepers moderate, balanced pressure to help alleviate stress and anxiety.
Top Features:
Hypoallergenic glass beads
Layered mini pocket construction
Compatible with Zensory duvet covers
Stop fidgeting and turning throughout the night with Zensory Adult Weighted Blankets. Shop weighted blankets today!
Fun Fact: Your weighted blanket should weigh 10-12% of your body weight for optimal wellness.
SHOP NOW
PureCare Kids Zensory 7lb Weighted Blanket & Duvet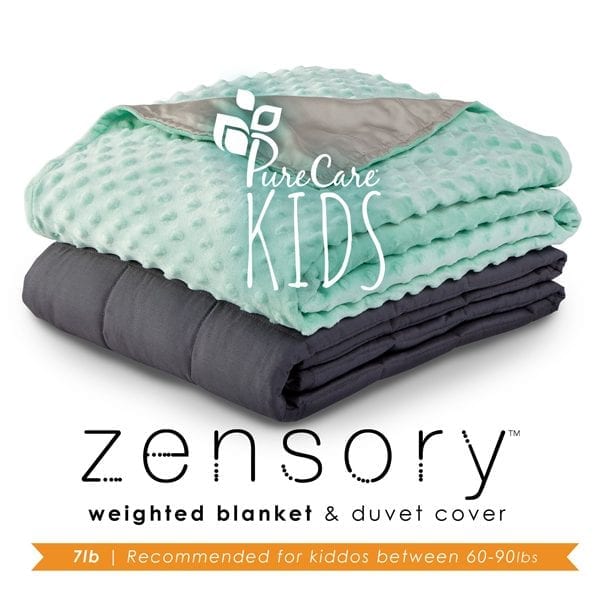 Weighted blankets aren't just for adults… they're for kids too!
If your little one has trouble falling asleep at night, you should consider the PureCare Kids Zensory 7lb Weighted Blanket & Duvet set. This set is perfect for children who weigh 60-90 lbs, and who want a blanket that will snuggle them back.
Top Features:
Comfy, washable cover made from velvet fleece
4″ mini pocket construction for even weight distribution
Contoured compression to relieve pressure points
SHOP NOW
Are PureCare Weighted Blankets (and Duvet Covers) Worth the Hype?
Yes! As your neighborhood sleep experts in Las Vegas and St. George, we say, yes, weighted blankets and duvet covers are worth the hype.
From their soft-to-the-touch fabrics to their mission to prioritize sleep wellness, PureCare is one sleep brand you don't want to miss out on.
If you are thinking about getting a weighted blanket, consider PureCare! Shop their line of premium Zensory Weighted Blankets here.