If you struggle with getting the sleep that you need or staying comfortable during your free time, an adjustable mattress base might be the key to better rest. Although adjustable bases were once only found in hospitals and the homes of the rich and famous, adjustable bedframes are becoming more and more popular.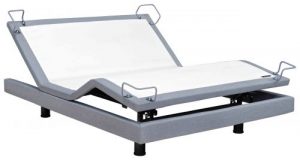 Adjustable Bases Available at Best Mattress in St. George
Best Mattress is proud to carry all of the best adjustable bases, including versions from Serta and Beautyrest. In addition to allowing owners to raise or lower the head, chest, and leg portions of the bed, modern adjustable bases have more features than ever before to keep you healthy and comfortable.
Pre-Programmed Presets
Everyone has a favorite sleeping position, and today's adjustable mattress bases make it easier than ever before to relax. With pre-programmed presets, your bed will quickly and silently move into position, helping you to get the sleep you need.
Massage Feature
It is easier to drift off to sleep after enjoying a nice massage, which is why some adjustable mattress bases even offer built-in massage motors. With the touch of a button, you can enjoy a relaxing neck or foot massage.
Bluetooth Technology
Technology is everywhere these days, and the mattress market is no exception. Some adjustable bases are even designed with sleep trackers that work with Bluetooth technology to connect to your devices, offering personalized sleep advice.
Stylish Comfort
Don't worry about your mattress base looking industrial or strange in your bedroom. Many adjustable mattress bases are designed with zero-clearance side rails and completely hidden motors, helping your bed to meld with your personal sense of style.
Visit Your Nearest Best Mattress To Explore Adjustable Bases
With two convenient locations in St. George, Best Mattress makes shopping for the perfect adjustable base easy. If you are interested in getting the best sleep of your life, visit Best Mattress today to explore their variety of adjustable bases.