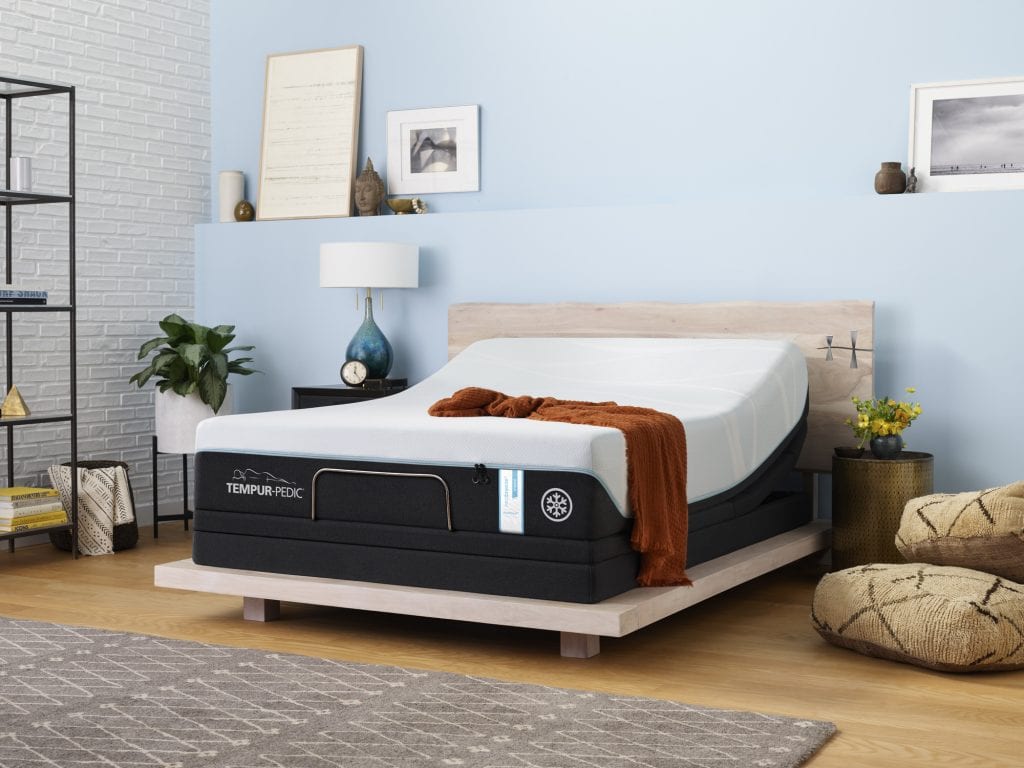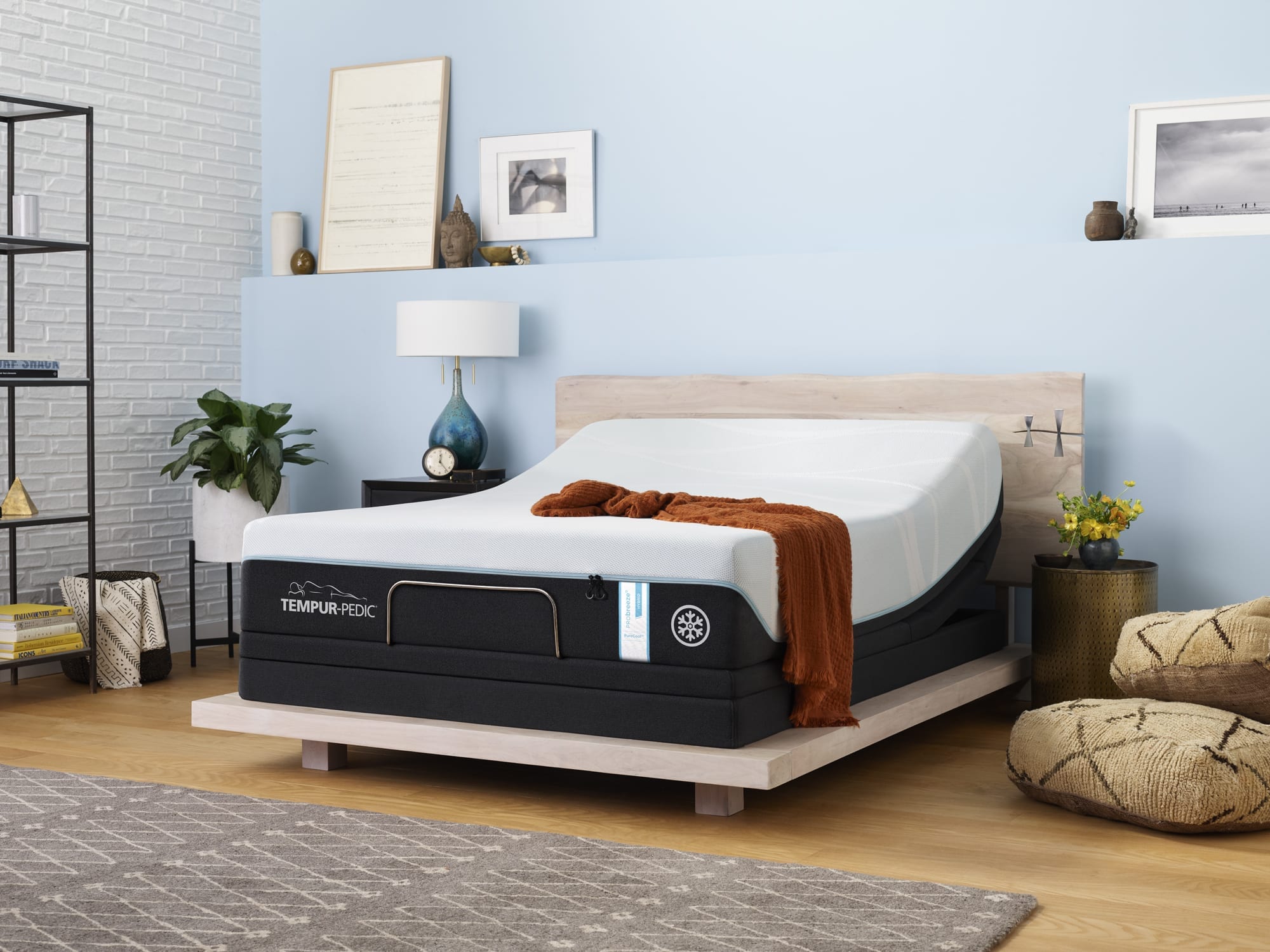 Both Tempur-Pedic mattresses and Purple mattresses are popular among consumers looking for a good night's sleep; however, when the two mattresses are compared in a number of categories, the Tempur-Pedic mattress comes out ahead in several ways.
Comfort
Tempur-Pedic mattresses are made from a material that evolved from material NASA created when they were developing the shuttle program and creating fabrics that would absorb the shock of g-forces and cushion astronauts. When the material they developed was eventually released for commercial use, Tempur-Pedic took it from there and developed it into mattresses designed for comfort. They use materials with a very tight cell structure that makes them comfortable.
These mattresses adapt to the weight, shape, and body temperature of the user better than mattresses made of memory foam. The Tempur-Breeze is, in particular, a product that was developed using a lot of science, and it even won The Best of What's New Award from Popular Science magazine when it was released.
Purple mattresses, by contrast, are made from a purple grid and polyurethane foam, and they simply aren't as responsive to the body. They cover the variables that add up to comfort – pressure points, motion points, absorbency, etc. – less effectively.
Staying cool all night long
A big part of sleeping comfortably, especially in the heat of Las Vegas night, is the temperature of the mattress. A common problem with mattresses is that, while they may be cool when you lie down, your body heat warms them, and this, in turn, warms your body. It's a vicious cycle that often leads to a sleeper waking up in a sweaty and soaked mess.
The Tempur-Breeze mattress is designed to deal with this exact situation, and it stays cool from the time you lie down on it to the time you get up regardless of the temperature or how long you are in bed. Essentially, there's a small climate system between a mattress and the covers on top of it, and the sleeper is in the middle of that climate. The Tempur-Breeze keeps the temperature in the small climate system where you want it in three phases:
Lying down: The mattress has a washable, dual-cover system that immediately cools down the user.
Falling asleep: A phase-change material takes over to cool the user during the first 20 minutes or so that they are lying down. This is the most critical part of the cycle because it's when the user is drifting off to sleep.
Sleeping: During this period, the mattress filters heat away from the user through the mattress itself. This is when the Tempur-Breeze really separates itself from other high-end mattresses.
The Purple mattress also is designed to stay cool through the night, but its design is focused more on airflow within the mattress rather than on cooling materials. While this definitely works better than a conventional mattress, it's just not as effective as a Tempur-Pedic mattress in general and a Tempur-Breeze in particular especially in a desert city such as Las Vegas. In fact, when you look at user testimonials online about the Tempur-Pedic, you'll see quite a few people writing about staying cool at night in the Southwest, Deep South, and other warm areas of the United States.
A restful night
When you research Tempur-Pedic mattresses online, what jumps out are the glowing reviews they have gotten from users. In fact, there is even a section of the Tempur-Pedic website totally devoted to customer stories. The sense that you get from reading these is that these mattresses have had an enormous and positive impact on their users' sleep. People write about how they are getting more sleep than they have in years, and they are, consequently, better able to function during their waking hours. Many of the Tempur-Pedic reviews describe these mattresses as being almost transformative in their effect on the users' daily lives. In fact, the J.D. Power Mattress Satisfaction Report ranked Tempur-Pedic number one in the category of customer satisfaction.
There's plenty of positive reviews about Purple mattresses as well when you scour the internet, but few of them are as glowing as the Tempur-Pedic ones. There are others that aren't especially positive, and a sense of buyers' regret shows through. For example, a user might mention that they need more time to see how well their Purple mattress is working before they are able to post a review that's totally accurate.
Company culture
A Tempur-Pedic mattress is a highly evolved product that comes from a company with a culture of innovation and improvement. Tempur-Pedic has been developing mattresses since 1992, and they describe their story and progress in the way that a scientist might describe the advances and history of their laboratory. They are spending years doing exhaustive research and development trying to analyze how the human body interacts with materials and fabrics, and they're always testing and questioning what they do. They talk about base layers, comfort layers, support layers, and they get into lengthy explanations of what they call "sleep analytics," and it all adds up to a sense that they're very proud of what they're doing.
While a Purple mattress is certainly a high-end product, it's nothing like the obsession that Tempur-Pedic has with all things related to restful sleep.
Tempur-Pedic is also a company that's committed to doing good in addition to creating excellent products. They donate their mattresses to the United States Special Forces soldiers, raise money to fight pancreatic cancer, give money to organizations helping COVID-19 victims, etc. While knowing that the company who made your mattress does good works won't help you get a better night's sleep, it does show that they're a firm that's about more than money, and it's something to feel a little good about yourself.