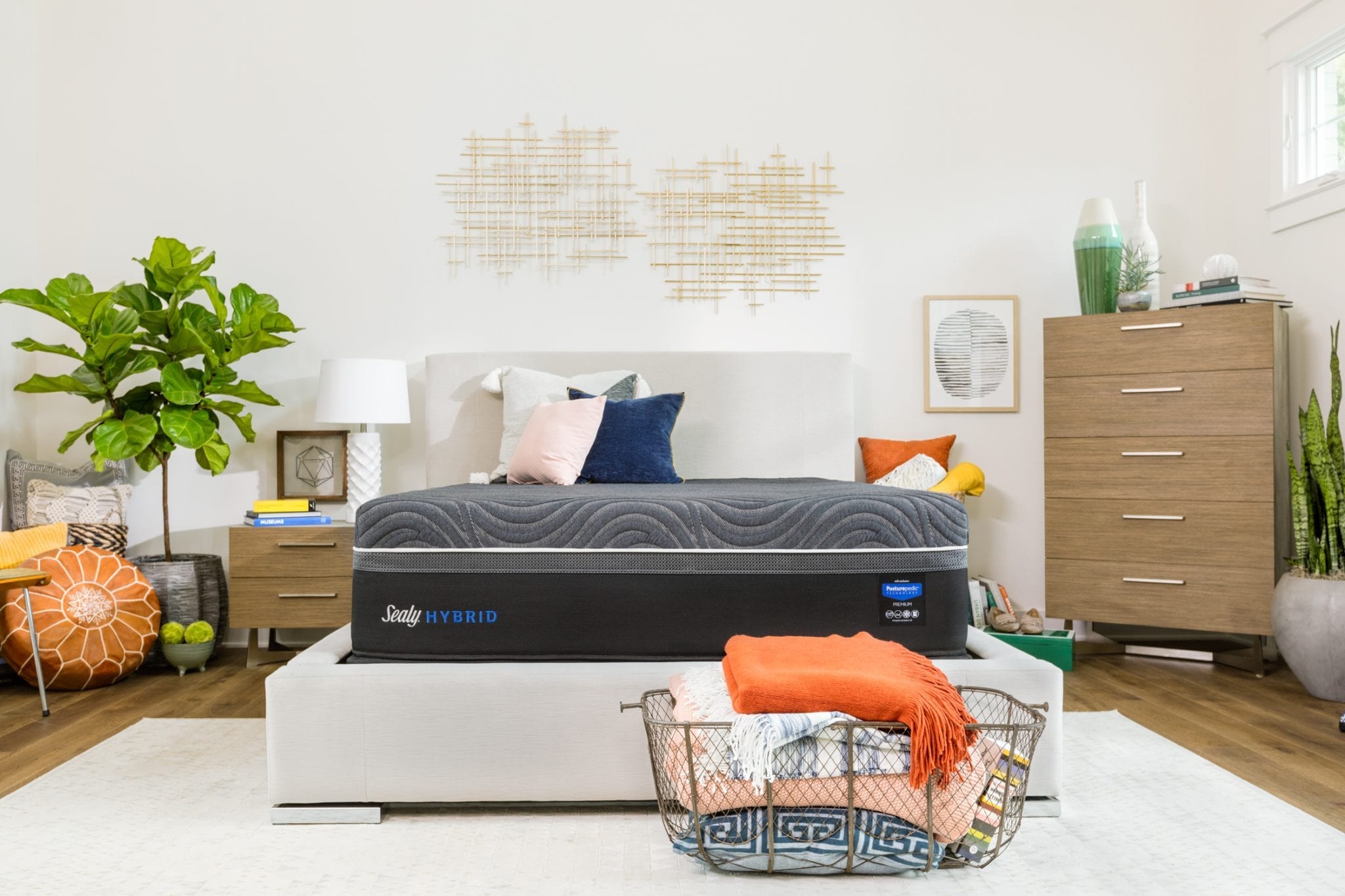 When it comes to wellness, there's one crucial factor that not enough people pay sufficient attention to — sleep. For some reason, many of us feel like the advice to get between seven and eight hours a night just doesn't apply to us. However, getting enough high-quality sleep is crucial for mental health, heart health, memory, weight management, and much more. With a Sealy Hybrid Mattress, you'll look forward to getting into bed every night because each moment on the mattress equals pure comfort.
Who Are Sealy?
Sealy's history spans back further than a century to the small town of Sealy in Texas. In 1881, Daniel Haynes invented the original mattress using cotton after a request from a neighbor. Friends, family, and townsfolk continued to buy his beds until eventually, he had to invent a machine to automate the cotton compressing process so he could meet demands. The company kept growing, and he sold it to a local Texas firm in 1906.
The latest innovations from Sealy come in the form of their 2020 Hybrid range, which has impressive features to give customers unparalleled comfort and rest.
What Is a Hybrid Mattress?
Sealy Hybrid mattresses provide the best of both worlds. They're perfect for people who need the traditional support of an innerspring mattress while delivering the pressure-relief of state-of-the-art memory foam. The result is an orthopedic dream, with the bounce of pocket-springs and memory foam's pressure relief easing aches and discomfort.
When you're sleeping, you deserve to get the perfect balance between luxury and support. Sealy's Hybrids stand out because of the extra-thick layer of memory foam and smart temperature management system. To top it all off, there's no maintenance required. You don't need to worry about flipping it once.
Nerve pain is worse at night, and the right bed can help to get you comfortable enough to forget about everything and drift off. With a Sealy Hybrid mattress, let the stresses and strains of the day melt away and fall asleep without distractions.
Geltex Gel-Infused Memory Foam
One of the most impressive features of a Sealy hybrid mattress is its unique Geltex memory foam with an inbuilt temperature management system. The open cell structure of this material means it's more breathable than regular memory foam, which helps to keep you fresh at night.
Additionally, gel-infused foam makes the mattress softer than memory foam alone, with additional push back compared to what you might expect.
Innovative 2020 Sealy Mattress Features
Some of the overall benefits you can enjoy with any Sealy Hybrid mattress include:
Balance support and comfort
Never worry about springs poking your back again
Relieve pain
The pocket coil core offers bounce without the sinking you might associate with an innerspring mattress
Benefit from superior edge support with a Sealy Hybrid Mattress
Geltex gel-infused memory foam is comfy and breathable
Say goodnight to the sinking feeling you can get from traditional memory foam mattresses
Read on to learn more detail about the benefits of each model in the Sealy Posturepedic Hybrid collection.
Sealy Hybrid Silver Chill PS
The Hybrid Silver Chill PS is the ultimate Sealy mattress, featuring cutting-edge technology for an unrivaled relaxation sensation. It boasts the following specifications:
Quantum edge technology for even support from edge-to-edge that helps make your mattress last longer
An Additional 1,400 mini springs respond to your movement and complement the quantum edge spring unit
Purotex releases friendly bacteria into the mattress's surface, leading to a self-cleaning function that can be a huge relief for allergy sufferers
It contains Tencel fibers, which are made from eucalyptus. It's breathable and more absorbent than cotton, in addition to being exceptionally soft to the touch
The mattress naturally disperses moisture, so you stay cool and dry all night
8cm of Geltex gel-infused memory foam provides support, pressure relief and breathability
Sealy smart fibers contribute towards making the Hybrid range hypoallergenic
The Sealy Hybrid mattress has seven unique and distinct layers, making it weight responsive and ultra-supportive of the spine
Sealy Hybrid Copper II
The Sealy Hybrid Copper II mattress is a luxury option. It's excellent for people looking to benefit from the combination of hypoallergenic materials, temperature control and superb softness. It features:
Quantum edge technology
An additional 800 mini-springs
Purotex
Tencel fibers
Naturally disperses moisture
Geltex gel-infused memory foam
Sealy smart fibers
Seven zones of support
Sealy Hybrid Kelburn II
If you're looking for something a little more affordable, but still want to experience the most up to date sleep technology, the Kelburn II is ideal. Some of this Sealy mattress' features include:
Geltex gel-infused memory foam
Purotex
Sealy smart fibers
Seven zones of support
Quantum edge technology
Naturally disperses moisture
Tencel fibers
Sealy Hybrid Sealy Trust II
The Hybrid Sealy Trust II uses PostureTech spring construction instead of Quantum Edge spring unit technology, with an additional 1,400 mini springs. It also has the following features:
Smart fibers
Geltex
Adapts to temperature and spreads moisture
Seven zones of support
Purotex
Edge to edge support
Tencel fibers
Which Sealy Hybrid Mattress Is the Best?
The best Sealy Hybrid mattress is the one that's best suited for your needs. We've crowned the Hybrid Silver Chill PS and the Trust II Sealy mattress as our winners, for the following reasons:
The Most Luxurious Sealy Hybrid Mattress 2020
Sealy's Hybrid Silver Chill PS is easily the most luxurious and impressive in the new line of Sealy mattresses. It includes all of the latest features from Sealy, with an incredible 1,400 extra mini springs on top of the Quantum Edge spring unit. With a king-sized mattress, the Hybrid Silver Chill PS has a 1500 Quantum Edge spring unit.
The Most Affordable Sealy Hybrid Mattress 2020
If you're on a budget, don't hesitate to select the Trust II. It contains 1,400 mini springs — just like the Hybrid Silver Chill PS — but it's much more affordable. PostureTech CS supports your pressure points, finding just the right level of softness for your body's needs.
Buy a Sealy Mattress Today
Visit Best Mattress today to get the Sealy Hybrid mattress and get the full night of sleep you've always dreamed of.