Store Location
1205 W Warm Springs Rd
Henderson, NV 89014
Store Phone
(702) 952-5700
Store Hours
Monday – Friday: 10AM – 8PM
Saturday: 10AM – 7PM
Sunday 11AM – 6 PM
Where You Can Find Us
We are conveniently located in the Warm Springs Promenade shopping center, just south of the intersection of Marks Street and West Warm Spring Road. Our address is 1205 W Warm Springs Rd, Henderson, NV 89014.
Come on down and see us today!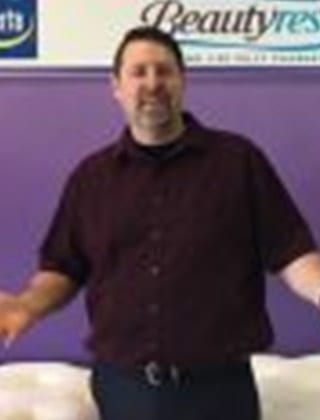 Meet the Manager
Dave is an East Coast guy with West Coast flare! This sleep expert specializes in Serta, Simmons, Tempur-Pedic, & Five-Star brands. He knows all the details about Simmons products. Whether you are looking for a BeautyRest Black, Silver or Platinum, he is the guy. Serta's Perfect Sleeper & iComfort definitely fall within his expertise. He can pair any brand with the adjustable base of your dreams at a low price with all the protective accessories that make your sleep the best!
With over 22 years of experience and 22 locations throughout Nevada and Utah, Best Mattress offers superior customer service before and after the sale. At our Liquidation Center in Henderson you will find a mattress for your sleep style and budget, with quality brands.
Shop All Our Sleep Products
Check out the selection of Best Mattress sleep products.
Our Satisfaction Guarantees
Your purchase is protected by the following service guarantees.

Same-Day Delivery

Low Price Guarantee

Satisfaction Guarantee

Service & Selection

Free Set-Up & Removal