It's no secret that sleep is important. It's one of the most important things you can do for your body—and your mind. But if you're like most people, you probably don't get enough sleep every night.
When it comes to choosing a mattress, there are so many options that it can be overwhelming—and even confusing. Your body needs support to sleep comfortably and restfully, but how do you know which mattress will give you that support?
There are a lot of factors to consider when buying a mattress—comfort, durability, and the price is the most important. We've researched the best mattresses for 2023 and found that these five models stand out from the crowd.
These mattresses were hand-picked by our team of industry experts for their outstanding performance in testing categories including support, cooling system, comfort level, and durability. We also considered customer reviews from verified purchasers from our storefront to ensure that customers were happy with their purchases.
In this article, we will go over each product individually and explain why they made our list of top picks in each category as well as provide links so you can check them out yourself.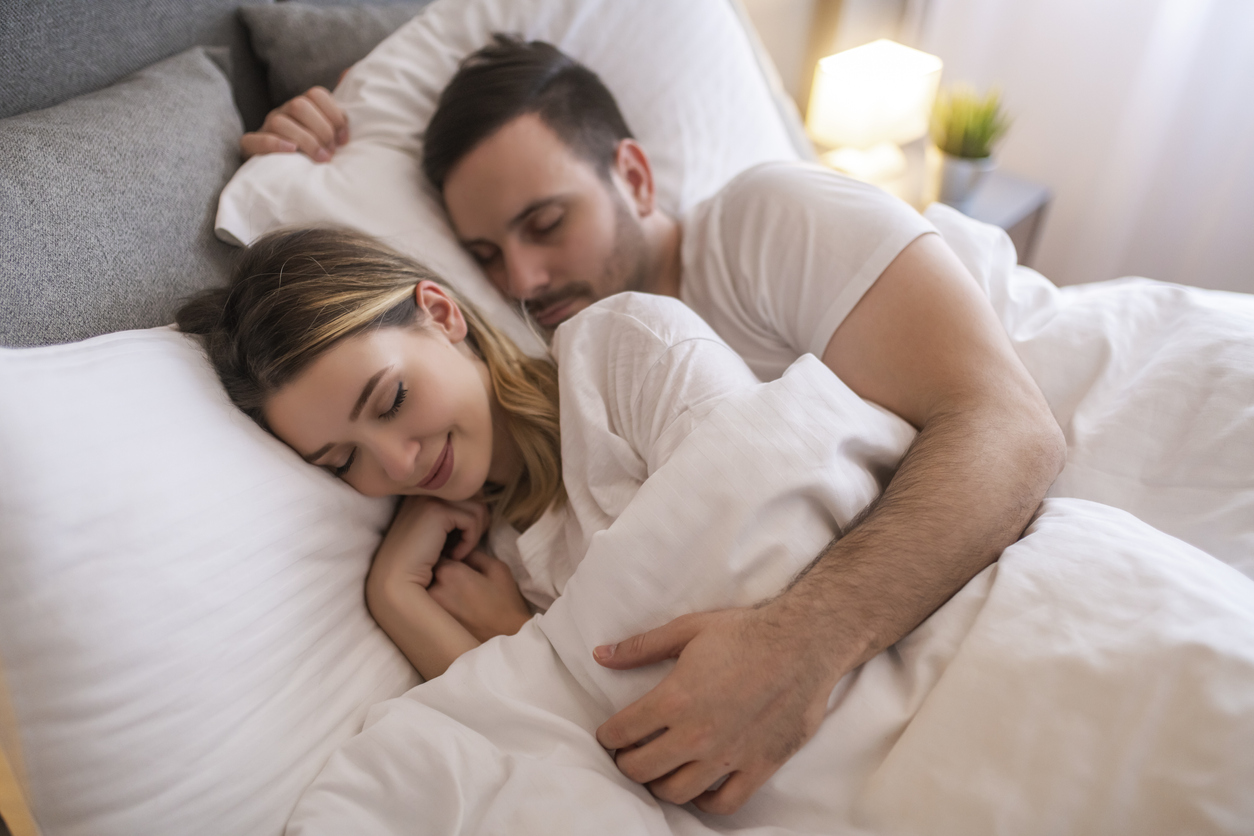 How to Choose the Best Mattress In 2023?
When it comes to buying a new mattress, there are many options to choose from. You can opt for a traditional spring model, or you may decide to go with a grid mattress or a memory foam bed instead. You might even want to try out a hybrid mattress.
Whatever type of mattress you choose, there are certain things that you should keep in mind when shopping around for one. Here are some tips on how to choose the best mattress in 2023:
Consider Your Sleeping Position
If you are a stomach sleeper, then you will probably need a firmer mattress or an extra firm memory foam mattress. However, if you prefer sleeping on your back or side, then you might want something that is both softer and supportive so that it contours your body better.
If you are unsure which mattress is best for you, learn what's best for your sleep type here.
Consider Your Budget
You can get great mattresses in Las Vegas, NV, and St. George, UT, that fit a range of budgets.
It's important to consider how much money you want to spend on a mattress before visiting a storefront so that there aren't any surprises come the time of purchase.
Consider the Mattress Materials
The quality of the material to make a mattress is an important factor in determining how long it will last and how comfortable it will be.
The material used for making a mattress can be natural or synthetic. Natural materials include latex, wool, cotton, and down feathers. Synthetic materials include polyurethane foam, memory foam, and latex foam (there is some natural latex). The most popular types of mattresses are memory foam, latex foam, and hybrid mattresses.
Also, if you are prone to getting allergies, you may want to find a mattress that is made with hypoallergenic materials to keep you feeling your best!
Consider the Warranty
Mattresses are expensive, and if you buy one that doesn't work for you, it can be even more costly. Look for a warranty of 10 years or more on the mattress and its frame (if possible). If you're looking at memory foam mattresses, some brands offer an even lengthier warranty.
The Best Mattresses for 2023
If you're looking for a new mattress, you've probably noticed that there are hundreds of options out there—which can make it hard to decide which one is right for you. Luckily, we've put together this list of the best mattresses for 2023 to help you narrow down your choices.
We'll tell you what makes these mattresses special and why they stand out from the rest so that when you do make your purchase, you can be confident that it will last you a long time.
Best Hybrid Mattress: TEMPUR-PRObreeze Medium Hybrid Mattress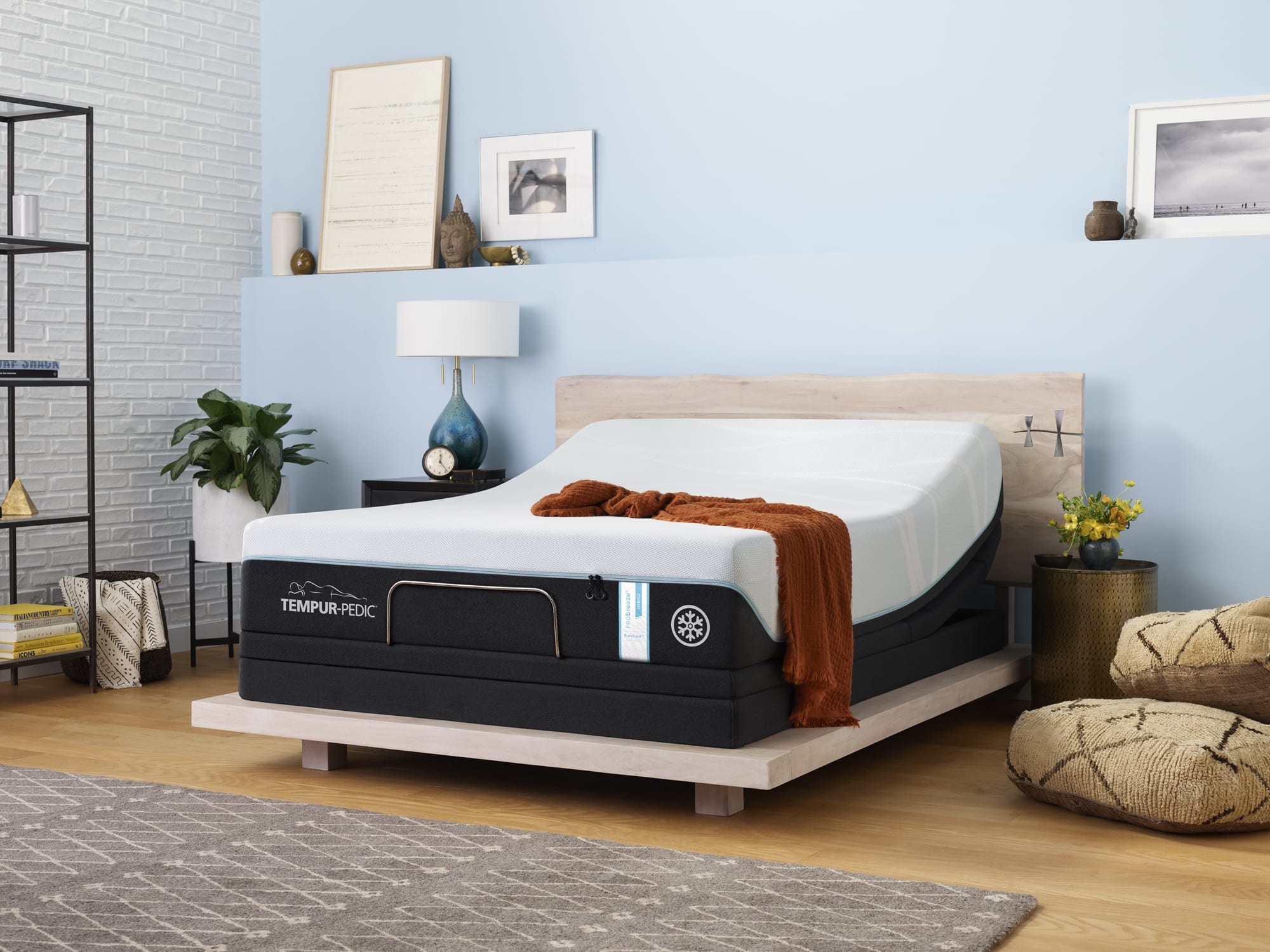 The TEMPUR-PRObreeze® Medium Hybrid Mattress is a medium-firm mattress that has been designed to help regulate your body temperature while you sleep. With its TEMPUR-Breeze® technology, this one-of-a-kind mattress moves heat away from your body to keep you well-regulated throughout your slumber.
This mattress is made of three comfort layers: a top comfort layer, a middle transition layer, and an underlying support core for premium relaxation. Also, this unique mattress is adjustable base compatible, so it can be used with an adjustable bed base or foundation to customize the feel of your sleeping experience.
The TEMPUR-PRObreeze is made in the USA, and it comes with a 10-year warranty. This mattress can be used on an adjustable base or traditional foundation, depending on your needs or preferences.
It features a medium-firm feel and has adjustable base compatibility for ease of use. The mattress is 12 inches tall and comes in five sizes: twin XL, full, queen, king (Eastern King), and split king/split CA king.
This medium hybrid mattress is perfect for those who like the feeling of memory foam but want something that's not as hot or heavy as traditional foam beds.
All in all, we love this mattress because the TEMPUR-PRObreeze offers the same comfort as a traditional memory foam mattress but will help keep you cool as well!
Standout Features:
Contains a cool-to-touch outer layer with an antimicrobial treatment to keep your mattress fresh and clean
TEMPUR-Breeze® technology to keep you cool while you sleep
1000+ premium, in-house springs made for great support
SHOP NOW
Best Firm Mattress: iComfort ECO Firm Mattress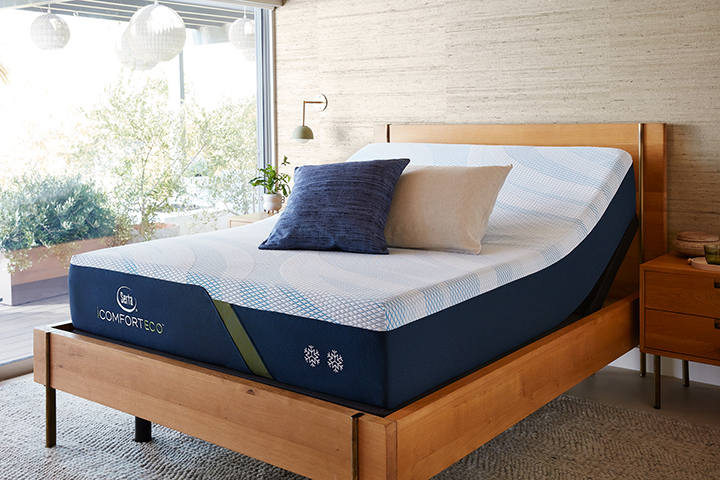 Are you looking for a firm mattress… that also keeps you cool at night?
Take advantage of the Serta iComfort's luxurious comfort and cutting-edge design to give your body the break it needs.
For more than 90 years, Serta has become the most trusted brand of mattresses in America. Serta is a household name because of its affordable luxury, superior craftsmanship, and innovative features. If you tend to sleep overheating during the night, the Serta iComfort ECO firm mattress is the best mattress to choose to help you cool down and enjoy a better night's rest.
The Serta iComfort ECO Firm Mattress is our top pick for the best firm mattress overall, and it's a great choice if you're looking for a firm mattress. This model has a unique Terra Fusion Memory Foam that helps make sure your body is properly aligned while you sleep. It also features a latex layer, which is designed to relieve pressure points and help relieve back pain. Also included is a CoolTemp cover which offers support while also helping to keep you cool throughout the night.
Standout Features:
Terra Fusion Memory Foam provides individualized support
Latex layer for optimal body alignment
CoolTemp Cover powered by Repreve, a breathable and supportive cover that keeps you cool all throughout the night
SHOP NOW
Best Soft Mattress: TEMPUR-LuxeAdapt Soft Mattress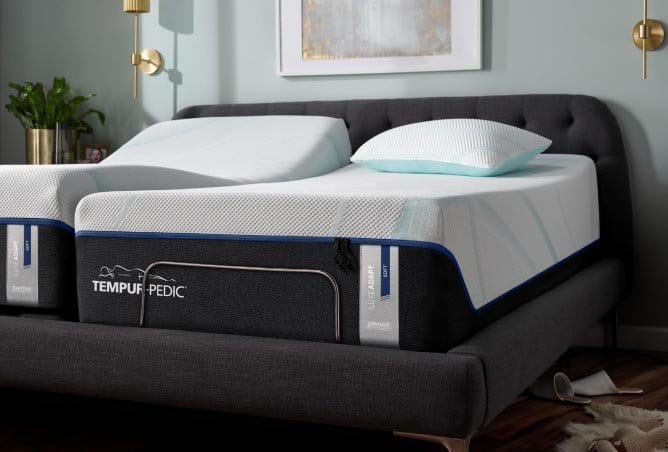 The TEMPUR-LuxeAdapt Soft Mattress is a soft mattress that offers exceptional motion cancellation, pressure relief, and a 10-year warranty. (As an added bonus, it is also made in the USA!)
The TEMPUR-LuxeAdapt is perfect for those looking for an affordable mattress with an adjustable base with a 13 inches height that provides exceptional motion cancellation and pressure relief. The Original TEMPUR Material – the ultimate motion cancellation technology allows you to sleep peacefully while the Pressure Relief technology adapts to every curve of your body.
This mattress is also incredibly comfortable; it feels like sleeping on a cloud!
This is thanks to its unique design: The pressure relief material conforms to your body, and the original TEMPUR material provides outstanding motion isolation, so you'll never feel any movement from your partner or pets moving around in bed next to you.
The TEMPUR-LuxeAdapt is a great choice for people who want to sleep on a softer surface but still want support. The mattress has a dual cover system that uses SMART CLIMATE technology to help regulate body temperature and keep you cool throughout the night. The TEMPUR-ES layer provides pressure relief and helps with posture alignment. The TEMPUR-APR+ Support Layer provides support while still being soft enough to cradle your body as you sleep.
This mattress is ideal for back and side sleepers who want a mattress that will keep them cool and comfortable all night long.
Standout Features:
Exceptional motion cancellation and pressure relief
SMART CLIMATE technology to help regulate body temperature
TEMPUR-APR+ Support Layer provides additional support
SHOP NOW
Most Affordable Mattress: Brooklyn Bedding BEST Promo Firm Mattress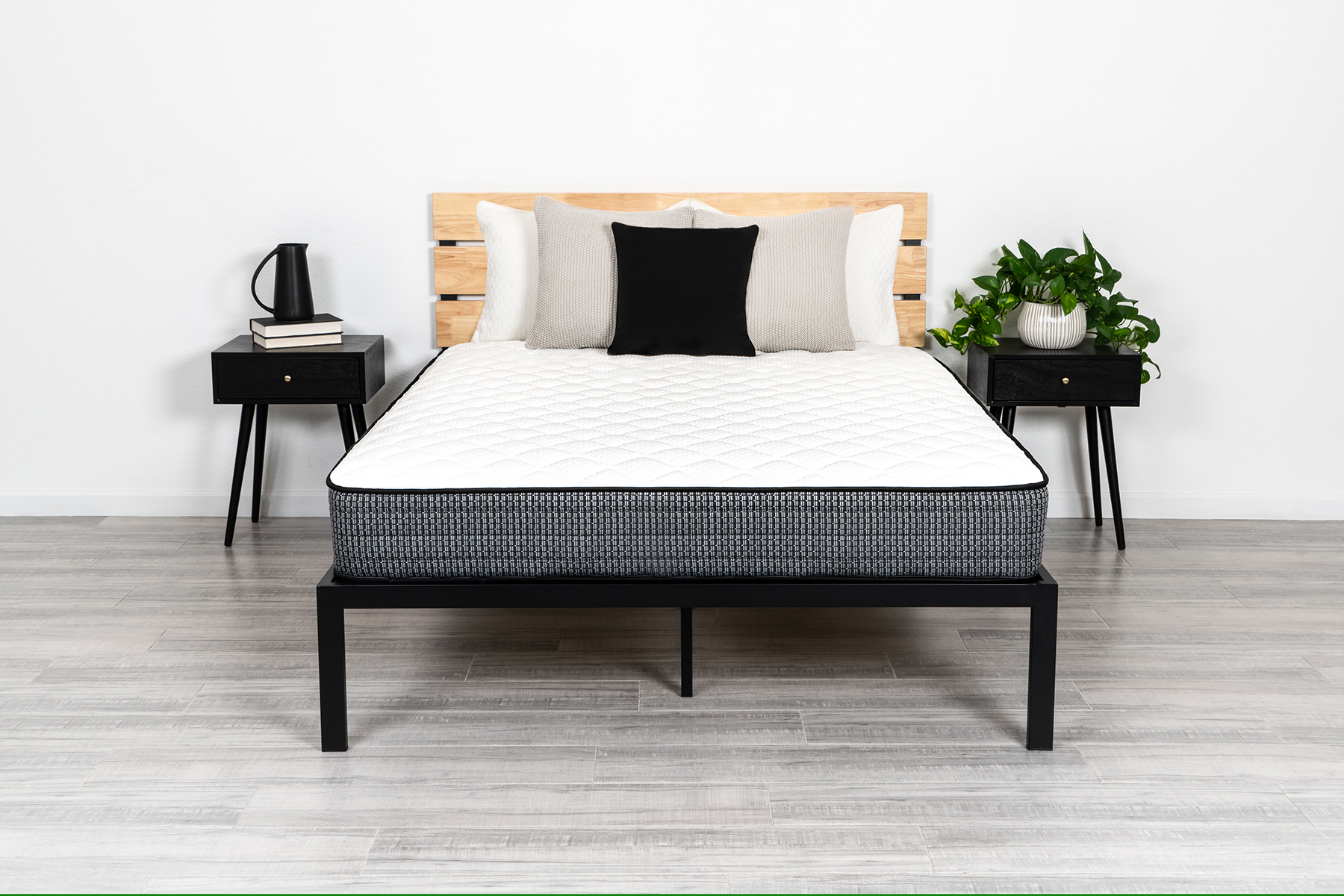 The Brooklyn Bedding BEST Promo Firm Mattress is an excellent option for anyone who wants to get the most bang for their buck. It's made from high-quality foam and has a unique feel that's soft yet supportive. The mattress is reasonably priced at $250 (for a Queen), making it the best mattress for 2023 according to industry experts.
A disturbed night's sleep may have a significant impact on the following day, as anybody who has experienced it will attest. And if you're a stomach sleeper, back sleeper, or hot sleeper, you know that finding a mattress that works for you may be a genuine issue. That's where the Brooklyn Bedding steps in to save the day.
The high-density foam used in the construction of the Brooklyn Bedding BEST Promo Firm Mattress helps you fall asleep quickly and remain asleep for longer. The 6″ foam layer adjusts to your specific shape as it gently restores its original shape when pressure is released. No one will hear or feel you get out of bed on this mattress, even if you share a bed with someone. (Honestly, it's that impressive.)
Its cooling mechanism also ensures that even the warmest of sleepers may fall asleep without waking up drenched. There's a good reason why this is a customer favorite at the Best Mattress.
Standout Features:
It's affordable!
Pressure relieving technology for your hips and shoulders
The 6″ foam layer conforms to your individual shape
SHOP NOW
Best Luxury Mattress: Beautyrest Black K-Class Ultra Plush Pillow Top Mattress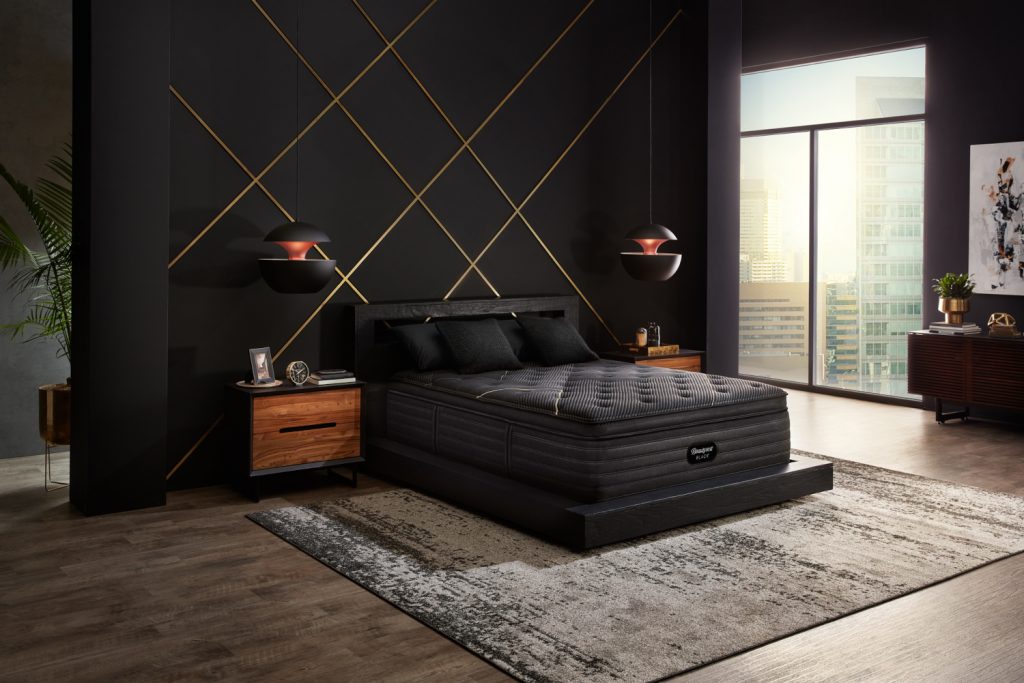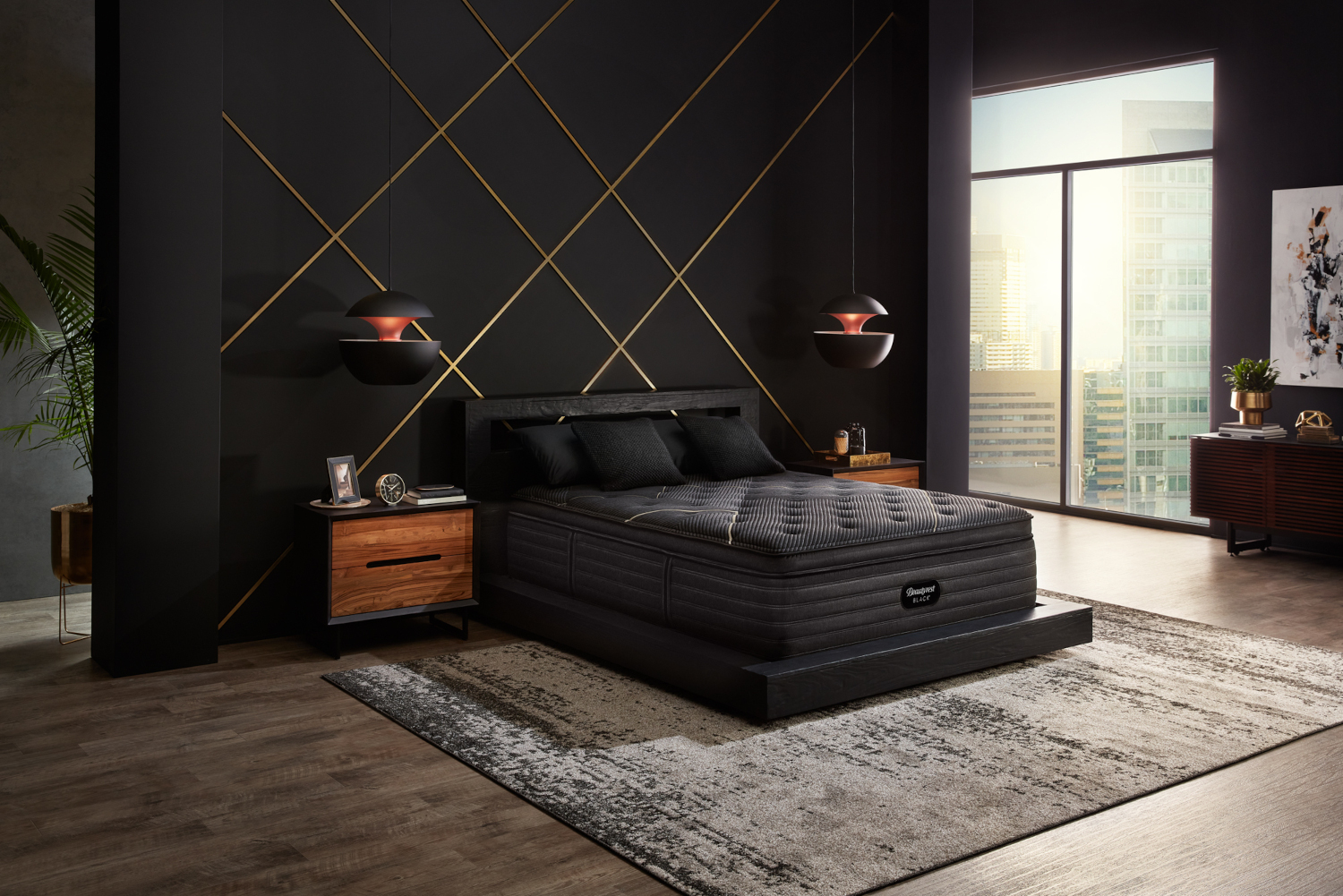 A comfortable mattress is the first step toward a rejuvenating night's sleep.
To prevent back pain and alleviate pressure spots, your mattress should support your entire body in a neutral position, and the Beautyrest Black K-Class Ultra Plush Pillow Top Mattress is one of the best luxury mattresses available today.
Beautyrest beds, like the Black K-Class Ultra Plush Pillow Top, come in your standard mattress sizes from a Twin XL to California King. So no matter your preference or needs you can rest easy in a bed suited for what is most comfortable for you.
It has amazing pressure relief and gives you personalized support so you can sleep in one position or if you happen to shift in the night into a different position you will still feel comfortable and rested with no pain when you get up in the morning.
This model is part of the Beautyrest Black collection, which is widely regarded for its ability to regulate internal temperatures and hence provide pleasant sleeping conditions. The series is constructed with distinct layers: a luxurious comfort layer made with alpaca, cashmere, & silk fibers, SurfaceTouch Gel Memory Foam, a plant based cooling technology layer to keep you cool throughout the night, and a supportive Nano Coils to keep you in the perfect position.
The multi-layer mattress is designed for look and comfort. Each layer of comfort foam has received certification from CertiPUR-US, a non-profit organization that verifies that the foam satisfies requirements for endurance, quality, and emissions.
The Beautyrest Black K-Class Ultra Plush Pillow Top is one of the most comfortable and supportive number beds on the market because it combines state-of-the-art design with a broad variety of custom settings.
Standout Features:
Durable, innovative, and comfortable layers
Luxurious design materials built to last
Plant based BlackICE™ cooling technology to keep you cool and comfortable
Antimicrobial Mattress protection
SHOP NOW
Need to Switch Mattresses in 2023? We've Got You Covered
To conclude, the best mattress for you is the one that fits your needs and budget, and the mattress that provides the most comfort for your body.
While there are many things to consider when choosing a new mattress, it's important to remember that quality is what matters most. A good night's sleep is essential to maintaining good health, so don't overlook this important purchase!
The mattresses we reviewed in this article are all made from high-quality materials that can withstand daily use without breaking down or losing their shape. Each one has its own unique set of features, so you'll need to consider your preferences before making a purchase decision. If you're looking for something basic and affordable, then the Brooklyn Bedding BEST Promo Firm (6″ Foam) Mattress is an excellent choice. If you want something more luxurious and comfortable, then the Beautyrest Black K-Class Ultra Plush Pillow Top is worth checking out!
If you're looking for the best mattress in St. George or Las Vegas, look no further than Best Mattress. With our dedication to quality, we're sure you'll find a mattress that's just right for you—no matter what your needs may be!