A good night's sleep is only a trip to Best Mattress away! If you've been interested in investing in a brand new mattress, and you like something firm, try the Tempur-ProAdapt® Firm! Visit a Best Mattress store in Las Vegas or St. George to try out one of the brand-new Tempur-ProAdapt® Firm. Best Mattress is one of the best in the area for a Tempurpedic mattress in Las Vegas or St. George!
Why Choose Tempur-Pedic?
There are tons of different memory foam mattress companies out there, and with so many to choose from, it can be difficult to truly decide which brand is best for you. Originally created for NASA astronauts, Tempur-Pedic mattresses have been around since 2003 and have been providing users with a quality sleep with quality materials ever since then.
Because Tempur-Pedic was created and designed by real people with real sleep issues, you can rest assured that this mattress is made to keep you comfortable. Tempur-Pedic promises decades of sleep innovation that will impress sleepers for years to come.
Additionally, the developers at Tempur-Pedic know that it can be difficult to adjust to a mattress, and that's why they offer a 90-night trial. You have 90 nights to decide if the Tempur Pedic ProAdapt Firm is the right mattress for you and your sleep schedule and routines. If you don't love it, talk to a member of the Best Mattress team in Las Vegas or St. George. We are committed to making sure you get the most out of your mattress investment.
Why Choose The Tempur-ProAdapt® Firm?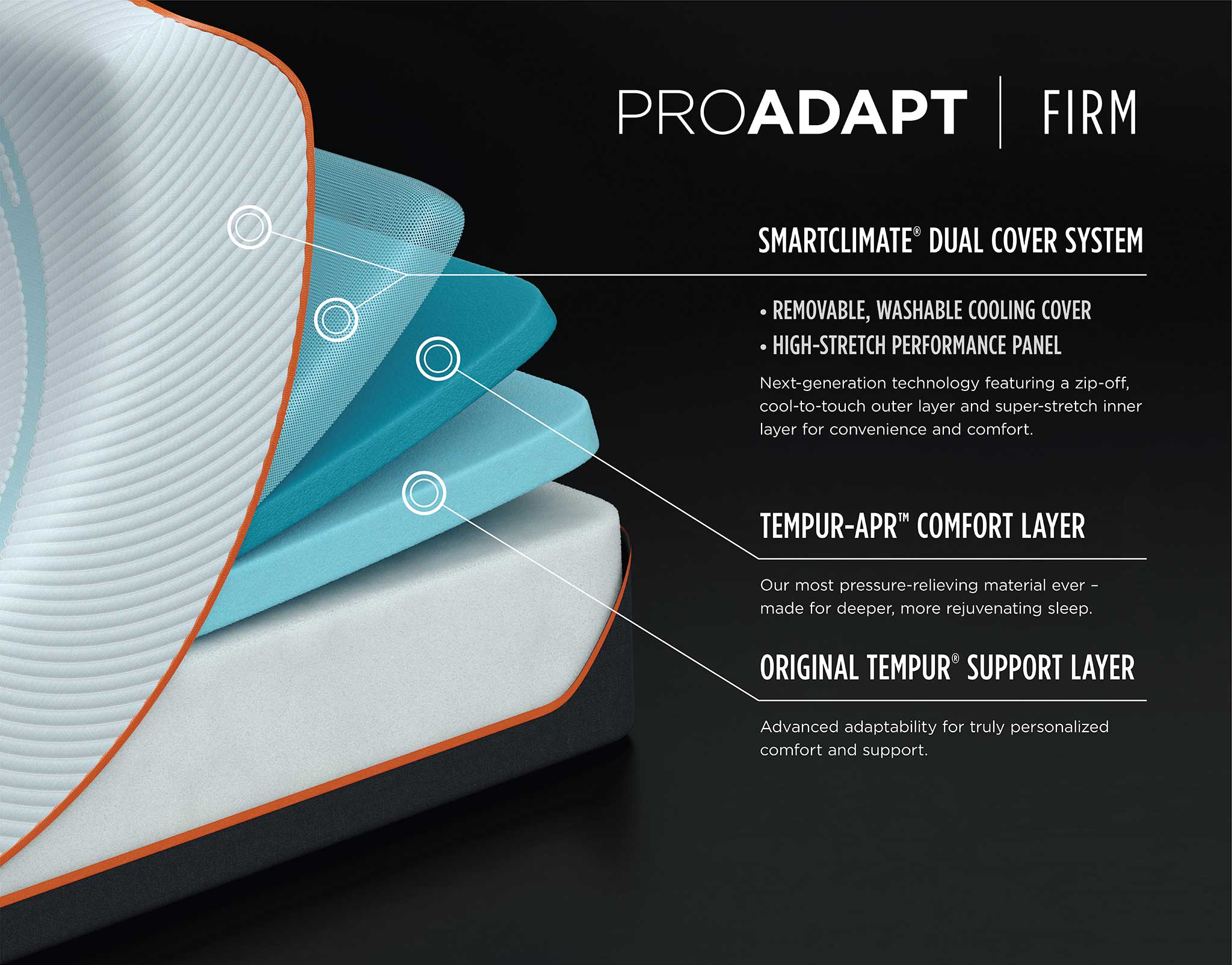 Instead of listening to sales pitch after sales pitch about all of the memory foam mattresses on the market, you can make an easy decision with the Tempur-ProAdapt® Firm! Here's why the Tempur-ProAdapt® Firm is one of the best Tempurpedic mattresses in Las Vegas:
Easier Sleep- It's easier to fall asleep with the Tempur- Pedic ProAdapt Firm because it evenly absorbs and distributes your body weight. When your body weight is distributed, it keeps your pressure points adequately supported for more painless sleep.
Faster Sleep- Instead of lying awake for hours due to discomfort, the Tempur-Pedic moves and adapts with every movement of your body. No matter the way you move, the mattress will move with you. With a Tempurpedic in St. George or Las Vegas, you won't spend any time tossing and turning at night! You'll fast asleep fast, and stay asleep longer.
Deeper Sleep- The Tempur-ProAdapt® Firm is made with a revolutionary material that absorbs the natural movement of your partner during sleep so they don't disturb you, and you won't disturb them. Both you and your partner will experience a deeper, more rejuvenating sleep every night.
Cooler Sleep- Memory foam mattresses have a reputation for being warm and uncomfortable to sleep on. Keep yourself cool and comfortable with the new Tempur-Pedic mattress. Equipped with a cool-to-touch mesh mattress cover that wicks away body heat to keep you at the perfect temperature when sleeping. Toss the cool-to-touch mattress cover in the washing machine to keep it clean and your home allergen-free!
What's Great About The Tempur-Pedic Technology?
Made with three different layers of innovative material, you can rest assured that you are getting a quality mattress that will support you and hold up for years to come. Take a look at what makes the Tempur-Pedic technology so great:
Smart-Climate Cool-To-Touch Removable Mattress Cover: Mattress covers do wonders to protect your mattress and reduce allergens throughout your home. But the Smart-Climate cool-to-touch removable mattress cover from Tempur-Pedic practically whisks away body heat to keep you perfectly cool or warm. Shoppers can feel the mattress cover and notice an extreme difference in temperature!
Tempur APR Comfort Layer: Because comfort is one of the most important things to look for when shopping for your next mattress, Tempur-Pedic perfected their comfort level. The Tempur-ProAdapt® Firm is considered the most pressure-relieving mattresses on the market. If you need a deeper, more rejuvenating, pain-free sleep, try the Tempur-ProAdapt® Firm.
Original Tempur Support Layer: The last and final layer of your Tempur-Pedic mattress is a whopping 5 cm thick to provide you and your partner with support all night long. You'll notice the difference between a Tempur-Pedic mattress in just a few nights.
What Are My Other Options?
We understand that everyone has different preferences when it comes to the firmness of a mattress. If the Tempur-ProAdapt® Firm is too firm for your liking, you can choose between soft, medium-soft, medium, and medium-hybrid firmness levels. Head down to one of our retail locations to decide which firmness level is right for you.
What Else Do I Need For a Good Night's Sleep?
A good night's sleep isn't complete without a set of well-fitting sheets and a perfectly comfortable pillow. Ask one of our Best Mattress associates for more information on Tempur-Pedic sheet sets, and Tempur-Pedic memory foam pillows.
Before you leave our location, make sure you consider adding a Tempur-Pedic mattress protector. A simple mattress protector can significantly lengthen the life of your mattress while reducing allergens throughout the home.
Why Choose Best Mattress?
Over the last 24 years, Best Mattress has expanded to 22 locations in Las Vegas, Mesquite, and St. George. Our convenient locations make it easy for you to get the quality sleep that you deserve without driving far to get it! We know that everyone sleeps differently and we are committed to providing a sleep solution for every kind of sleeper.
At Best Mattress we believe that time is valuable, and we are proud to offer same-day mattress delivery to all of our customers. Ask our team members about our free old mattress removal and in-home installation. Let us help you make the mattress-buying process as painless as possible! Head to one of our locations today to see if the Tempur-ProAdapt® Firm is the right mattress for you.
Quick View Product Information
SmartClimate® Dual Cover System
Next-generation technology cover with antimicrobial treatment, enhanced zip-off, cool-to-touch outer layer, and machine washable
Ventilated TEMPUR-APR® Material
Our most pressure-relieving material ever — made for deeper, more rejuvenating sleep
Support Layer
Our original Tempur Material
Mattress Sizes
Twin – 38″ x 74″
Twin XL – 38″ x 80″
Full – 53″ x 74″
Queen – 60″ x 80″
King – 76″ x 80″
Split King – 38″ x 80″ (each piece)
CA King – 72″ x 84″
Split CA King – 36″ x 84″ (each piece)