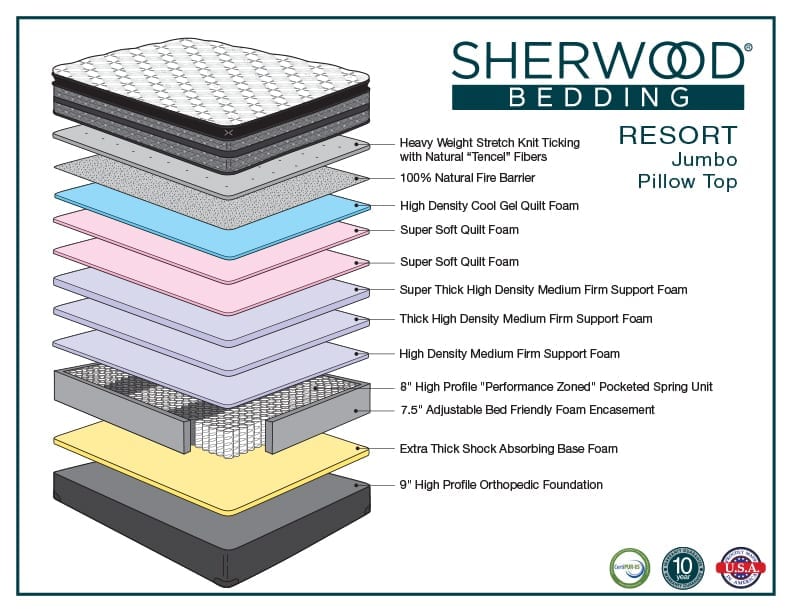 Float off into dreamland peacefully on the Sherwood Resort Jumbo Pillow Top mattress. This is Sherwood's best value line of mattresses, yet it still offers unbeatable support and comfort. This Sherwood pillow top mattress has six layers of foam plus additional layers for added support and Tencel knit ticking and natural fibers that resist flames and keep you safe. You will feel like you're sinking into a cloud.
Sherwood Resort Jumbo Pillow Top Features
Here are some of the highlights of this amazing Sherwood mattress:
Combines natural fibers with memory foam, gel-infused foam, and more for your comfort
The resort series is comfortable AND affordable
Tencel knit ticking and gel-infused memory foam for temperature regulation
Six layers of memory foam for unparalleled support and softness
Pocket springs reduce the chance of pressure point build-up
Made from natural flame retardant materials
Available in twin, twin XL, queen, full, standard king, and California king sizes
The Jumbo Pillow Top is medium-soft firmness
Designed for Peaceful Sleep
The innovative open spring design of the Resort Jumbo Pillow Top Sherwood mattress delivers up to 21% better support than a conventional mattress. Its full foam encasement goes further to provide edge-to-edge support and stability, with an additional 14% of the useable sleep surface. The Jumbo Pillow Top Sherwood mattress is the second-softest mattress in this range, so it's ideal for lighter individuals who love melting into the bed.
Pocket Springs Deliver Edge to Edge Comfort
Pocket springs work independently from each other to support your body weight where you need it most. Not only does this reduce the issue of tension build-up in your pressure points, but it's also ideal for couples. If your partner moves, it will barely affect you compared to a traditional open coil spring system.
Six Layers of High-Density Foam
The Resort Jumbo Pillow Top Sherwood mattress features high-density gel-foam, two layers of super-soft quilt foam, super thick high-density medium-firm memory foam, thick high-density medium-firm support foam, and high-density medium-firm memory foam.
This carefully constructed memory foam Sherwood bedding can relieve pain, body aches, and soreness by properly supporting you where you need it. The mattress is designed to spread pressure evenly throughout your body, helping to prevent the build-up of tension.
Hypoallergenic Gel-Infused Foam
With a top layer constructed from gel-infused foam, the Resort Jumbo Pillow Top Sherwood mattress is as cooling as it is comfortable. Memory-foam alone can feel stuffy at night when your temperature rises slightly and sink deep into the mattress. Our gel layer repels the heat and keeps you cool as the bedding gently hugs you to sleep.
Tencel Knit Ticking
Another layer that helps you stay cool is fashioned from eco-friendly Tencel knit. Its antibacterial, moisture absorbent, and excellent for individuals who have sensitive skin. Additionally — Tencel fibers feel beautifully soft to the touch.
Sleep Safe and Sound on Affordable Sherwood Bedding
Your Sherwood bedding is designed with safety in mind. As such, it's made from natural fibers that are flame resistant. Not only does the Resort Jumbo Pillow Top Sherwood mattress give you a wonderful night's sleep, but it also offers you peace of mind. If you['re looking to invest in a memory foam mattress, look no further than Sherwood.