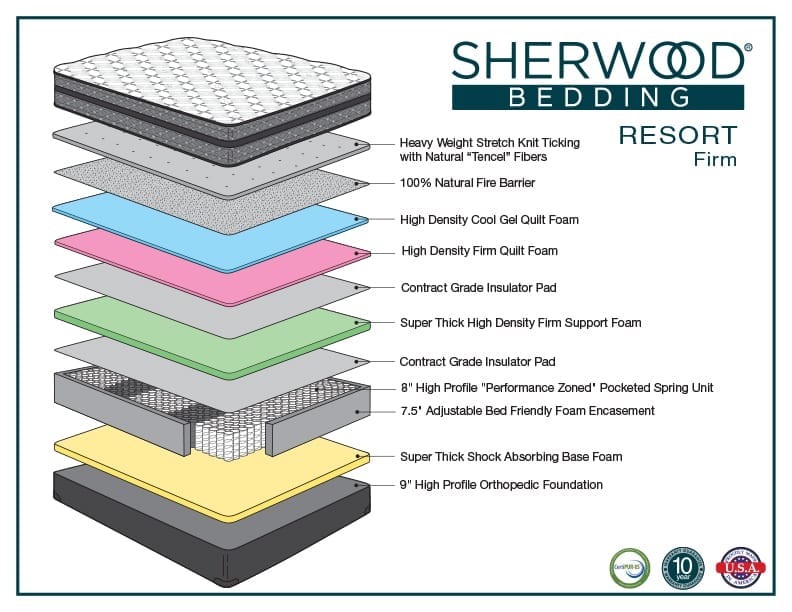 Sherwood Resort Firm Mattress
Get to sleep with ease when you buy the Sherwood Resort Firm mattress. Good quality sleep is essential for a happy and healthy lifestyle, that's why Sherwood Bedding has created the Resort Firm mattress with layers of memory foam, natural Tencel knit ticking, and an advanced pocketed spring system.
This well-thought-out combination of materials and layers creates the perfect formula for a comfortable deep sleep.
You can rely on the Sherwood Resort Firm mattress for your beauty sleep.
All Night Support
Alongside comfort, you need your Sherwood mattress to provide support all night long. A supportive mattress not only helps regulate your blood circulation overnight but also relieves the pressure from your joints and muscles to promote healing and prevent stiffness.
The Sherwood Resort Firm mattress is designed with an Advanced Pocketed Spring Support System that prevents motion transfer, letting you and your partner get a night of restful, uninterrupted sleep.
The Advanced Pocketed Spring Support Systems also helps your Sherwood Bedding mattress to contour to your individual body shape, providing personalized comfort and support.
Custom Comfort
Everyone has different sleep preferences, so why compromise when investing in a new mattress?
When you choose the Sherwood Resort Firm mattress, there are a variety of comfort options that let you tailor your bed to your liking.
The Resort Firm mattress comes in firm, luxury firm, and cushion firm designs. So, regardless of your preference, you can find a Sherwood mattress to suit you and ensure you get a good night's sleep.
Full Foam Encasement
To make sure you get the most out of your mattress, the Sherwood Resort Firm features a full foam encasement. This means your mattress has an additional box of foam support that reinforces the entire mattress surface area.
Not only does a foam encasement improve the comfort and support that your mattress provides, but it also increased the useable sleep space. The Resort Firm mattress' full foam encasement adds an extra 14% of useable sleeping space. This feature is particularly beneficial for those who require additional space or are sharing a bed.
High-quality, full foam encasements also increase the durability and longevity of mattresses. The feature reduces the risk of sagging and prevents the 'roll-off' feeling that is experienced with other mattresses.
Orthopedic Foundation
If you have joint or muscle pain, investing in a good quality mattress is highly recommended. For that reason, Sherwood Bedding has incorporated an orthopedia foundation layer into the Sherwood Resort Firm mattress.
An orthopedic foundation strategically distributes body pressure to provide additional cushioning and support to joints and major pressure points. So, if you regularly partake in rigorous exercise or experience joint or muscle pain, the Sherwood Resort Firm mattress could improve your sleep quality.
Fire Retardant
In addition to the increased comfort and support that this Sherwood mattress offers, it is also naturally safe.
Sherwood mattresses are compliant with 17 flammability standards and utilize the only natural flame retardant material in the bedding industry.
This additional natural protection offers you and your family peace of mind without requiring the use of toxic chemicals.