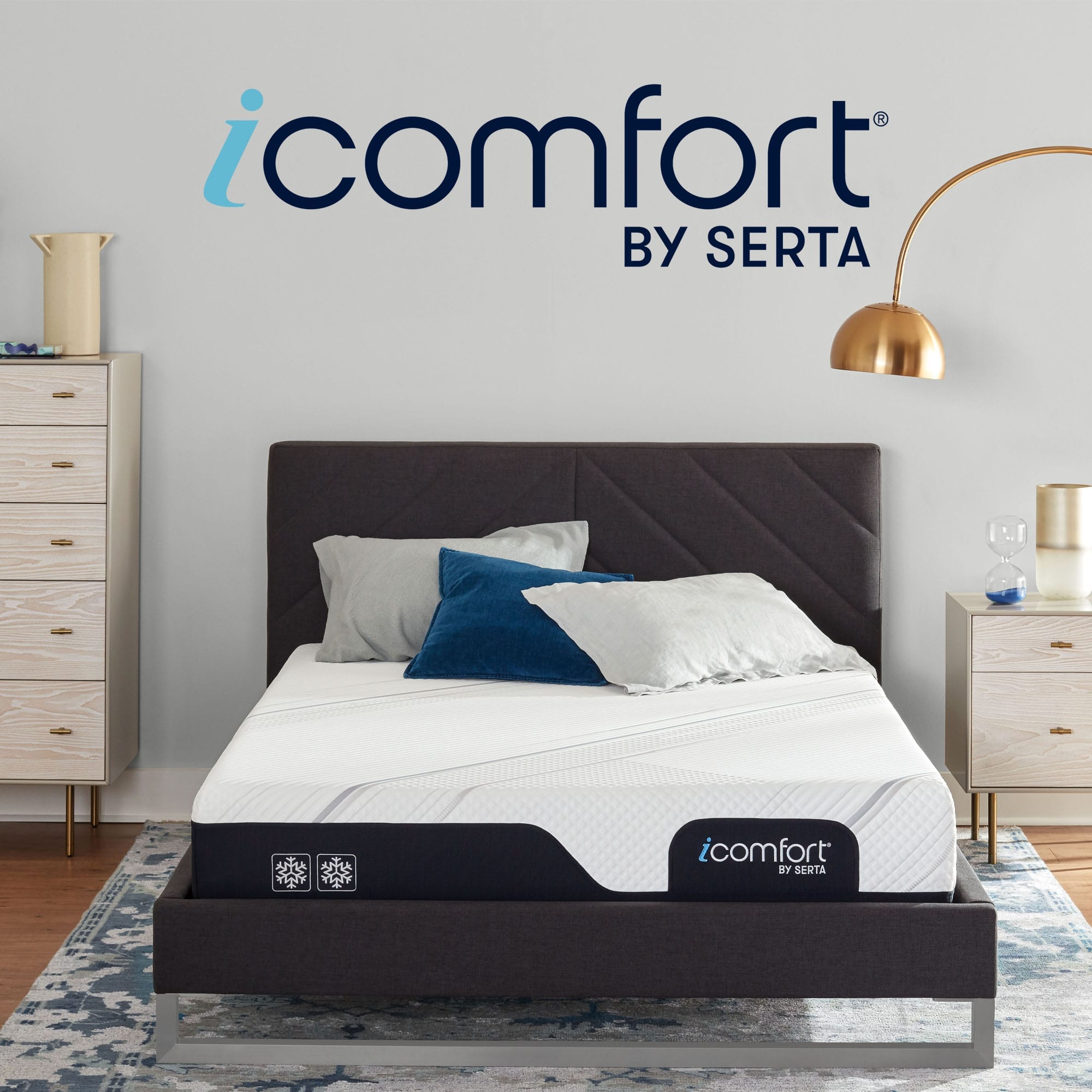 If you're looking to treat yourself to a new mattress, the bed of your dreams is only a trip to one of our Best Mattress stores away. A high-quality mattress that will improve your sleep quality is the least you deserve given that it could impact your daily life for years to come. Come discover the benefits by visiting one of our showrooms in Las Vegas or St. George today.
The iComfort® 2000 Firm Mattress uses both Gel Active® Max Memory Foam and Carbon Fiber Memory Foam. These layers encourage airflow and reduce heat to prevent overheating as you fall asleep. Enjoy the cooling experience and optimum support that only a Serta® iComfort® mattress can offer!
Gel Active® Max Memory Foam
The open-cell foam allows for air circulation and draws away heat so you feel comfortable all night. No more tossing and turning or searching for the cool side of the mattress.
Carbon Fiber Memory Foam
Serta® iComfort® mattresses are produced using Carbon Fiber Memory Foam, wholly exclusive to the Sereta brand. Feel unbelievable support for both your back and neck and experience heat reduction due to the foam technology.
Serta® Foam Core
The foam core provides a supportive layer to ease pressure points, offering maximum stability, and adapting to the contours of your body as you rest.
What are the benefits of the Serta® iComfort® Mattress 2000?
The Serta® iComfort® Mattress 2000 is perfect for those who like a firm mattress. The iComfort® mattress has a solid feel, yet plenty of body contouring capabilities meaning that the mattress feels just right. This firm mattress offers excellent support for the body which helps to soothe aching muscles.
The Serta® iComfort® Mattress uses premium materials. The Carbon Memory Foam and EverCool® Fuze Gel Foam are quality materials providing a luxurious and durable mattress. The carbon fibers form a conductive layer with heat reduction. These mattresses are perfect for those who struggle to sleep due to feeling too hot.
Our 120 Day Sleep Guarantee
If you have owned your mattress for longer than 30 days and you aren't happy with your set, Best Mattress is glad to exchange your mattress for 120 days from the date of purchase. Please see our full terms & conditions here
How to choose the right mattress for you?
Choosing the right mattress is not an easy decision to make. You need to determine which type of mattress you prefer, whether firm or soft. Perhaps you are not entirely sure which type of mattress you like? At Best Mattress, we help every customer through a comfort test process. Using our comfort test you can determine which kind of mattress suits your needs. Our staff are sleep experts and can discuss any sleep issues you currently have, whether it's mattress sagging or problems with temperature.
Is the brand of a mattress that important?
Yes! choosing the right brand of mattress is a vital step on the path to a great night's sleep! Mattress technology has come a long way, and not all brands have updated their technology.
Saving money is a priority for many people, yet cheaper materials can often result in a less comfortable mattress and a worse night's rest. Serta® has an excellent reputation in the world of mattresses. With 80+ years of experience, Serta® takes full advantage of the most advanced mattress tech and materials.
Serta® understands the key problems that keep you up at night and have worked hard to design mattresses that solve those problems. The Serta® iComfort® Firm Mattress can help those who struggle to sleep due to aches and pains, back tension, or overheating.
Why purchase from Best Mattress?
At Best Mattress, our goal is to help our customers and our community to enhance their well being with an improved night's sleep. Choosing the right mattress isn't just another job on the to-do-list; the perfect mattress can transform your lifestyle.
At Best Mattress, we have fully trained sleep consultants who can help you on your journey to finding the perfect mattress. Our comfort test has helped thousands of customers to find exactly what they are looking for. We can share with you our 25 years of experience and a full range of top quality brands.
Best Mattress will even deliver your mattress and dispose of your old one at no cost to you.