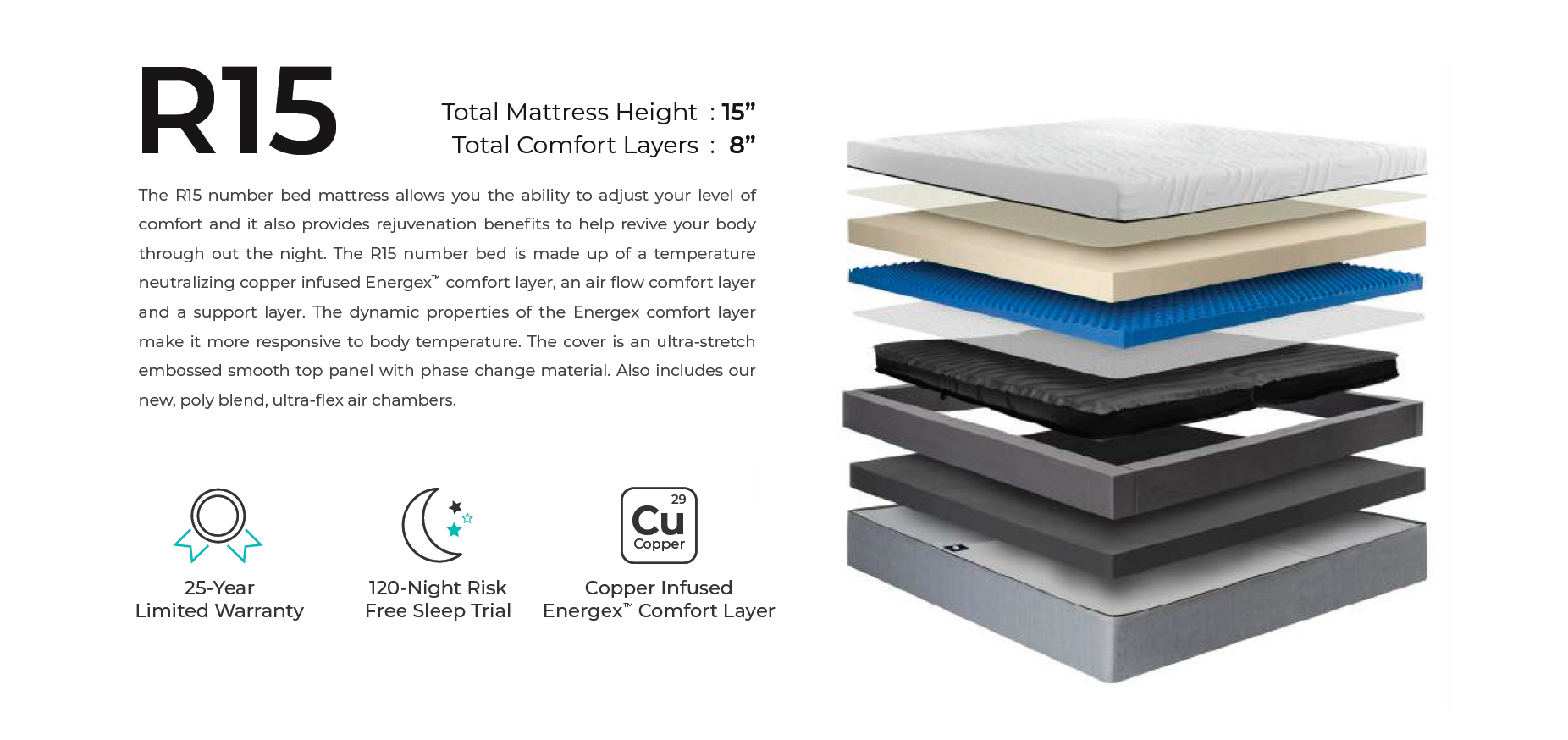 An essential part of getting a deep, restful night's sleep is starting with a good mattress. Your mattress should provide support for your whole body to relieve pressure points while keeping your spine in a neutral position. It should offer the comfort you crave to drift off in peace and sleep through the night while regulating your temperature. A high-quality mattress like the Personal Comfort® R15 Bed is an excellent choice. Find out more about the benefits and specifications.
What Is the Personal Comfort® R15 Mattress?
The Personal Comfort® R15 Mattress is a number bed available in standard sizes, split beds, and flex-head options. A number bed is unique in that you can adjust your comfort level settings to help you sleep better and wake up revitalized and refreshed.
The R15 bed comes with a digital pump system that uses a pressure scale that measures internal pressure and is recognized by the medical community. There are 45 number settings to choose from than range from 5 to 50, so each sleeper can find the ideal setting that provides maximum comfort and support. The wireless remote control makes adjusting your personal preferences a breeze.
This particular model belongs to the Rejuvenation Series which is known for neutralizing temperatures to keep you comfortable. The series is made from multiple layers, including a copper-infused Energex layer for greater comfort, plus an air flow layer for cooling, and a support layer.
Features and Specifications
All Personal Comfort® beds are manufactured in the United States. Only the highest quality materials are used, along with new technology to create an unmatched sleep experience. The Personal Comfort® R15 number bed comes with an electric pump system, reinforced air hoses, and wireless remote controls. The mattress is 15 inches high and available in:
Twin XL
Queen
Queen Flex Head
Standard King
Standard King Flex Head
Layers of Beneficial Comfort
Multiple layers of materials provide a variety of benefits and combined, measure over nine inches thick.
Temperature Neutralizing Top Panel: The ¼-inch mattress top is made from a poly blend and provides stretch, temperature control, and ultra-flex air chambers. A smooth finish makes for a comfortable sleeping surface. Zip off the top panel with ease to have the fabric dry-cleaned.
Fire Barrier: Helps to reduce the risk of fire for increased safety and peace of mind.
Stretchable Airlayer: This layer conforms to the curves and dips of your body and dissipates moisture and body heat. It improves flexibility during adjustments as well.
Copper-Infused Energex Comfort Layer: A 4-inch layer of Energex material is a new addition to the Rejuvenation Series. It is designed to soften slightly from body heat to provide better movement, personalized comfort, and pressure relief. Copper is known for thermal conductivity and the compression of copper particles inside this layer helps to draw away and dissipate body heat so you stay cool. This layer also contours your body to provide comfort.
Air Flow Comfort Layer: A 2-inch layer of contouring support lies below the Energex material.
Air Chambers: ¼-inch Ultra-Flex Air Chambers are made from a polyurethane blend. It easily flexes to contour your body shape.
Comfort Support Layer: A final 3-inch layer of supportive material that provides comfort and alleviates pressure.
Advanced Edge Support: A lock-tight, wrapped rail system made from high-density foam gives you better support across the entire mattress and sturdy edges.
Topping the multi-layer mattress is a comfortable Woven Cotton Zipper Cover, with a bottom mattress cover beneath. All comfort foam layers are certified by CertiPUR-US, a not-for-profit that guarantees they meet the standards for durability, content, and emissions.
Innovative Technology
Along with the layered construction that delivers exceptional comfort, the Personal Comfort® R15 Bed mattress features several technologies that help elevate your sleep even further:
Two wireless controllers measure the pressure within each air chamber and are used to adjust the number bed for any of the 45 available settings. The remote operates using standard AAA alkaline batteries.
You control the Air Control Unit. It only turns on when you use the remote to make adjustments. The use of a dual diaphragm compressor keeps noise volume low.
Choose Flex-Head to adjust the head of the bed. The R15 mattress is also available in a standard model that adjusts the whole of the bed, or a split model, which divides the bed in half to allow each side to make unique adjustments.
The combination of high-quality materials, new technology, and a wide range of unique settings to choose from makes the Personal Comfort® R15 one of the most comfortable and supportive number beds available.
Get Superior Sleep on Your Own Personal Comfort® R15 Mattress
Purchase your very own R15 mattress to experience for yourself how the right bed can help you finally get the sleep you need and have a positive impact on your mood and overall well-being. Shop at Best Mattress in Las Vegas, NV, and St. George, UT, to take advantage of our excellent customer service and satisfaction guarantee. Get same-day delivery, free set-up, and removal of your old mattress, all at affordable prices. Shop our selection today!
The Personal Comfort App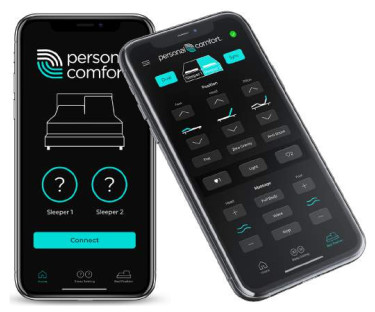 Control Your Bed and Power-Base With Your Smart Device
Adjust your mattress wirelessly by using your smart phone or tablet. Our state-of-the-art air control unit has a built-in bluetooth module that allows you to sync your device to the mattress. Just launch the Personal Comfort app, select your side and start adjusting. It's really that simple! Our app allows you to control both, your number bed and your adjustable Flex 5, 7 or 9 base. If you purchased a flex head mattress, you must use the app to raise the feet together. Our app is compatible with Android and iOS operating systems.
New
Wireless Remotes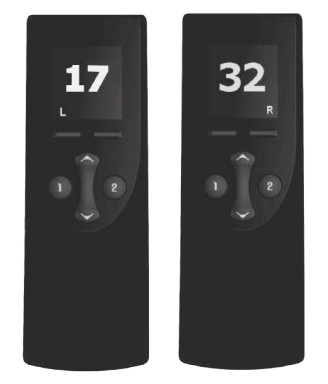 Two wireless remotes
Air control unit can have two remotes connected
Remote will function for selected side until user makes a change
Single remote option
You can also setup the air control unit to be operated by one wireless remote
Single remote option is required for single sleeper, queen, full, double twin xl and twin sized number beds
Side of the bed
Select side of bed for function
Pump can utilize two remotes
Remote will function for selected side until user makes a change