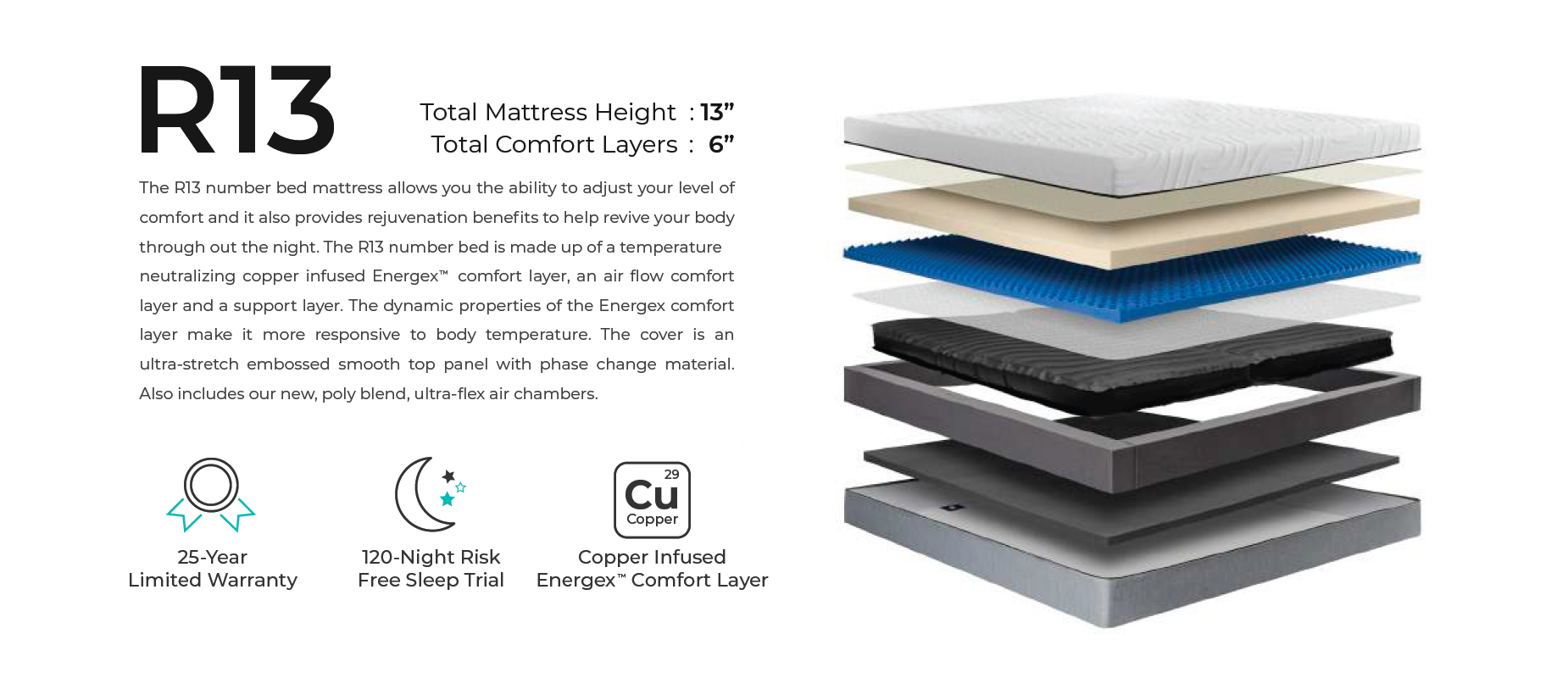 Your bed is the place where you relax after a hard day, restore your energy, and enjoy your dreams. That's why you deserve the very best in mattress technology and innovation every time you settle in for a good night's rest. The Personal Comfort® R13 Bed is built thoughtfully, from the discreet, user-friendly air control unit to the premium materials used throughout the design.
A Premium Mattress That's Built to Last
The R13, a model in Personal Comfort's high-end Rejuvenation series of number beds, is made with Ultra-Flex™, a polyurethane-based material that outperforms traditional vulcanized rubber for both flexibility and longevity. In addition to this core upgrade on durability, you'll also find thoughtful touches throughout the mattress build itself: sturdy zippers made to handle the strain and ongoing use, reinforced steel tubing that resists kinking and crimping, and a smart design on the air control unit that minimizes strain and bending on connectors. Backed by a 25 Year Limited Warranty and a 5 Year Full Warranty, this premium air-adjusted mattress ensures you'll be sleeping easy for a variety of reasons.
Independent Design Means Independent Rest
Personal Comfort® R13 number beds offer a wide variety of firmness settings – 45, to be exact – to allow each bed occupant to customize their sleeping experience. Not only is airflow delivered quickly and quietly to the air-adjusted chamber panel, but it's also held in place by clever check valve-fitted air hoses that prevent air from escaping. To adjust each side, simply use the optional wireless Personal Comfort® remote controls, or the easily-configured Personal Comfort® smartphone app, available for both Android and iOs, for maximum convenience. This unique connectivity means that you'll never have to worry about misplacing a remote or running out of batteries ever again. If you have your phone, you can adjust your bed to the perfect firmness with the tap of a finger.
A Modular, Upgrade-Ready Mattress Design
Unlike other popular – and far more expensive! – adjustable number bed brands, the Personal Comfort® R13 Mattress is made to be modular. If you would like a taller bed profile, or even if you would like to replace certain components, you can do so through Personal Comfort Beds with no hassle. This structure also ensures that if there's a mishap like a teething puppy or a wayward glass of wine, it's easy to restore your bed to new again by swapping out individually-available bed components for new versions. While some brands purposely manufacture their mattresses as a bound-together "block" of expensive components, Personal Comfort understands that life happens and makes replacement, upgrading, and more a breeze. No matter what you'd like your bed to look and feel like, chances are there's a way to make it happen through Personal Comfort's customization options.
Soft Comfort That Works for You
Inside the comfort layers of the Personal Comfort® R13 Mattress, you'll find Copper Infused Energex™ material, ready and waiting to cradle you to restful, energizing slumber. This unique, dense foam-like padding helps eliminate the pressure points that can lead to soreness and stiffness, while infused copper helps regulate body temperature throughout the night. This dynamic material gently softens with exposure to body heat, working in tandem with your air-controlled firmness settings for truly customized comfort. Imagine – sleeping every single night in a bed that not only keeps you cool but supports you from head to toe, exactly the way you need. There's no need to struggle with heavy, heat-retaining latex foams and uncomfortable padding: it's time you treated your back, hips, legs, and more to the cushy support they deserve with Copper Infused Energex™.
Move, Stretch, and Rest Easy
Each side of the Personal Comfort® R13 Mattress is made to be adjusted to your favorite of 45 available settings – offering a total of 2025 different customized combinations for the entire bed. Each side supports up to 650 pounds, as well, so feel free to stretch out, relax, and leave the worries of the day at the bedroom door. The Ultra-Flex™ material delivers year after year of performance, bolstered by features like accordion-like notches in the sidewalls that work with adjustable bed bases, not against them. If you need to move the bed, you'll find handy check valves in the reinforced air hoses that prevent deflation, too. The bed can be set up, moved, and adjusted by one person with ease, and the modular nature of the design allows it to be upgraded for future preferences, too. In other words, the R13 Mattress is your bed, your way, from a premium manufacturer that's completely focused on your Personal Comfort.
The Personal Comfort App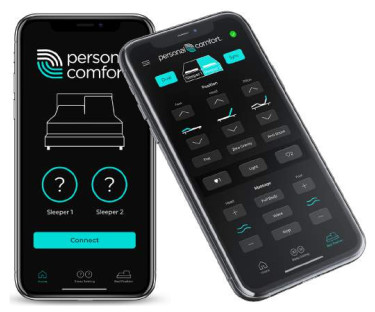 Control Your Bed and Power-Base With Your Smart Device
Adjust your mattress wirelessly by using your smart phone or tablet. Our state-of-the-art air control unit has a built-in bluetooth module that allows you to sync your device to the mattress. Just launch the Personal Comfort app, select your side and start adjusting. It's really that simple! Our app allows you to control both, your number bed and your adjustable Flex 5, 7 or 9 base. If you purchased a flex head mattress, you must use the app to raise the feet together. Our app is compatible with Android and iOS operating systems.
New
Wireless Remotes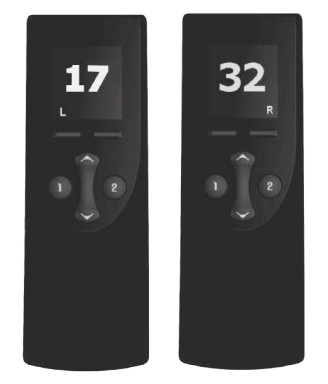 Two wireless remotes
Air control unit can have two remotes connected
Remote will function for selected side until user makes a change
Single remote option
You can also setup the air control unit to be operated by one wireless remote
Single remote option is required for single sleeper, queen, full, double twin xl and twin sized number beds
Side of the bed
Select side of bed for function
Pump can utilize two remotes
Remote will function for selected side until user makes a change