Control your sleep with our range of adjustable foundations, designed to provide the best in customizable comfort. Serta adjustable foundations allow you to control the angle of your bed's head, foot, and even lumbar support, easing strain on your muscles and putting you in the optimal position for whatever you're doing, from sleeping to reading to watching TV. Features include:
PRE-SET AND CUSTOMIZABLE POSITIONS
Set your bed just the way you like it or choose from one of our recommended settings for quick and easy comfort.

ACID REFLUX RELIEF
A raised head can reduce acid reflux and allow you to sleep more deeply.
SNORING PREVENTION
With your head raised, your airway will be allowed to fall open naturally, reducing the tendency to snore and providing relief from nighttime disturbances—for you and your partner.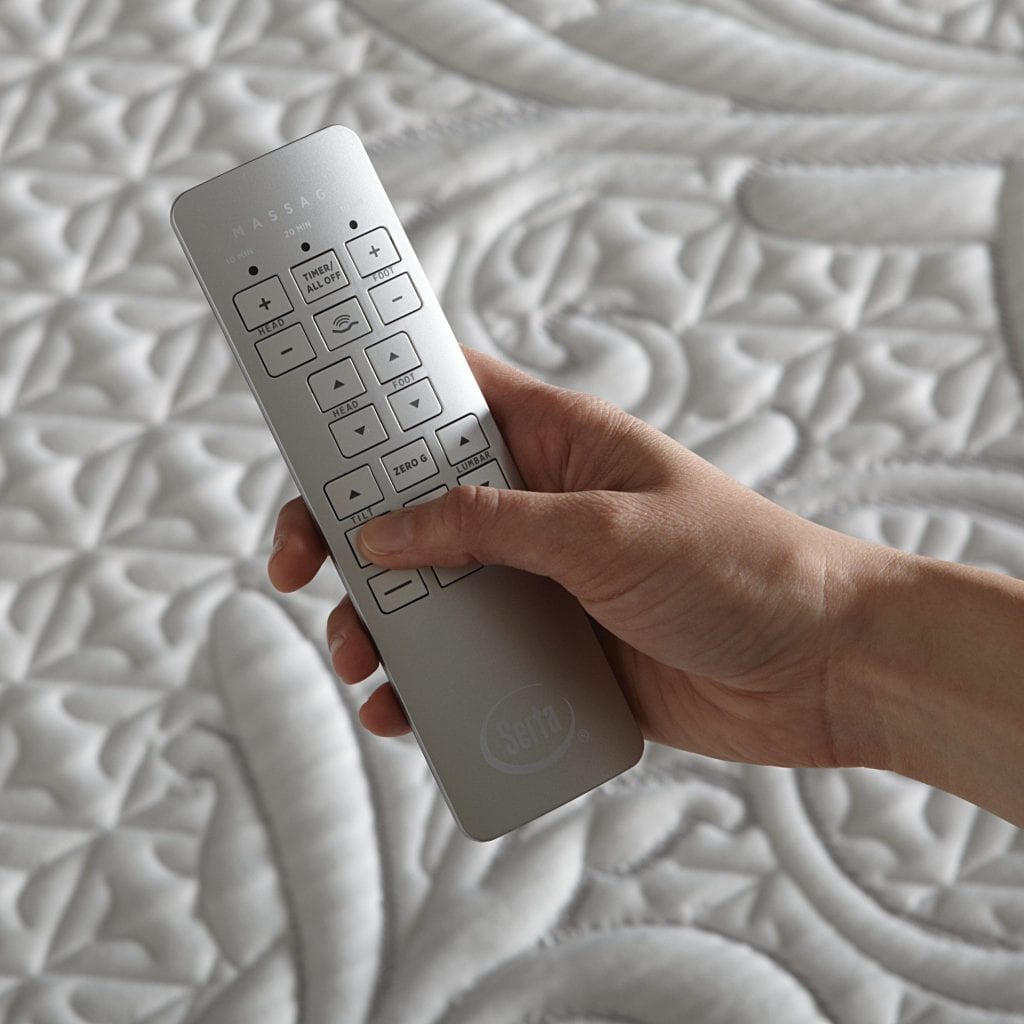 BUILT-IN MASSAGE
These quiet, variable massage motors are built in to select foundation models to help you relax and drift into sleep.
SLEEK DESIGN
Our simple, stylish foundations can be paired with a wide range of bedroom furniture for a look that will suit you perfectly.
MUSCLE-RELAXING COMFORT
By raising the head and foot of your bed, you can ease tension on your lower back and improve your circulation to allow for greater comfort. Less tossing and turning means deeper sleep, so both your body and mind will thank you after a night on a Serta adjustable bed.
SLEEP TRACKING TECHNOLOGY
The Motion Custom II features Serta's SleepGPS with Sleeptracker Technology to help you get a better night's sleep. The SleepGPS monitors your sleep patterns and helps you understand your nightly cycle.
With features like a zero-clearance design and an advanced massage system, the Serta® Motion Perfect™ III Adjustable Base is a new and improved version of the Serta® Motion Custom™ II Adjustable Base. Powered by ergonomic motion technology that seamlessly transitions the mattress into the next position, the Serta® Motion Perfect™ III Adjustable Base is designed to allow users to stay comfortable without disturbing roommates or sleeping partners. Designed to use natural gravity to lower the mattress, the Serta® Motion Perfect™ III Adjustable Base eliminates pinch points, which is a common concern with adjustable bedframes. Here is a complete list of Serta® Motion Perfect™ III Adjustable Base features.


Beautiful, wall hugger design helps you to maximize the square footage of your bedroom and keep you closer to your nightstand.
Zero clearance design allows you to use the base without legs for a minimalistic look.
Wireless, backlit remote with motion sensitivity and magnetic storage.
6-Level massage system with timers and a button for head and neck massage.
2 USB power charging ports make charging cell phones and tablets easy.
Pre-set positions allow you to quickly and easily change your mattress position. Perfect for people who like to watch TV, work, or read in bed.
Quiet Touch™ Massage allows you to relax and enjoy a massage without disturbing sleeping partners.
Velcro® mattress retainer system eliminates the need for a retainer bar.
Memory backup for power outages.
One-touch lay flat feature on remote.
Headboard brackets on legs make it easier to add your personal touch on your mattress foundation.
Foundation designed to eliminate pinch points.
Powered by ergonomic motion technology.
Foundation supports a maximum weight of 850 lbs.