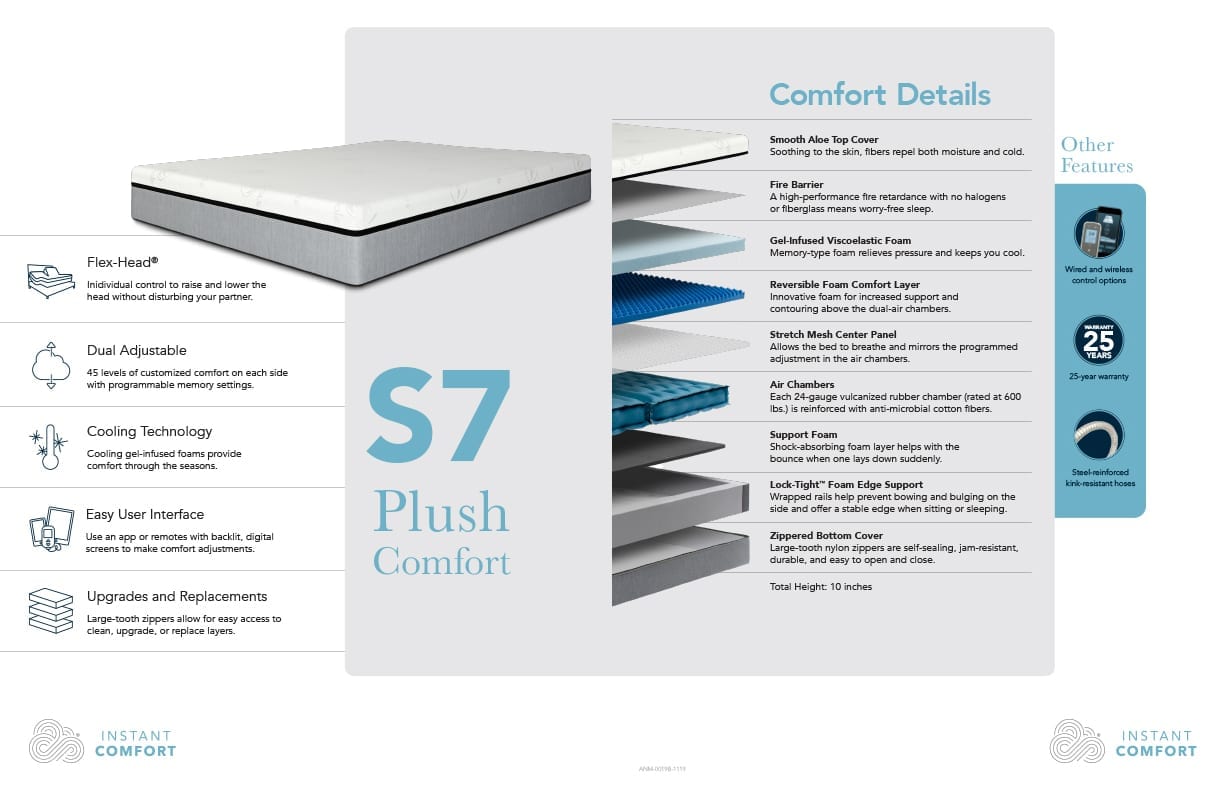 If you are searching for a new level of comfort and support for your bed, then you might want to consider the Instant Comfort S7 Mattress. This mattress is the original number bed by Instant Comfort at an affordable price. Two bases are required for this mattress which is a key benefit for customized comfort on either side of the bed.
Discover A New Design
There are numerous key design elements that could make this bed the perfect choice for you.
Split Head Adjustable Mattress
The Instant Comfort S7 is a split head mattress so both the left and right sides can be adjusted separately. This allows both you and your partner to find the ultimate sleep position. The best part is that the movement of one won't disturb the other.
Modular Replaceable Layers
First, the bed does have a modular construction. This means that there are numerous different parts that come together to form the complete design of the bed. A key benefit here is that if there are any issues with the bed one part can be removed and replaced. You won't have to worry about needing to change the entire bed, making it a highly cost-effective option.
Super Soft and Comfortable Top Cover
A smooth aloe top cover also ensures that the mattress provides great support for your skin and helps avoid issues with moisture as well. There is also a memory-type foam to ensure that the mattress can provide the right level of relief in key areas. This will make it ideal for anyone who suffers from problems with chronic pain in certain areas of their body.
Edge System
There is also a lock-tight edge system. This ensures that the mattress always maintains its structure. You won't have to worry about issues with bowing or bulging areas throughout the night. At the same time, this also ensures that the different air pockets that allow the bed to be adjusted continue to operate effectively.
Cooling Technology
One of the numerous layers of this mattress includes cooling gel-infused foam. A big benefit of this option is that it means that you won't have to worry about the bed getting too hot, even through the summer season. Instead, it will remain the perfect temperature for you and your partner.
Complete Control
There are more than 45 different positions to choose from for each side of the bed. This means that you will be able to find the perfect position for sleep and relaxation. Controlling the bed is simple too. The mattress comes with two different touch controls for each side of the bed. These are connected directly to the motor system, ensuring that they are always operational.
Instant Comfort App
Alternatively, you can also explore the Instant Comfort App. Using this app, you'll be able to control your bed with your smartphone or a similar device. The app is simple to use and will ensure that you can quickly adjust your bed to the perfect position. You can also save different settings to guarantee that you can quickly find the perfect option for your needs.
25-Year Limited Warranty
This mattress comes with a 25-year limited warranty and for the first three years, defective parts will be replaced, free of charge.