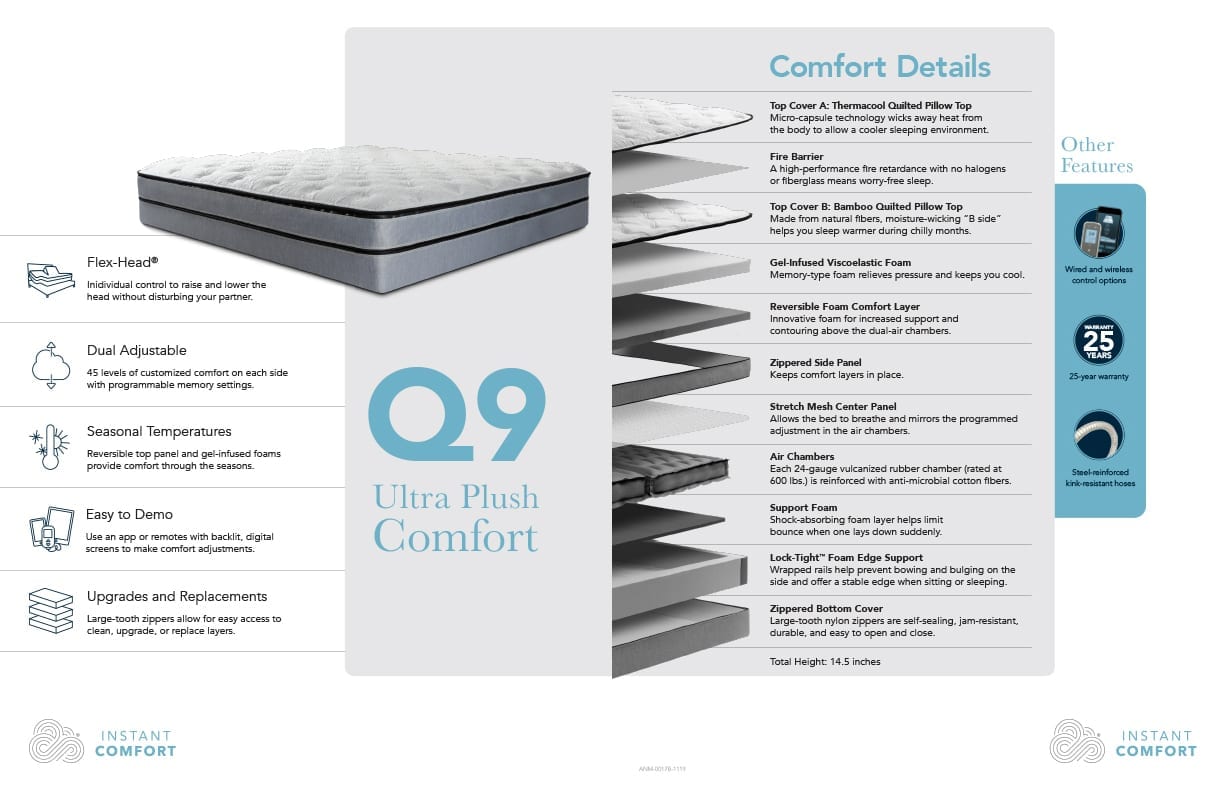 If you are looking for a customizable mattress that will suit the needs of both you and your partner, you should consider the Instant Comfort Q9 Ultra Plush mattress. This spilt bed requires two bases and is available at an affordable price. This mattress is the original number bed by Instant Comfort at a much more affordable price. The mattress has numerous different layers to ensure that it is ideal for a range of different temperatures and each side can be adjusted without disturbing the other person sharing the bed.
Just a few of the key features of Instant Comfort Q9 Ultra Plush mattress include a top ThemaCool quilted pillow top, a gel-infused memory type foam, and air chambers.
Modular Design
A key benefit of this mattress is that it does have a completely modular design. This means that there are different parts of the mattress that connect together to form the complete design. One advantage is that this makes the mattress easy to both repair and maintain. All parts of the mattress are durable and designed to last for years without any issues.
Edge Support
A lock tight edge support system is a key part of the Instant Comfort Q9 Ultra Plush mattress. It will ensure that all parts of the mattress remain in proper alignment. This means that you don't have to worry about issues with the mattress bowing or bulging. The structural integrity and shape of the mattress are maintained through the night and guarantee that the mattress can be customized on both sides.
Complete Adjustable Control
The Instant Comfort Q9 Ultra Plush mattress can be customized using the two left and right controls that are included as standard when you purchase your mattresses. These controls will allow you to select five different settings of the mattress to ensure that the ultimate comfort option can be accessed. With a touch screen, these controls are simple to use and designed to be completely ergonomic. The remote is also connected to the air system which means that it will never lose connectivity and never runs out of battery. There are a total of 45 comfort settings for you to choose from for each side of the bed.
An Awesome App
Through the Instant Comfort App, you will be able to have complete wireless control for your Instant Comfort Q9 Ultra Plush mattress. There are numerous comfort adjustment settings to choose from and you can adjust the frame through the app too. You can even save different settings that are your desired point for each side of the mattress. The app is completely user friendly and you'll find it simple to ensure that your mattress is set up exactly how you want it. You can adjust both sides of the mattress through the app.
A Fantastic Warranty
This mattress does come with a 25-year limited warranty, ensuring that you are provided with complete peace of mind. It covers a range of issues including manufacturing defects. For the first three years, components will be repaired or replaced and this is easy thanks to the modular design of the mattress. The defective piece can be removed and replaced without changing the entire mattress.