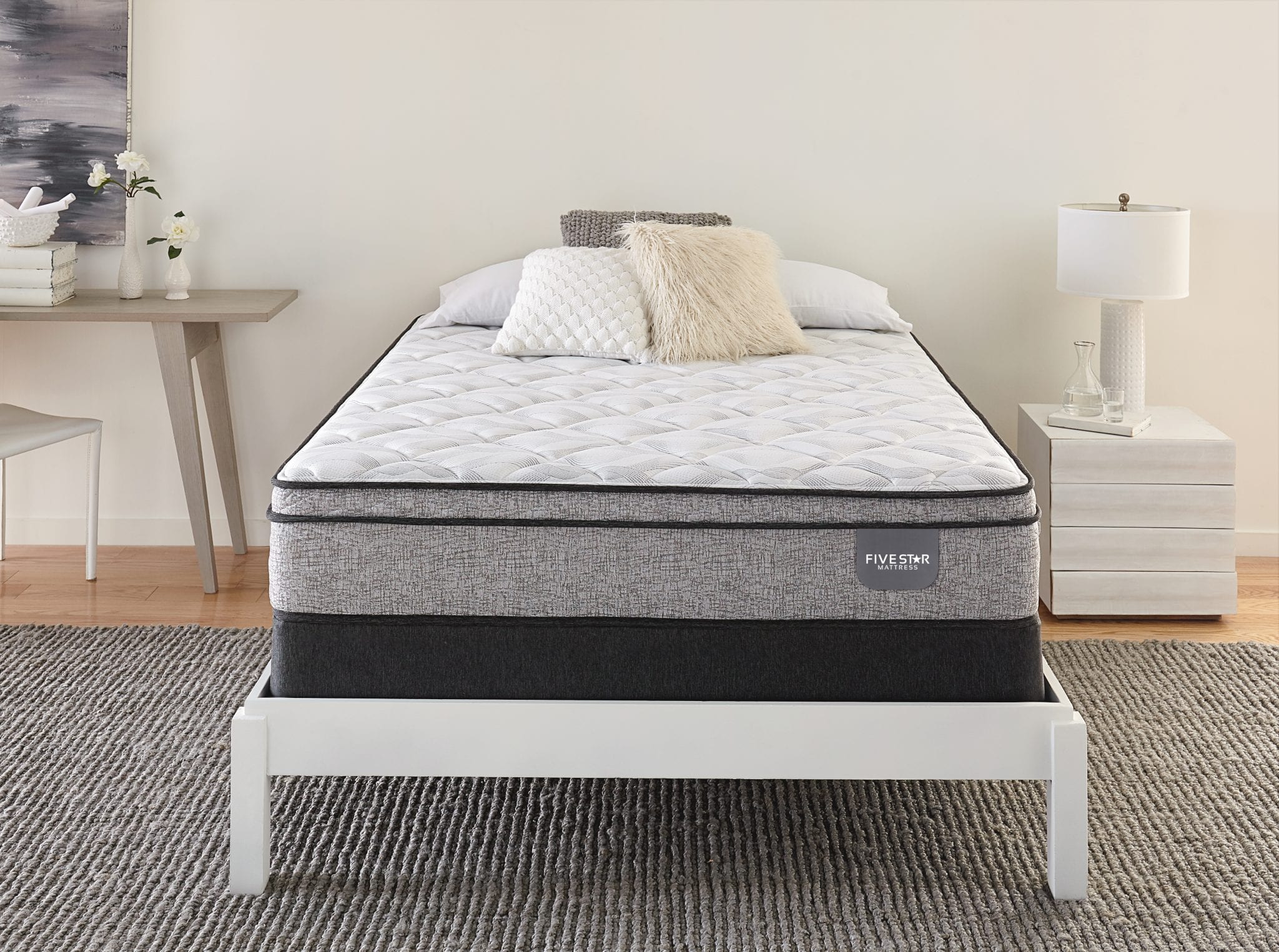 Have you started to notice the lumps and bumps in your current mattress? Perhaps you've found that you're getting less sleep than usual or you might be waking up sweating in the middle of the night. If so, then it's time for a replacement and the Five Star Degarmo Euro Top Mattress could be the perfect option. This is designed for every demographic using advanced technology and features to give you the best night's sleep. Say goodbye to your bed overheating or causing you pain and hello to a mattress that supports every part of your body. With this mattress, you really will be able to find your perfect sleeping position. 
It's also beautifully suited for those who struggle with back or chronic pain problems who need an extra level of support. This mattress provides the additional layers you need and so much more. You won't believe the relaxing sensation this product provides until you try it yourself and you can. It's available in our showrooms right now and with our 120 good night's of sleep money back guarantee, there's no reason not to see if this mattress is perfect for you. 
A Fantastic Quilt
The quilt of this mattress is guaranteed not to disappoint you. If you have allergies, you will be placed to know that this is made up of comfort fibers. Comfort fibers are synthetically created to resemble down in every sense. They are light, soft and feel fantastic but unlike the popular mattress quilt material, they won't cause issues with your allergies. They have been uniquely formed to provide the additional level of comfort you want without any of the usual issues. 
You will find that this mattress offers a Gentle Support Air. This is another part of the quilt of the mattress and ensures that the mattress breathes far more effectively due to an efficient design. Ultimately, this means that heat won't become trapped within the mattress or in the bed with you. Instead, it will be free to flow away from the body and provide you with perfect temperature for the best night of sleep of your life. As well as helping keep your bed the optimum temperature for sleep, you will find that this mattress also ensures that you have an additional level of support. This means that you won't have to worry about the bed being too firm against your body while still providing the relief you need for individual pressure points. 
The Quilt also has a fantastic additional ½ Gentle Support. Only available on select mattresses this half inch extra layer is provided to give the user an extra cushion for the body. It is perfectly designed to provide an equal level of pressure for key points and offer relief. This includes the head, neck, back and limbs. It's one of the reasons why this mattress could be such a great fit for those struggling with chronic pain issues. In most modern mattresses this extra layer can actually cause heat to get trapped around the body. With this product, that isn't an issue at all and clever design ensures that a cool surface area is consistently achieved. 
The mattress also offers practical benefits too. This mattress is designed with a FireShield. A FireShield is an additional level of protection guaranteed to give you the peace of mind you need. Every day one person dies from a bedroom fire. With this product, you can give yourself an extra level of comfort. The FireShield is made up of fire-resistant materials which are the same type used to design clothing for firefighters. Ultimately, this means that if there is a fire in your room, you will be safe on your bed for far more time than a typical mattress will provide. Not every mattress provides the same level of fire protection but this one will serve you well. 
Advanced Innerpanel 
The innerpanel also adds an additional level of support to the mattress. The ½'' Gel Active Gel Memory Foam adapts and changes based on the shape and weight of your body. This ensures that pressure is significantly relieved in key areas while airflow is also greatly enhanced. It's just another reason why this mattress is one of the best for complete comfort at night. The ½'' can definitely be felt when you lie on this mattress. It separates it from other options on the market.
Furthermore, the 1'' gentle support foam provides another extra cushion of comfort and does exactly what it says on the label. It keeps you comfortable and ensures that your mattress feels just right. This layer of foam also helps the mattress remain durable and last for years. You won't need to replace this one any time soon, we guarantee you of that. 
Solid Support System
The support system of the bed has an 805 Foam Encased Wrapped Soil System. The coils are wrapped individually and this means that they are able to move separately to provide the maximum level of support. This design also helps to reduce motion transfer significantly. Since these coils have a solid foam perimeter, this allows there to be far more surface use of the mattress. Ultimately, this will mean that no matter where you lie on the bed, you'll still gain the same level of comfort. Furthermore, there's no give at the edges. Every part of the bed is designed to ensure that it provides the same level of support across the board. 
Find Your Dream Mattress Today
Are you interested in learning more about this mattress or trying the Five Star Degarmo Euro Top Mattress for yourself? Make sure you come down to one of our showrooms. We think you'll be delighted by just how comfortable this product is. Here at Best Mattress, we have a firm commitment to quality and want to make sure that every customer can find their dream mattress on the market. Don't miss out on getting the beautiful night's sleep you need.