Step up to the Beautyrest Harmony Ocala Series. Get even more natural comfort and enhanced sustainability.
Each pillow top model offers an additional 2" of legendary Beautyrest comfort! Our new Beautyrest® Charcoal Memory Foam is infused with charcoal and provides natural cooling. These models also feature the Targeted Support System powered by T1 Pocketed Coil® Technology. Additionally, the NaturalCool™ with cooling TENCEL yarns keeps you comfortable during hotter nights.
Beautyrest Harmony Ocala Plush Pillow Top features our exclusive partnership with SEAQUAL™. Each model offers enhanced sustainability by recovering the equivalent of 25 water bottles from our oceans for each Queen mattress.
Our plush pillow top model offers an even softer feel so you can sink in for a restful and calming night's sleep.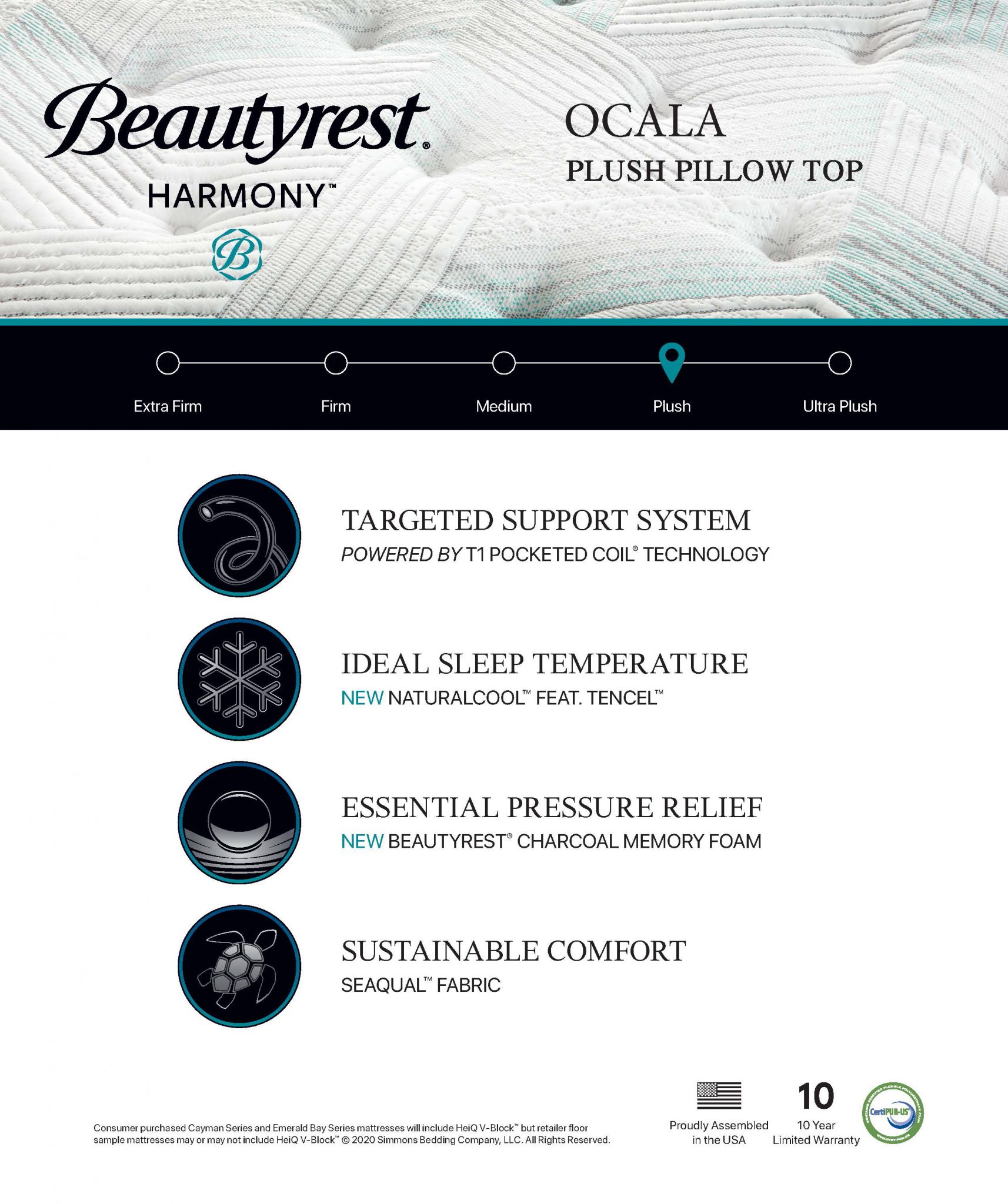 ---
Rest soundly on the Beautyrest Harmony Ocala Plush Pillow Top mattress. The pillowy soft model is part of a collection of mattresses, each with a different firmness level to satisfy sleepers. Among the newest products offered by Beautyrest, it provides outstanding comfort with its unique cooling technology.
If you're looking for a mattress that improves your sleep hygiene, consider the three layers of comfort cushioning provided with this pillow top. Soft-to-the-touch, it remains a popular option for side sleepers, back sleepers, and stomach sleepers alike. Its combination of unique technologies and long manufacturer's warranty makes it an appealing option for anyone looking for a new mattress.
Super Soft-to-Touch
People who prefer a softer mattress shop for a pillow top with certain expectations in mind. They want support but prioritize comfort. The Beautyrest Harmony Ocala Plush Pillow Top is definitely soft and supportive with its individually T1 Pocketed Coil technology. You'll get layers of plush softness.
Dual-Stage Support for Sounder Sleep
Beautyrest's patented Dual-Stage Support exists to minimize pain on pressure points. The T1 Pocked Coil technology exists in the middle of the mattress, where most of a person's weight rests. It's consistently providing relief to prevent strain on a person's neck, shoulders, and back. Despite being one of the softest mattresses in the Ocala line-up, it's supportive where it counts.
Charcoal Memory Foam Cradles the Body
People of all sizes sleep well due to the charcoal memory foam cradling their bodies. The charcoal memory foam is pressure-sensitive and reduces the amount of tossing and turning. Charcoal is a natural deodorizer that helps absorb excess moisture from a resting body. Keeping the mattress fresh and clean is easy, thanks to the material working 24/7 to dispel odors.
Unique Cooling Technology
NautralCool™, Beautyrest's unique cooling technology, provides long-lasting comfort no matter what the indoor temperature. People who tend to overheat at night find they no longer need a fan when they own a Harmony Ocala Plush Pillow Top. No more struggling with pulling the blanket off and back on all night either.
TENCEL yarn helps the mattress maintain its shape no matter how long a person lays down on it. The cooling fibers are yet another feature that promotes deep sleep and part of why Beautyrest remains a trusted name in the industry. Sturdy and temperature-regulating, the yarn makes the mattress a sought-after model.
GelTouch® Foam Keeps Air Flowing Freely
Instead of restricting airflow, the GelTouch® technology inside the mattress promotes it. Layers of cooling gel add to the breathability of the pillow top. Staying at a preferable temperature throughout the night is easy without additional assistance, including fans and air conditioners. During warmer seasons, sleep isn't interrupted by extreme temperatures and sweaty sheets.
Super Sustainability
A partnership between Beautyrest and SEAQUAL™ helps clean the oceans for every Harmony Ocala mattress purchased. Approximately 25 water bottles are removed from the sea, making the world a cleaner and safer place for all to live. The decision to buy a new pillow top mattress can lead to a better existence for marine life in the world's oceans.
10-Year Manufacturer's Warranty
The Harmony Ocala Plush Pillow Top mattress comes with a 10-year manufacturer's warranty to protect you from factory defects. It's another way Beautyrest provides value to its customers. Having a warranty in place ensures that the pillow top remains in excellent condition for a decade or longer under normal circumstances.

SAME DAY DELIVERY
In-stock merchandise purchased by 1 pm will be delivered the same day upon request, excluding holidays and limited to a geographic area with a minimum purchase of a $599 mattress set. Excludes floor models. See store for details.
DELIVERY
The room must be ready for delivery when the drivers arrive.
As a service, we will remove your old mattress and box spring before delivering the new set (subject to inspection, unsanitary bedding will not be removed, limited to equal amount delivered).
As a service, we will remove your old mattress and box spring before delivering the new set (subject to inspection, unsanitary bedding will not be removed, limited to an equal amount delivered).
Delivery cannot be made to a minor and finance orders will require a signature from someone with a valid state-issued ID.
The driver will call the phone number provided on your order on the morning of delivery to give you a three-hour time frame. If you are not home for a delivery, there will be a $50 re-delivery fee.
If the driver determines that the delivery attempt could cause damage to your home, you will be required to sign a release of liability to complete the delivery.
Our C.O.D. Policy:
All orders must be paid in full before the delivery date. We do not accept payment at the time of delivery.
10-Year Limited Warranty
Beautyrest stands by its products and materials with limited warranties so you rest easy.
Our-120 Day Sleep Guarantee
If you have owned your mattress for longer than 30 days and you aren't happy with your set, Best Mattress is glad to exchange your mattress for 120 days from the date of purchase. Please see our full terms & conditions here.
Best Mattress also offers FREE REMOVAL* of your old mattress. Our delivery driver will pick up your old mattress and seal it in plastic before loading it onto our truck.
Need financing? We have you covered! Best Mattress offers a variety of options available, including No Credit Check Financing! Please contact us for additional details on all offers.
We appreciate your patience, understanding, and support at this time. Thank you for continuing to be a loyal Best Mattress customer. Sleep Easy, Friends!
Invest in a Sustainable Beautyrest Mattress
With a ten-year manufacturer's warranty, you can support the planet by investing in a mattress that lasts. The partnership between Beautyrest and SEAQUAL™ is an added bonus. It helps remove trash from polluting the ocean with every Ocala Pillow Top purchase. Caring for the planet is easy when you buy the right mattress.